Time for some new steempearls! :) The steempearls are a report about the last 5 topics, that I liked the most and I want to sum up for you. Please have a visit on these accounts and enjoy the content like I did. All Thanks goes to these fabulous writers out there. ღ
The first steempearl / TRAVEL
goes to
@mahaelsayed
for her absolute amazing account. This topic caught my action:
Tibet.. tourist destination timeless
@mahaelsayed
has so many many excellent content on her blog. For travelmates a mustsee and mustfollow for sure! She has done topics about so many places in the world already. Just awesome! Thank you for your constant work
@mahaelsayed
.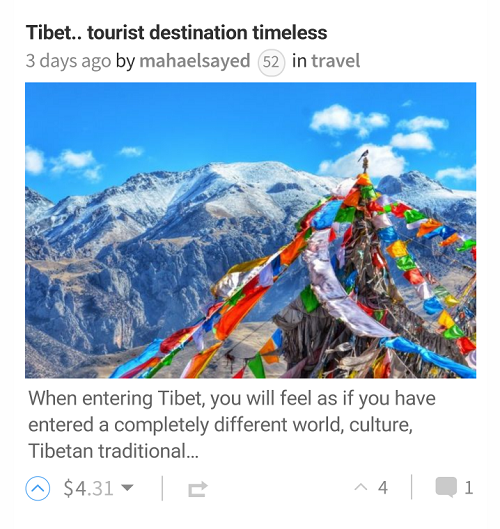 The second steempearl / STEEMIT
goes to
@aggroed
for his super project minnowsupport. Here is another
300th Witness Vote Update- Watching minnows grow up quick from their time in "the pond" aka the Minnow Support Project Discord Channel PALnet.
I can just recommend joining this project, that all of the small accounts can stay together, support each other and makes us stronger. And that is exactly what
@aggroed
and his friends are doing. They created an awesome initiative just for us small fishes in here. Thank you so much for your daily effort
@aggroed
and all the supporters like
@minnowsupport
,
@someguy123
,
@sandstorm
,
@teamsteem
,
@danielsaori
,
@sammo
,
@thecryptodrive
,
@ausbitbank
and sooo many more (disclaimer: this sumup is for sure incomplete) .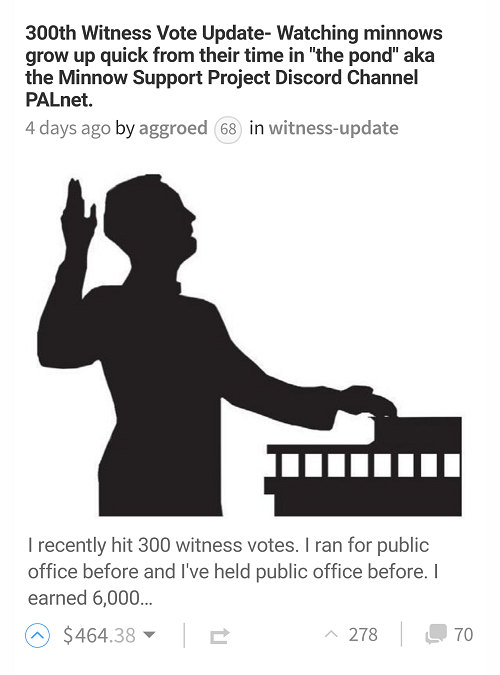 The third steempearl / STATISTICS
goes to
@stephenkendal
for his
STEEMIT: With the Average Number of Registered Accounts for June increasing to 2,123 I am pleased to confirm I have lifted the Year End Target now to 625,000..!!
.
Thank you
@stephenkendal
for your excellent statistics. I am kind of addicted to statistics anyway - and seeing the success of steemit in the last months makes statistics even more amazing! And you guys are making them visible for us! Thank you for your effort! :)
The fourth steempearl / PHOTOGRAPHY
goes to
@sardrt
for
Architecture in Black and White. Paris, Valencia, Lyone, Florence , Sevilla, Rome ,Amsterdam, Cagliari. (Photos by

[email protected]

)
I just love to see the pictures of this artist. She is making me just happy, whenever I see a posting from her! Thank you
@sardrt
for sharing your brilliant work with us! I love it.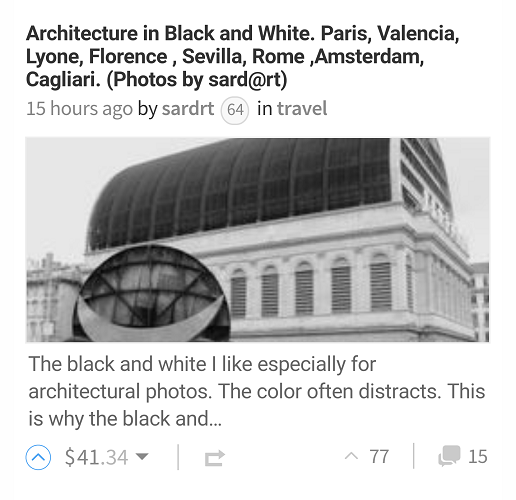 The fourth steempearl / TRAVEL
goes to
@mywanderlust
for his
The Dancing House in Prague, Czech Republic
This is another account full of amazing stories about travelling. I like to watch all the pictures, read the stories behind.
If you enjoyed the steempearls, feel free to make your own steempearls article and post it under the hasthag #steempearls ;) Have a great day and steem on ♠
If you want to see all the steempearls ever written by anybody, just follow the account @steempearls .