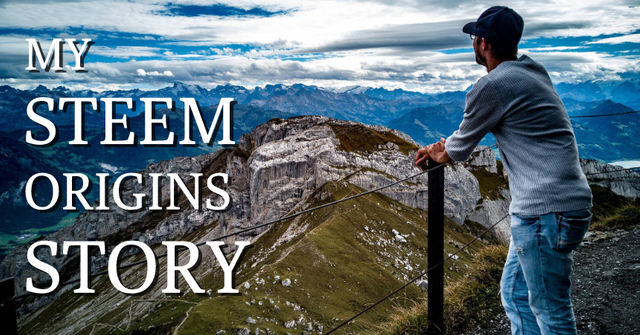 Hey, Steemians,
first of all I have to thanks @coruscate. Your participation in this weekly sndbox Challenge gave me the motivation to participate in the What's your Steemit Origin Story.
How i start with steemit?
In January 2018 my twin brother @louis88 told me about the platform for the first time. After a relatively long registration period of about 2 weeks I was activated and could explore and experience the world of blogging.
I've never really written blogs before, but I quickly got a taste for following this up. My goal is to write the 365 posts a year.

In the beginning the platform was quite confusing. Many questions appeared like the SteemPower and the rewards resulting from the upvotes. Everybody started that way, I'm sure.

Then I gained a ground in the German speaking community in the Discord Chat. Here my questions were very well explained to me by tutorials from @theaustrianguy and in the chat people were very nice and helpful.
What have I written on the blockchain so far?
Since I come from the graphic area and like to work with Photoshop and Co., the design of the cover pictures of a post started very fast.
I designed different separator lines for different areas on Steemit and dApps and also wrote many own reports about projects on the Blockchain. A conclusion of that article was also given by me, which makes the contribution even more personal.

Contributions about the memories of travel reports have been added by my work. I like to report about destinations I have already visited and experienced. In the beginning it was the trip to Las Vegas where I was allowed to be 2 weeks. The Hoover-Dam was a great leisure destination and a breathtaking time.
After some time I learned more and more about the Blockchain and was able to explain the terms to new Steemians and make the entry into the Steemit world easier and even more inviting.
What's up next? of course! Steemfest³
Like many others I already bought my Steemfest ticket and will travel to Krakow. Here I'm looking forward to the various content producers, witnesses and bloggers about whom Steemit has already read a lot.
Whether German-speaking or English-speaking, I'm already looking forward to the Steemfest. I think I share the same passion for the festival as @coruscate :)
Finally i have to thanks @sndbox for participate in this weekly Challenge.
All the best,
yours @RivalzZz

See you in Krakow! STEEM ON