Promote Your Posts with the Dark Energy Crystals Steem Engine Token!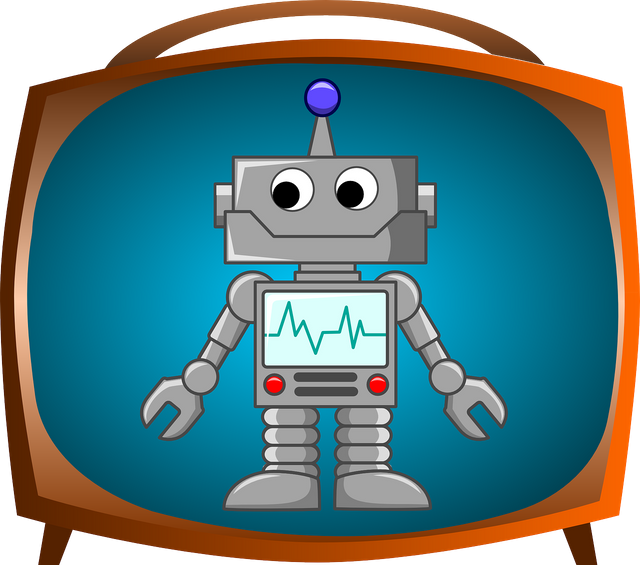 The Splinterlands, Post Promoter, and Steem Bot Tracker teams (they all include Matt and Aggroed) are excited to announce the first Steem Engine token-based post promotion service (a.k.a. voting bot)!
Read through to the end to see how you can promote your posts with DEC, or even participate and earn DEC with this new setup!
tl;dr
Send a minimum of 100 DEC tokens to @splinterlands to purchase a vote from the @steemmonsters account.
DEC will be valued at $0.0015 for calculating vote values, so there should be an instant profit buying DEC on the market and using it to purchase votes.
Delegate Steem Power to @steemmonsters to earn a portion of the DEC taken in each day for buying votes.
Initially, all DEC earned from the account's existing ~360k SP will be distributed to the delegators to encourage and attract more delegation.
What is it?
Matt has edited the Post Promoter software so that it can now accept Steem Engine tokens to purchase upvotes. This is a great step for both the Splinterlands and the entire Steem Engine and SCOT community.
You can now transfer a minimum of 100 DEC to @splinterlands with a post URL in the memo and it will vote exactly like a bid bot. Note that even though you must send the DEC to the @splinterlands account, the vote will still come from the @steemmonsters account.
DEC sent to @splinterlands to purchase a vote will be valued at $0.0015 when determining what size vote to award. At current market prices this means it should be instantly profitable to purchase DEC on the market and use it to buy votes.
Please note that vote values in USD terms are not guaranteed and will fluctuate with the STEEM market prices.
Like a typical bid-based voting bot, it will vote whenever it gets to 100% voting power, and divide the total vote amount among all the bids that have been submitted since the last time it voted. It will limit the votes to a maximum 20% ROI (based on the $0.0015 DEC value) and the round will be limited to 110% filled. If a round is filled then any new bids will be pushed to the next round or refunded.
This is live. It works now. Have fun!
Steem Keychain makes it easy!
Chrome and Brave Extension
Firefox Extension
Steem Keychain (created by Matt, Stoodkev, and Aggroed) makes interacting with Steem-based apps a breeze. It stores your keys in an encrypted format in the browser and then when you want to transact with the blockchain the website or app simply requests that the extension sign and broadcast the transaction on its behalf. This is simpler and more secure than the method typically used in the past where you had to copy and paste your key into the website you wanted to use.
Keychain already integrates with Splinterlands.io in addition to many other Steem-based apps and websites, making it easy to use and manage multiple accounts in a secure way. Now you can also use it to get votes from the DEC you're farming!
More Than Just DEC
All token economies rely on faucets, sinks, and use cases. Distributing tokens is the easy part. Getting people to actually use them for something is the harder part. Starting with DEC and then later spreading spreading this to other tokens, you'll be able to use tokens earned from SCOT rewards to promote your posts!
It means that every Steem Engine token is not only tradable as soon as it's live, but it can also can be used with the Post Promoter software to immediately add utility to the token!
Please note that the Post Promoter software is separate from the @postpromoter account and voting bot which was originally created as the initial test for the software.
Voting Bots are a Tool
Some people may not care for this, but keep in mind that voting bots are a tool. Like a gun or a car, don't blame the object, blame the system and the actions of individuals. With Steem Engine tokens you can build systems designed to incentivize curation better than what's happening on steem(it) right now.
Figure out a way to use this ability for good and watch how we as a community can pool resources to reward content that benefits the Steem ecosystem.
Added Value for Dark Energy Crystals
The @steemmonsters account currently has ~400k steem power on it. 40k or so is currently being used for delegation, so there's about 360k available for voting. At current market prices, the account's votes are worth approximately $80 USD / day. This means that the Dark Energy Crystals tokens are now "backed" by an additional $29k per year!
It also presents another way to convert your DEC to STEEM POWER / SBD, and typically at a very attractive rate as compared to the market.
Earning DEC Through Delegation
In addition to "burning" cards, or purchsing DEC on the Steem Engine or Tron markets, there will now be the ability to earn Dark Energy Crystals by delegating Steem Power to the @steemmonsters account! Each delegator will be awarded DEC on a daily basis from the amount taken in from users buying votes in proportion to their delegation.
Initially we are planning to distribute the DEC earned buying votes from the ~360k SP available in the @steemmonsters account to all of the other delegators. This is to encourage more people to delegate as they will be receiving additional DEC rewards compared to their delegated SP.
In the future we may decide to use the DEC earned from @steemmonsters own SP for other things. It may be burned if we feel we need to reduce the supply, or potentially be used to fund additional tournament rewards or other promotional items.
Steem Bot Tracker
While it is not available yet, the new Splinterlands DEC-based voting bot will be added to the steembottracker.com website so the bids and rounds can be easily tracked and new bids can be sent directly from the website.
As more Steem Engine token-based voting bots come online we will work with the creators to add them to the site as well.
How to get them in your steem-engine and keychain wallet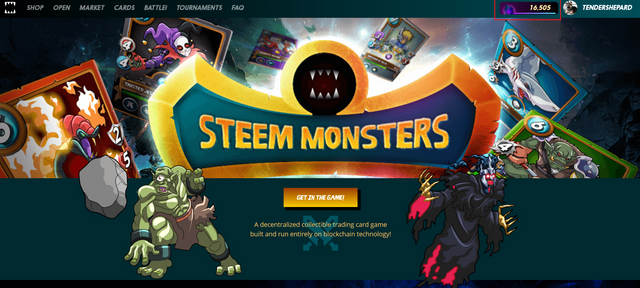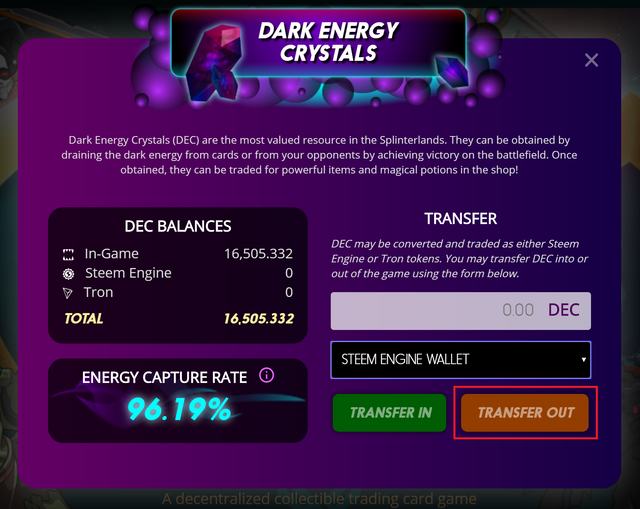 How to send them with keychain?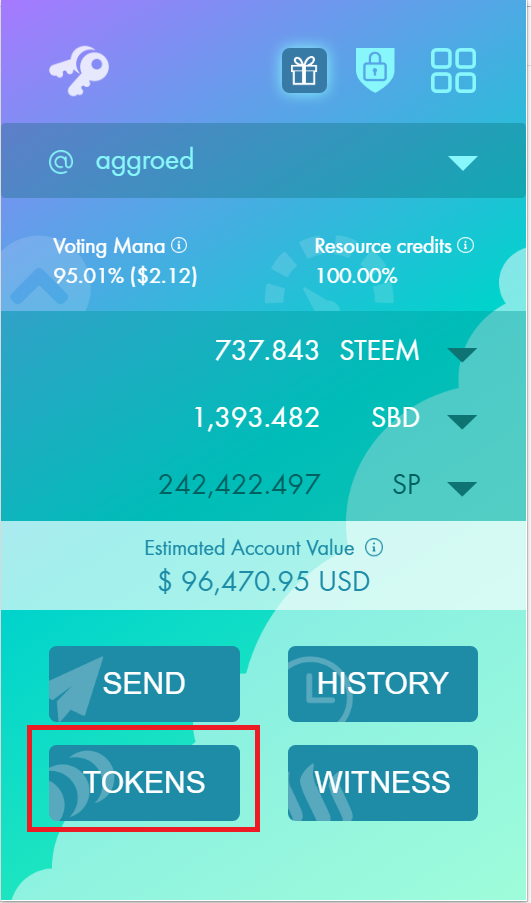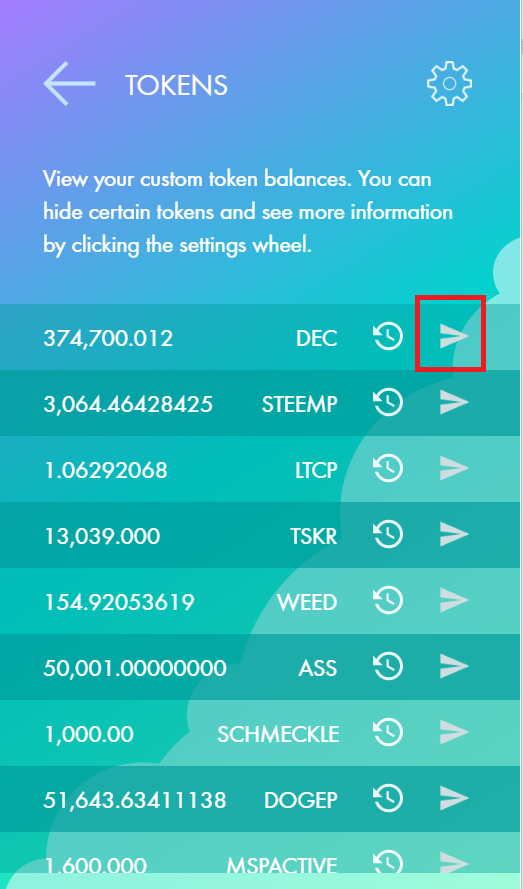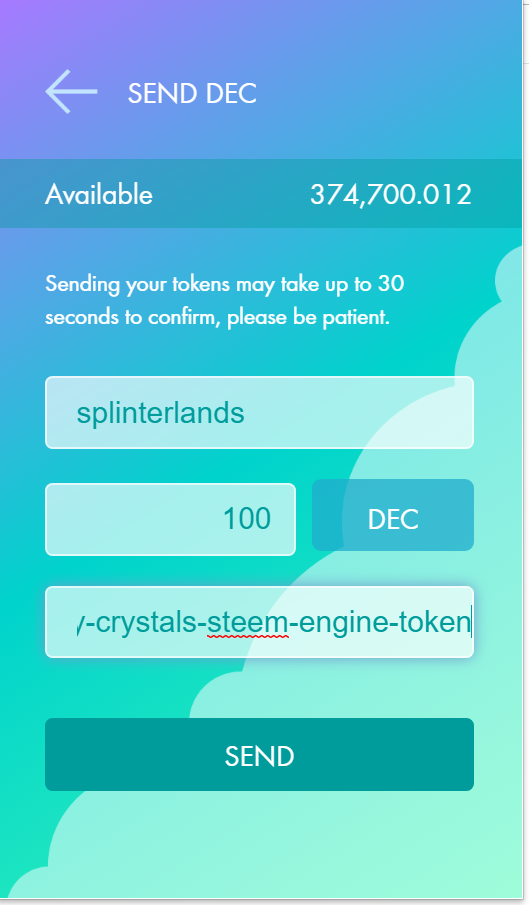 How to send them with Steem Engine?
Click wallet, click the send icon for DEC.