Starter Pack Expirament Status Update 3 | Daily Rewards / Card Sales / League Status |
Into Post, Update 1,Update 2,Update 3
TLDR
Season Status: Silver 1
Current Status: Silver 2
Daily Reward Highlights: Brownie
Cards Sold: 11 (no change)
Card Sold Value USD (at time of sale): $.45
Cards Bought: 0
The daily rewards can be excruciating. I was absolutely destroyed by life bots for hours one day. There is no way a starter pack can beat level 2-3 life cards. Not enough magic exists.... and I could not get past them for the daily challenge. I think out of 25 games, 22 were all faced against life.
I am going to wait for this season to end, but if I don't hit a few home runs in the next 5 days rewards or the season rewards, I will start selling at least the gold. While this could set me back after I get the summoners leveled up, in the short term it gives me a real shot to actually level up summoners.
Highest League Status

Current Record and Ranking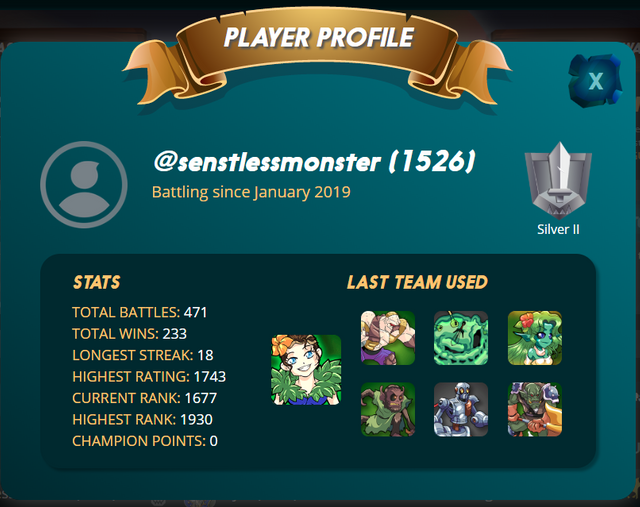 Daily Reward Cards
1.21.19 Daily Rewards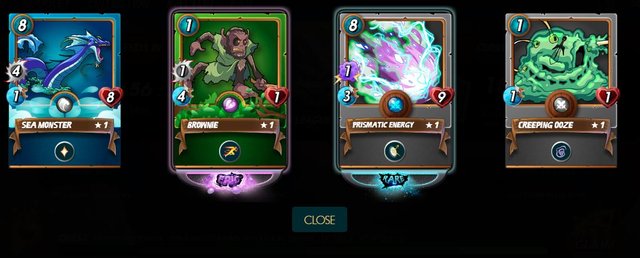 1.22.19 Daily Rewards

1.23.19

1.24.19

1.25.19

Reward Cards Summary
Overall I feel pretty good. An epic, a few legendary, and a few of the new cards. thankfully they are helping to give me more options within each splinter.
Total Collection
Starter Pack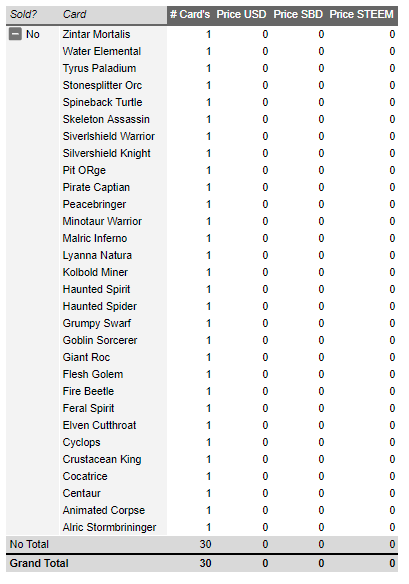 Reward Cards to date.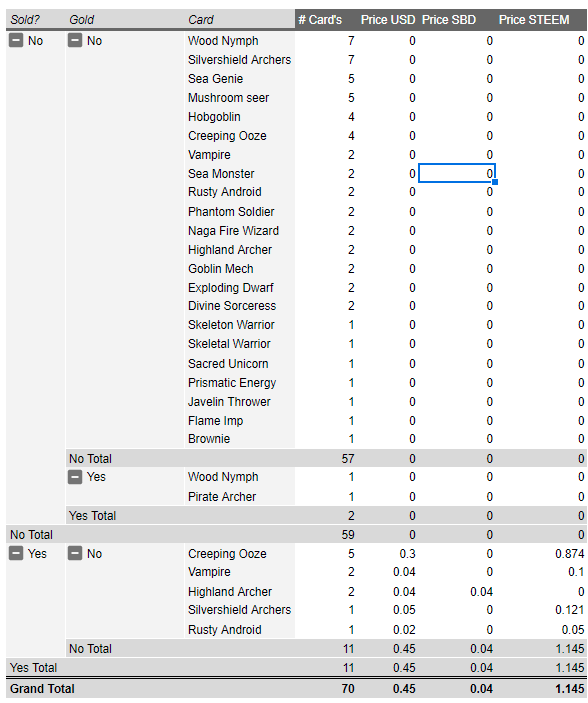 Card Sales Summary
I have sold a total of 11 cards.
5 Creeping Ooze for a total
2 Vampire
2 Highland Archer
1 Silvershield Archer
1 Rusty Android
USD (At time of Sale): $0.45
STEEM: 1.145
SBD: 0.04
Deck Appraisal

Summary
With the reduced rewards - the economics of building a good team from just the starter pack will be much harder. The prospect of getting enough cards to sell to earn $0.70 to get even the cheapest summoner to just level 2 will be longer than I thought. Depending on the reward cards, I might have 1-2 by the end of the season, we will see. The price pump of STEEM is going to help me afford more than I would have before. That is just to good fortune of the time, by the time I am ready to buy, it could be a loss.
I will focus on selling all the "extra" reward cards I have. No point in any of them yet... honestly. I need capital first, get the summoners and then worry about leveling up.
Gold Cards / Legendary
Gold will be sold to my main account @senstless at market rates unless by season end, something major happens in my deck....
Monster On!