Starter Pack Expirament Status Update 3 - Daily Rewards / Card Sales / League Status
TLDR
Status: Silver 2
Daily Reward Highlights: Divine Sorceress
Cards Sold: 11
Card Sold Value USD (at time of sale): $.45
Cards Bought: 0
I am playing for the daily rewards, and waiting until I have enough money to buy enough cards to level a few up. With the reduced rewards it is going to be a long time, unless I sell the two Golds I have or Legendary Sacred Unicorn. I am really unsure what path to take to build this team. It is going to be a very long time before I can level up any summoners, As we all know, until you level them up, there is no point in leveling up other cards. I will have to really rely on one splinter for a while.
Highest League Status
Current Record and Ranking
Daily Reward Cards
1.18.19 Daily Rewards

1.19.19 Daily Rewards
1.20.19
Reward Cards Summary
I am killing it compared to my other account with 2-3x times the daily rewards. I scored two more Epic cards, my second of both the Phantom Solider, and Divine Sorceress!! Great cards - Not sure if I will sell these to help level up.
Total Collection
Starter Pack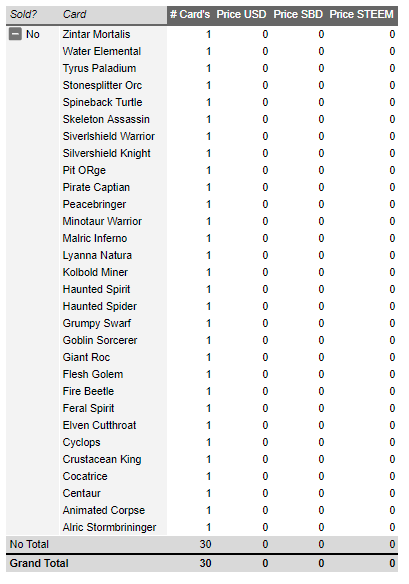 Reward Cards to date.
Card Sales Summary
I have sold a total of 11 cards.
5 Creeping Ooze for a total
2 Vampire
2 Highland Archer
1 Silvershield Archer
1 Rusty Android
USD (At time of Sale): $0.45
STEEM: 1.145
SBD: 0.04
Deck Appraisal
Summary
With the reduced rewards - the economics of building a good team from just the starter pack will be much harder. The prospect of getting enough cards to sell to earn $0.70 to get even the cheapest summoner to just level 2 will be longer than I thought. Depending on the reward cards, I might have 1-2 by the end of the season, we will see. The price pump of STEEM is going to help me afford more than I would have before. That is just to good fortune of the time, by the time I am ready to buy, it could be a loss.
Gold Cards / Legendary
These cards are giving me a hard decision. Sell these awesome cards, and know it is unlikely I will get them again, and they could really help me once I get the ball rolling. Or sell them now, and invest in summoners and magic cards to beat the never ending life bots I run into. If I sell, I will sell at market price to my main account @senstless. Not sure what to do here. Anyone have any wisdom from their prior experience?
Monster On!