Including some nice UI and bid market backend updates.
---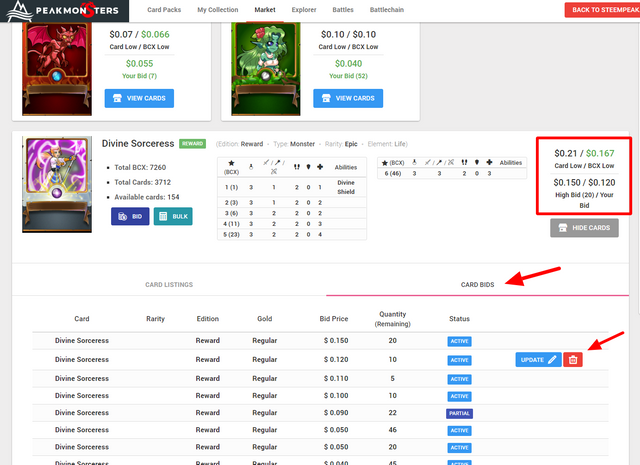 OPEN TO EVERYONE
Technically it's open to all PeakMonsters users... and technically tier 1 users which is our lowest tier which you hit once you spend $5 on the site ($5 of cards or $5 of packs)
Let's recap how the market works.
No fee to use the bid market.
IF and only IF we save you money on a bid then we'll split the savings 90/10%
Bids are only active on NEW cards listed.
For cards already on the regular market just use the normal shopping cart functions. (Including new bulk feature)
You can see a lot of recent articles about bid market on @peakmonsters account
MARKET DEPTH + BID CONTROLS
A couple nice solutions in one system.
You can see the top active bids (up to 150 top bids)
You now have CONTROLS on the card

---
HIGHEST BID VISUAL
If you have the highest bid there will be only 1 number and it will be Green.


---
UPDATE BID
When you select "Update Bid" all the info is already pre-populated
Keep in mind each change is an addition to the blockchain so make sure to have resource credits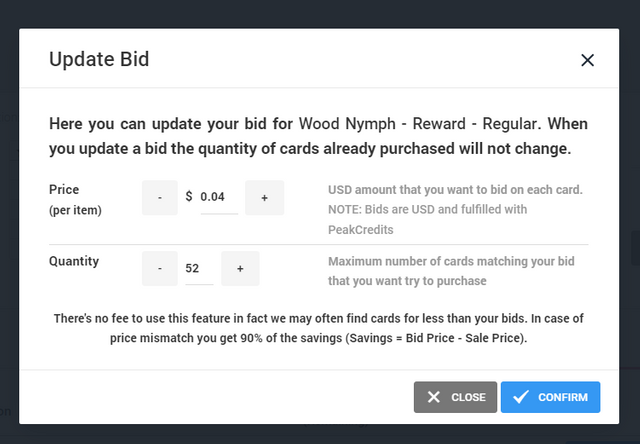 NO GHOST BIDS ON MARKET
If you don't have enough credit to cover a bid after it's placed it basically goes into Time Out (aka "On Hold") and will no longer be shown on the Bid Market.
Therefore no Ghost Bids as a seller you can be confident that if you buy out a bid it will all be fulfilled.
To the buyer it's a nice system because all you need to do is add more credit and it's active again.
Considering the STEEM price fluctuation please keep a bit more credits than what it's strictly required by your bids to ensure that we don't put your favorite bids on hold.
MARKET LIMITS
One reason we did a slow rollout was because we hadn't programmed in bid limits until now.
But here they are.
Can't make a bid that exceeds what you have in your account
Can't make a bid that exceeds your bid commitment limit
Also don't forget if steem price changes or your PeakCredit balance changes ... and consequently you can't cover a card it will no longer be considered an active bid until you add credit to your account.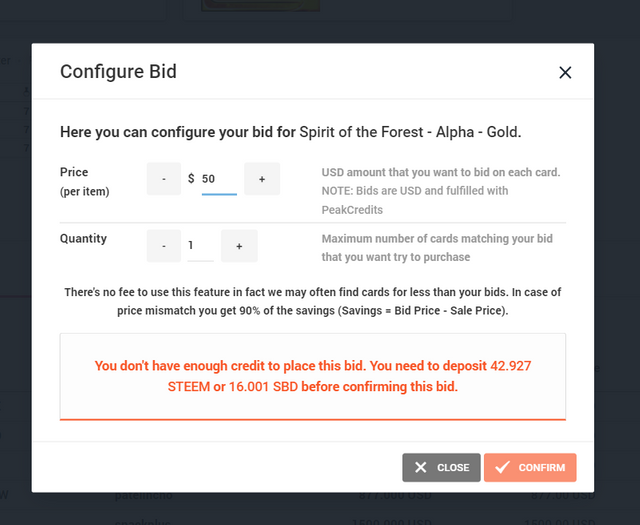 "COMMITMENT LENIENCE"
By default a new user is required to have as much PeakCredit in their account as their bid commitments... steem value fluctuates so that's not entirely possible since bids are in USD so there is some lenience. But when they make the bids they are required to cover them all.
Because of the nature of a card market together with low volume and understanding that people are motivated for sometimes dozens of different cards we have given some Bid Commitment lenience.
So to our more loyal customers we're giving you even more bid commitment lenience.
Your lenience will be 1x whatever your Tier is.
And what's awesome about our system is that this will not lead to any Ghost Bids ... if you spend your PeakCredit and don't have enough for high bids they will go on hold and not be listed on the public market until you add back peakcredit to cover the bids.
So yes PeakMonster users at tier 2+ can make have bids with commitments above their PeakCredit. So make more bids it won't harm anyone and will help you get more cards if you are able to have the higher bids
SHOW BCX NEEDED PER LEVEL
This request was motivated by a request from @aggroed


We also rearranged the order
And made it just one column for attack and the symbol above represents the kind of attack
---