Welcome back dear steemians to this cards analysis section, today we end with the list of articles related with black, the next articles will be dedicated to the blue cards. As always I'll add here some links for my dear readers, so they can access easely to the rest of the articles published.
-White:
Common cards / Rare cards / epic and legendary
-Black:
And now let's see today's cards.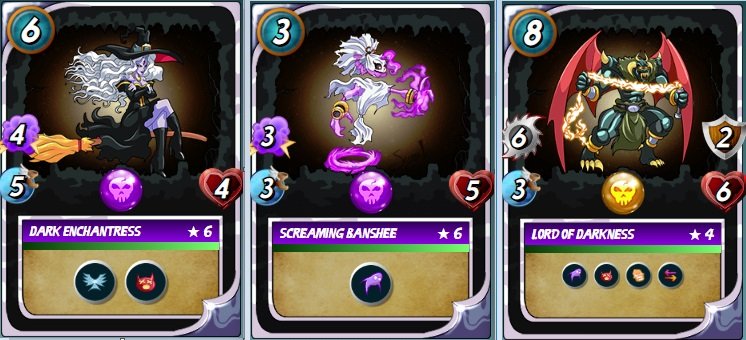 Dark enchantress:
This card with a mana cost of six it's quite expensive in mana terms for a card that we should play at the back, it's quite fast and the magic attack of four makes her a good choice against armored rivals like white or blue, this being said I don't see her having a big impact in the game right now, I could be wrong anyways.
It has flying which makes her more resistant added to her speed as she could probably dogde some attacks. Stun it's also a good ability. Her low health stats makes her vulnerable to magic attacks and obviously also to magic reflect.
I prefer other options of our black team.
Screaming banshee:
A very useful card for the black team, another card with magic attack like the Dark enchantress but this one only cost three mana, more vulnerable but she is a very tricky card because of his ability of fear, that gives you a chance to move to the back to the enemy's tank. If this ability hits you and you haven't a proper card to replace the tank you are going to loose that match. The ability of protect prevents of this, other colour's players have to be very aware of this.
Lord of darkness:
I really love this card because of his artwork, I have one here in my room, painted by an artist with aerograph. Very cool card with expensive mana cost, is a very aggresive card, with his 6 melee attack that can be 7 because of his rage, stun, retaliate and fear (again) I have to know if the ability can be used once by two creatures, that would be deadly. The black team allows to put this beast because of his many monsters with low mana cost. He isn't fast and he hasn't the greatest defense stats but he is very dangerous. A card to look close in the tournament.
Here is a picture of my bedroom, and my particular "Lord of darkness". :P