Day 9 and 10 of the experiment in which I start playing Steemmonsters with only a starter deck because I want to experience first hand what it is like to join the game at the start of season 6, did not go very smooth.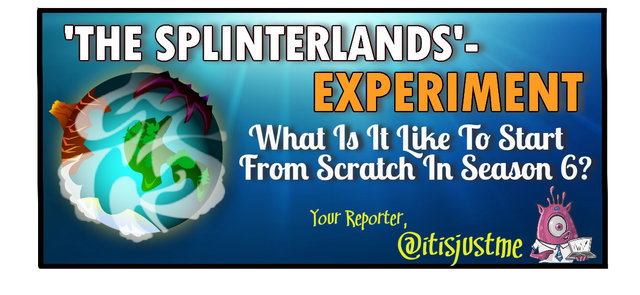 source
Bots
Since I got to Silver 3, and to Silver 2 yesterday, it has almost been impossible to win a game, mainly because of the truckload of bots that are blocking the way.
I realize I live in the 'wrong' time zone, GMT+1: most of the players are living in the US, and their daytime is my nighttime, so it is not easy to find a human opponent during the day.
But whether I play at 10 a.m., 2 p.m., 4.pm. or 8 p.m., the bots never sleep.
Whether it are @rondras' bots:
or untraceable bots, that just as well might be real people (which I sincerely doubt):
They always pop up with their level 2 and 3 accounts, blocking my passage.
Fortunately, there are 2 bots (at least, I think they are bots) by @kiokizz (@sm-lvl1 and @sm-starter-beta) that play level 1 cards most of the time.
On occasions, I have been able to beat some of the bots, and some were nice enough to flee the battlefield, so the win was mine. But most of the time it feels like you keep hitting your head against the same brick wall over and over again.


Of the last 31 battles, I lost 20... so far for my almost perfect scores, lol.
I knew it would start happening some time.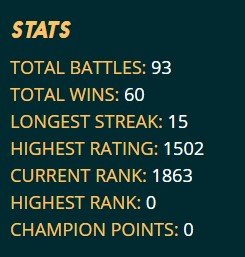 Source
I didn't expect I would actually be glad the season is almost at its end. Everyone's score will be reset, and hopefully this will result in a bigger human player base in the lower ranks.
But enough with the bad news. Because there's plenty of good news I have to tell you.

RC
As I told you in my previous post I undelegated the SP from my main account, just to see if @steemmonsters was still handing out delegations.
The good news is: they are. Yesterday I noticed my available SP had gone up from 8 to 28, thanks to a 20sp delegation from @steemmonsters.

Source
Unfortunately, I ran out again already. But that's my own fault.
I kept an eye on my RC status while playing yesterday, and Steemonsters fights don't take up a lot of SP. This means that if you only use your account to play, 20SP should be sufficient.
But I'm not only playing, I'm also writing posts, and joining card giveaways, and in my case 20SP simply ain't enough.

Giveaways
It seems to get more difficult every day to find Steemmonster cards giveaways.
But I'm still joining every single one I can find.
This morning, when I opened my account, I found this: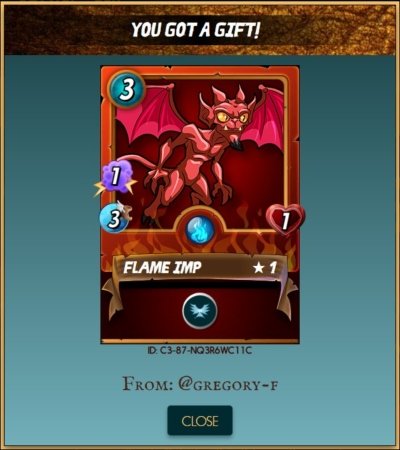 Source
Thanks to @gregory-f I could add another card to my collection.

Shopping For Cards
In my previous post you could read I had collected 8.487 Steem in my wallet, thanks to card sales and post payouts.
So I decided to go shopping for some new cards.
I really want to get some Legendaries, but I thought it would be more interesting to get some Epics first.
So I added these cards to my collection:

Source
I couldn't go without the Fire Demon to give some extra power to the Fire splinter. The Alpha edition was cheaper than the Beta edition, so I decided to go for that one. If I ever get to the point of leveling up, I only need 2 alphas to create a level 2 Fire demon - instead of 3 betas - so I thought 2.546 Steem was a very good deal.
The same goes for Air Elemental of the Life splinter. The Alpha edition was on sale for 2.252 Steem, and since it's a card of which I think no deck can do without, I didn't hesitate for a second.
I used to love the Water splinter at the lower levels. Medusa and the Mischievous Mermaid made such a strong duo... Not so long ago, the price for the Mermaid card was a lot higher, so again, I didn't think twice and added it to my deck for only 1.762 Steem.
Since I didn't have a magic card for the Death splinter yet, I decided to get the Dark Enchantress. To my surprise, it was pretty low cost, only 0.882 Steem.
So, once again, I was able to add some powerful cards to my deck. It is actually starting to look like a real deck - without the legendaries, of course.

More Reward Cards
I finally reached Silver 2 yesterday.

Source
Next to the 15 reward cards I will now receive when the season ends, I also get 3 free cards for each daily quest I complete.
There must be something in the air, because you won't believe me when I show you which reward cards I earned these last two days...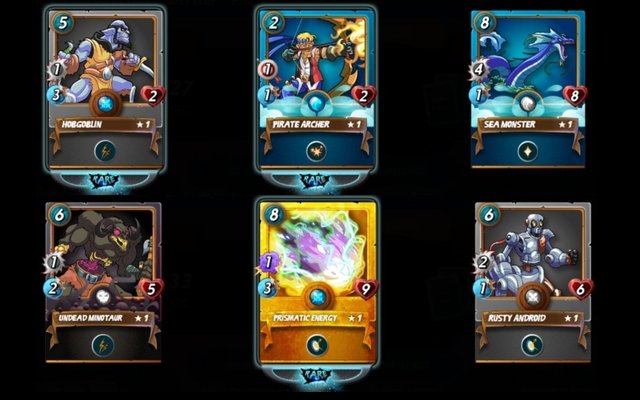 Source
Not only did I get the Sea Monster, IMO one of the most badass new reward cards, I also got my 3rd gold foil card. And this time, one that is worth more than just a buck.
The Gold Foil Prismatic Energy card is selling on the market for $2.80-$3.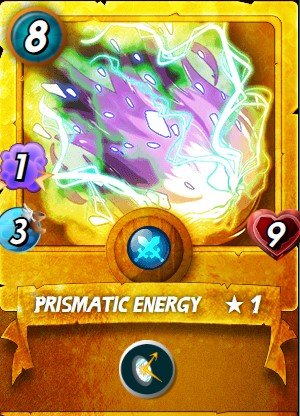 Source
I listed it for $2.80 a couple of hours ago, and it has been sold already.

That's 9.444 Steem in the pocket by selling one card.
Of course I will keep the Sea Monster in my account. I would be nuts if I would sell it. The Pirate Archers can stay too.
But what about the Rusty Android, The Hobgoblin and the Undead Minotaur?
They are being sold for next to nothing on the market, so maybe I just need to hold on to them, hoping I will get some more so I can level them up and sell them for a couple of cents?
I don't know....
It's not very likely that the prices of the reward cards will go up after the season rewards have been paid out tonight...
I think I will just wait and see what happens.

Plans
Since the season will end in 12 hours, I will try to play some more games, hoping to reach Silver 1.
This should be doable if there aren't too many strong bots around, since my ranking is now at 1502, and I need to get to 1600 to reach Silver 1.
Wish me good luck!!
---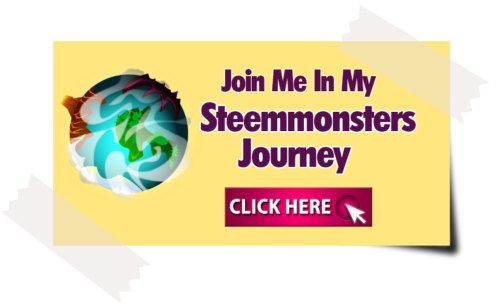 source 1 - Source 2 - Source 3