Update: I had planned on closing the contest at midnight to give everyone fair warning when Steem Monsters announced 15,000 Alpha packs left, but when it got to the last 6,000 packs, I decided to close NOW.
As I was preparing the names for the random tool selector, the alpha edition packs SOLD OUT! I will have to send out beta booster packs to the winners. ☹️
Contest will resume until post payout. I tried to get the Alpha packs out, but the Steem Monsters community snatched the cards up way too fast!
Update below is now outdated. My goodness!
---
This update will be short and straight to the point.
The Alpha booster packs are selling out fast on steemmonsters.com. Read the official Steem Monsters post here. At the time of this post, the count is now at 11,676 available packs.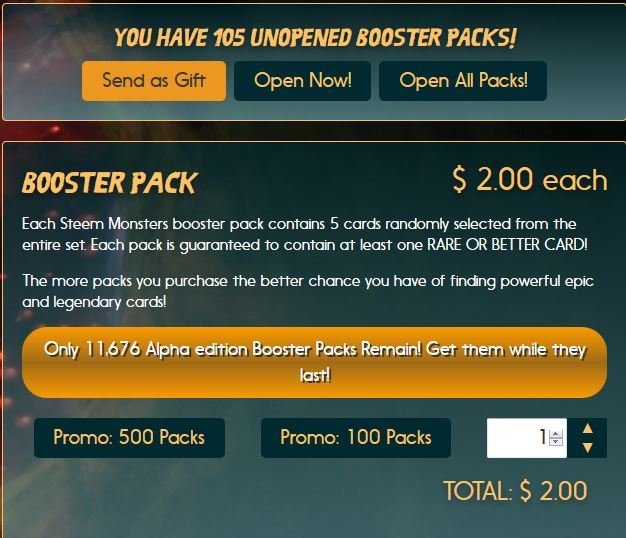 Due to FOMO 😎 and since I will be purchasing the booster packs to send to the winners, I'd rather not take the chance of having to send beta cards and not alpha. I will be CLOSING the contest EARLY! Today will be the last day to enter. Initially, I said 12:00 AM EST, but Alpha packs are going fast! So I am now changing the deadline to NOW.
No time to set up video, so I will simply use the random picker tool to choose the winners.
https://www.miniwebtool.com/random-picker/

If you are new to Steem Monsters or if you would like to let me know why you do/do not support the witnesses behind @steemmonsters, stop by the post and let me know today. You may also comment on this post. Entry will be valid on both posts.
Disclaimer: IF the alpha packs sell out before tonight, I will have no choice but to send beta packs.
P.S. Thanks to everyone who stopped by with your congratulatory wishes! I read the comments, but have yet to find time to comment back. Today is my first day back to work and I have a ton of catching up to do. I did read everyone's comments though!