Repository
https://github.com/beetlevc/jansjo-clamp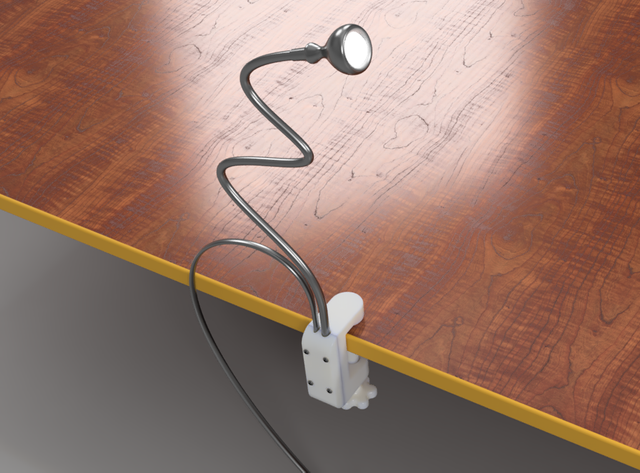 Introduction
When you are printing something with your 3D printer or cutting some parts using your CNC router it is nice to keep the work area well-lit. Some printing heads and router spindles come with integrated LED lights, but the most of them don't. A simple solution would be using some cheap LED lamp, like IKEA JANSJÖ.
https://www.ikea.com/gb/en/products/lighting/work-lamps/jansj%C3%B6-led-wall-clamp-spotlight-silver-colour-art-40386302/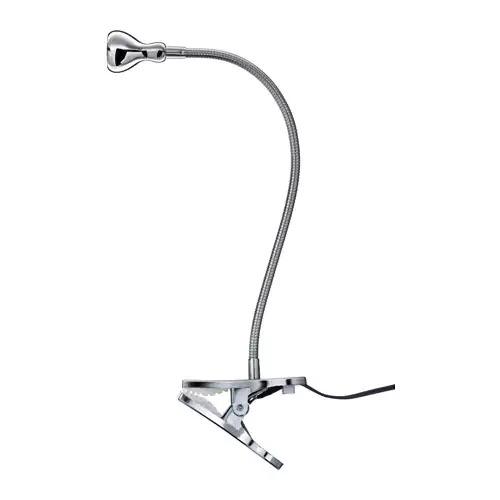 This lamp has a flexible stem, so it is easy to direct the light straight at your workpiece. I've been using this lamp for a few years, it does the job. The only problem with this lamp is that its clamp cannot really hold securely onto anything. This clamp can't hold onto a thin desk and it won't open wide enough to hold onto a thick desk. One time I was struggling to secure the lamp onto a thick wooden beam and... I broke that clamp. When a regular person breaks something, it's a problem. When a DIY enthusiast breaks something, it's an opportunity!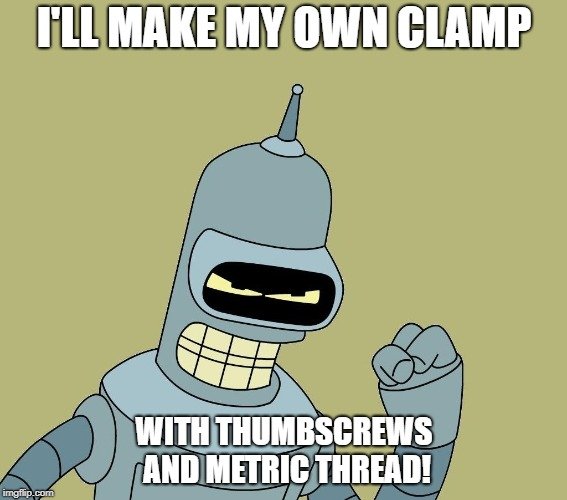 Designing and making the thing
I used this project as a source of inspiration but ended up redesigning it completely.
https://www.thingiverse.com/thing:1673030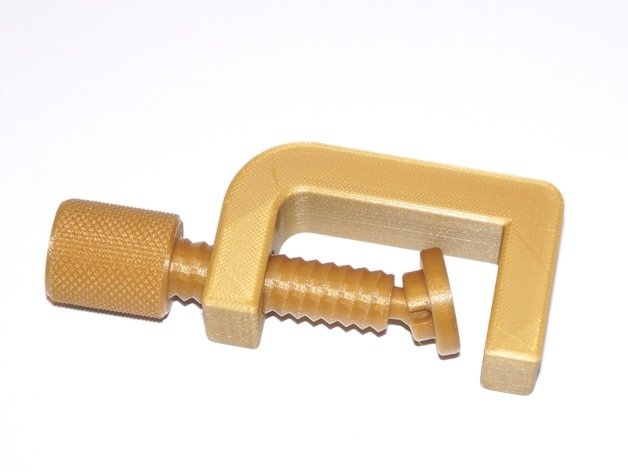 Obviously, I needed some way to secure the stem of the lamp to my clamp, so I divided the body of the clamp into two parts and made a groove to hold the lamp and provide cable support. Like this.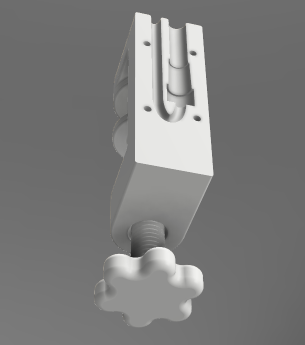 Some desks have a protruding rim, so I made a recess in the upper part of the clamp to accommodate for that.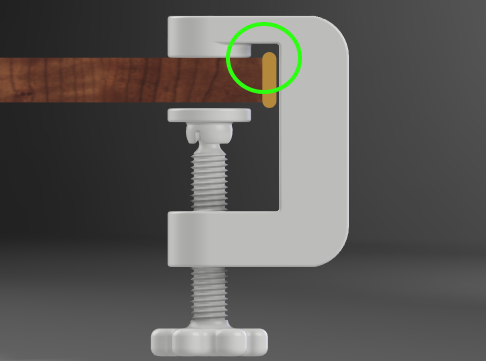 Also, I used standard metric M14 thread, partly because I like everything to be standard and metric, but mostly because it makes postprocessing so much easier. With this little change, you can easily remove 3D printing supports with a tap in a matter of seconds, instead of painstakingly tearing those supports off manually.
A few words about the assembly process... Simply hold two parts together with your hand, and guide the screwdriver with your other hand, carefully positioning the nut with your third hand... Oh, wait! Humans tend to have only two hands! It is not a problem anymore with this exciting new invention called nut traps! Incorporate nut traps in all your designs and they will simplify the final assembly process tremendously! :-)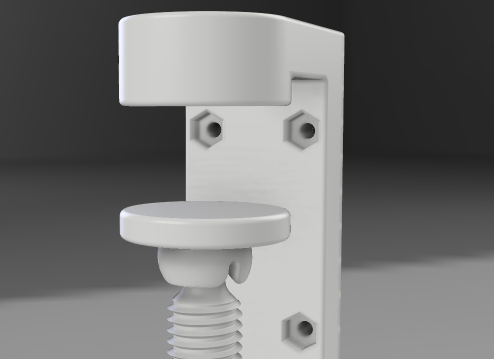 Conclusion
You will find this CAD model along with 3D printable STLs in the project repository.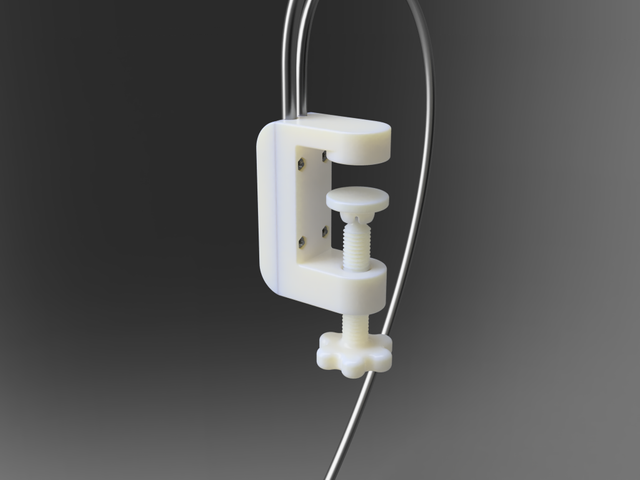 Here is printed and assembled thing.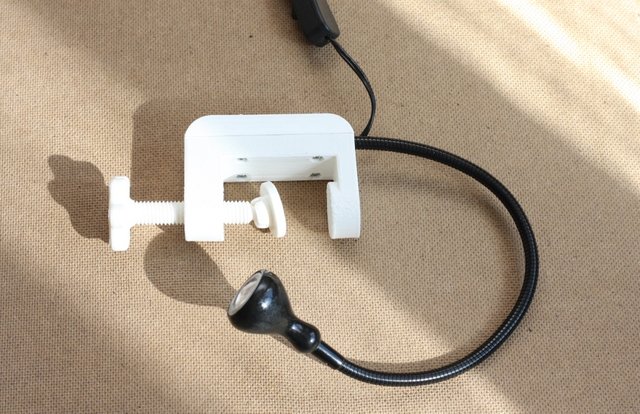 And here is this new clamp in action!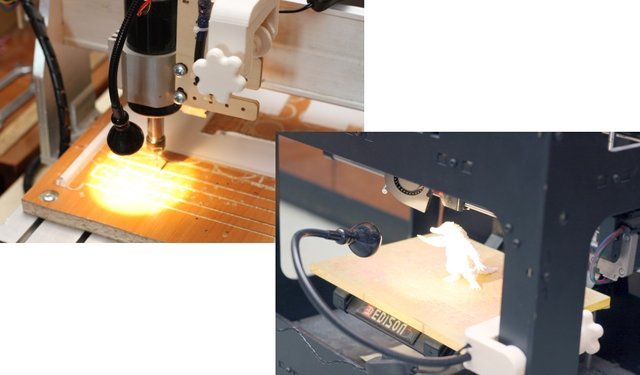 How to contribute?
Do you have a question or suggestion for this project?
Feel free to contact me on Discord or Github! Or simply leave a comment.
Resources
Autodesk Fusion 360: https://www.autodesk.com/products/fusion-360/free-trial
A similar project on Thingiverse: https://www.thingiverse.com/thing:1673030