I'm ecstatic. And it is with great delight I welcome you to the last edition of SteemMag, (the twenty-first edition), a weekend digest for Steemians for this splendid year.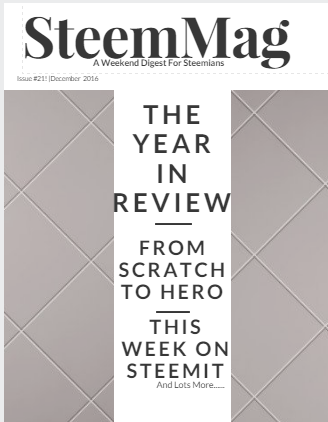 It's been an amazing year and Steemit has had a huge place in the turn of events. Nice knowing y'all.
Every week, I take a look at some of the most important topics and have a chat with top Steemians who have expert views on such topics. In case you missed it, here are links to Issue #1 , #2 , #3 , #4 , 5 , #6, #7 , #8, #9, #10, #11, #12 , #13, #14, #15, 16,#17, #18 , #19 and 20
To round off this amazing year, I will be presenting to you something nice from someone special. A Steemian whose mentorship led to SteemMag in the first place.
This week's edition will only have a page. I'm currently working on launching even more awesome features next year.
---
Being An Author, Mentor and Curator on Steemit in 2016 - From Scratch to Hero

Who am I? Not a hero. I'm an average guy who started on Steemit earlier than most others did. Since then, I have been fortunate to wear some different hats and help fill some different needs for the community.
Before Steemit, I was a member of the BitShares community. My experience there taught me that Dan and his team have integrity. They are top-notch coders. Dan also brings a rare understanding of both economics and of the crypto landscape.
When I saw they were starting this new site called Steemit, I wasn't immediately drawn to it, but it hooked me in. Was it the free content or the monetary rewards? Both of those attracted me. And the early adopters were mostly developers and miners, so I had a rare opportunity to establish my blog early on. I invested a little money in Steem and I wrote lots of posts.
I never set out to be a curator. I helped start Project Curie and Steem Guild because of the disconnect that existed between the quality postings and the rewards that were being allocated by whale votes. At that time, authors like me were getting many of the rewards. The site had become imbalanced because other good content creators were not getting noticed. It wasn't the whales fault; they simply did not have enough time in the day to sort through and evaluate content. Yet because Steem Power was concentrated in a few hands, their votes were the only way of distributing meaningful rewards.
So I started a group of senior Steemit writers and we stepped in to help large accountholders direct their voting power to the best quality posts from a variety of different genres. In turn, both Project Curie (for newer content creators) and Steem Guild (for persistent-but-not-yet-established content creators) have helped many deserving authors gain more exposure and support for their work. And I believe that having a diverse array of content on the main page has been helpful to Steemit also.
My main message to the community is to chill out and be patient for a little while longer. What you see now is a great site, but it's not the finished product. From what I understand, a lot of neat changes are coming soon, plus we have sites like Busy joining the party in the coming months. Soon we can bring the world into Steem and Steemit. In the meantime, let's try to have some fun.
What's next for me? Here is a teaser question for you: Why do I keep posting so often and what have I been doing lately with most of my liquid rewards from posting? Some of my friends and I have been funding a mystery address. For what purpose? I'll give you three guesses. Stay tuned…
---
Thanks for everything, Tom. Wish you all the best in future endeavors. Lots of love :)
---
A SPECIAL Thank You Note
It's been an amazing year for me. And running SteemMag has afforded me a wonderful opportunity of getting to know so many amazing individuals.
I will like to give a shoutout to all those who have taken their time to have a chat with SteemMag. It's been an incredible 6 months of running SteemMag.
To @steemed, @smooth @nextgencrypto @jamesc @complexring @laonie @riverhead @steempty @donkeypong @stellabelle @gavvet @cass @thecryptodrive @fairytalelife @roelandp , The entire Curie Team, @SteemSTEM @steemprentice @busy.org , all witnesses and a host of other steemians.
Y'all rock!
---
A lot of interesting events happened this week. And in case you missed them, we've got your back. Here are some of the most important events that happened on Steemit this week.
~ @wistonwolfe releases a Croudsourced Steemit Video called "This is Your Moment"
~ Steem maintains last week's position and its now 10th on the coinmarketcap.com's crypto market capitalization list.
~ For a comprehensive list of dedicated Steem apps. Check out SteemTools.com
~ Meanwhile, SBD rates ranged from 1 SD = $ 0.99 -1.03 this week
~$0.13 and $0.18 were the lowest and highest value traded this week for a unit of Steem respectively.
---
It's been a pleasure interacting with the community in 2016. Looking forward to an even more amazing time 2017. More Users, A Bigger Community, Happy Investors, Healthy Steem Price and many more.
Hopefully, things can only get better!