STEEMJET MUSICAL CONTEST
The steemjet music department presents the first ever steemjet musical, a music competition created by @langford and sponsored by @dimimp . We are searching for the best of music talents on the steemit community. The steemjet community is here to stay on this platform and we will continue to grow. If you think you got what it takes to be the first steemjet musical superstar and claim a spot in the spaceforce as well as win the grand prize then show us what you got.
CONTEST STARTS WEDNESDAY 20th OF JUNE 2018 AND ENDS WEDNESDAY 11th OF JULY 2018
JUDGES
PRIZES
Winner - 200 steems plus a slot in spaceforce one

First runner up - 150 steems plus a slot in the spaceforce

Second runner up - 100 steems plus a slot in the spaceforce

Fourth and Fifth Places - 80 steems each plus slots in the spaceforce

Other 5 contestants that makes it to the top ten all get slots in the space force

Consolation prices available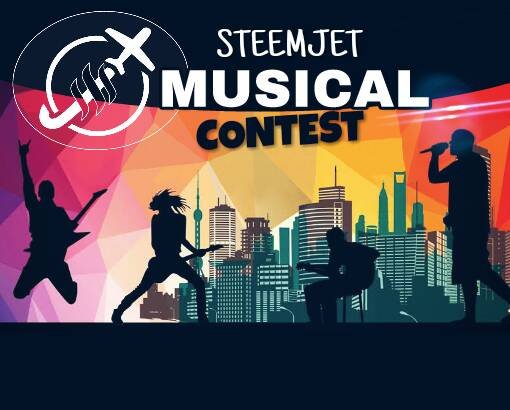 AUDITIONS
The audition stage will commence on Wednesday 20th of June 2018 (20/06/2018) and close Wednesday 27th of June 2017 (27/06/2018)
Interested contestants are to submit one video entry for the audition stage.

Interested contestants must be following this account and must resteem this post.

Any contestant that post more than one entry in a particular stage will be disqualified.

All entries must have steemjetmusical as first tag and steemjet should be one of the other tags.

After submission closes judges will select top 20 contestants to go into the other round.
SONG BATTLE
This stage starts Friday June 29th and closes Tuesday July 3rd 2018
In this stage the top 20 contestants picked by the judges will submit another video entry.

Standard for judging will be increased at this stage so you have to give in your best.

Double entries not accepted.

Judges will select top 10 entries that will go into the next round.
STARS IN THE MAKING
This stage commences on Thursday 5th of July 2018 and ends on Saturday 7th of July 2018
In this stage the top 10 contestants will drop 1 video entry each.

Judges will select top 3 entries to go to the final stage.

The public will vote for 2 other contestants to join the judges' pick in the final.
WE ARE SONGS AND STEEMS
This stage commences on Monday 9th of July 2018 and ends Tuesday 10th of July 2018
The top 5 contestants are to drop one video entry each.

Extra credits will be given to original songs.

Judges will review videos and announce winner and runner ups.
NOTICE
All entries must use the tags #steemjetmusical and #steemjet

All video entries should not be less than 2 minutes.

Winner will be tasked with composing the official steemjet anthem.