Good day my Steemit Sandwich Elves!
---
It's week 78 of @jaybirds Steemit Sandwich Contest! It's so good to see new faces around the Sandwich kitchen! @jaybird makes a mean sandwich as you know and we need all of the sandwich genius we can get each week! Good luck to everyone and a big thank you to @jaybird for hosting the weekly gathering. He contributes a lot of time, energy and Steem to sponsor and host this each week and for that we are truly grateful!
---
For those of you who are football fans the big game is this weekend! Super Bowl 53. I don't usually watch the game too closely because I'm too busy prepping the food. A lot of food! Sandwiches are always a must but they're usually heavy and not always healthy sandwiches!
---
The weather is expected to be cold! A warm sandwich would be nice.
---
---
How does a warm, buttery grilled cheesy sandwich sound?
A big loaf of roasted garlic bread would be a great beginning….
The Garlic-y Bread
Garlic cloves (3 roasted and minced)
Butter (3 tbsp.)
Almond Milk (1 cup)
Bread flour (2 ¾ cups)
Nutritional Yeast (1/4 cup)
Maple Syrup (2 tbsp.)
Sea Salt (1 tsp)
Garlic Powder (1/2 tsp)
Yeast (1 ½ tsp)
---
I prepped the dough and after the first rise, I transferred it to a silicone baking mat to rise for the 2nd time. After an hour I brushed the top of the bread with an egg white and topped with an additional minced roasted garlic clove.
---
Baked it at 375 for 23 minutes or until the bread is golden and sounds hollow when you tap on it. Bring it out to cool.

When the bread is cooled, slice a couple of nice slices….and the fun begins!

Sandwich Stuff
Bacon (fried)
Goat Cheese
Fresh Spinach
Avocado
Garlic Powder
Cayenne Pepper
Butter
Chopped Green Onion
Fresh Parsley (chopped)
Fresh Basil (chopped)
---
Butter one side of each slice of bread. Mix the goat cheese with the onions, parsley and basil. Liberally spread a layer of the cheesy goodness on one slice of bread. Now, the bacon!

Mash the avocado just until it's chunky and add garlic powder and cayenne. Mix well and spread a layer on top of the bacon. Oh man…

Next, the spinach!

Add another layer of goat cheese, top it and it's time to grill! Lightly grill until its golden brown.
There you have it! A garlic-y, chees-y avocado bacon bite of goodness!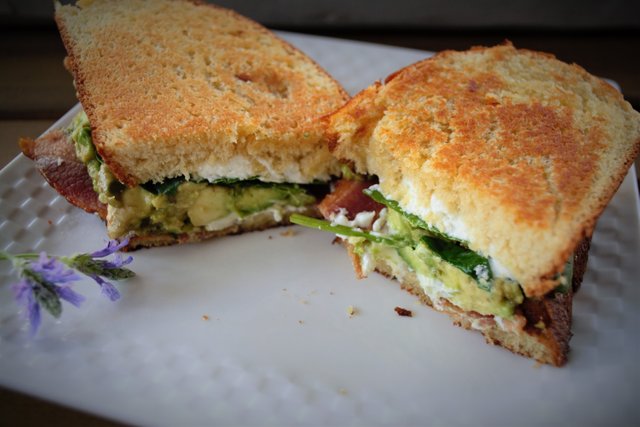 ---
This sandwich was so light and creamy. Super Bowl Worthy, lol! So many flavors, your palate will love you! I hope you'll try it! Thanks for stopping by!
---
And as always, blessings to you all!
---
---
---

---