Bubbles, bubbles everywhere! Yes, bubbles could probably be the world's very first plaything, they are found everywhere we go and are enjoyed by young and old alike (if you think you are too old for bubbles then think again)! I have a two-year-old and he spends hours of the week blowing and popping his bubbles, which is great for me because they are a stimulating distraction and they are inexpensive to buy. In fact, you don't have to buy them, you can MAKE them! 
Making bubbles is an awesome way to keep the little ones busy and learn something new at the same time. Make a science experiment out of it! Many manufacturers and even scientists have spent years trying to perfect the bubble "formula" – with the aim of finding the solution for the most durable and long-lasting bubble frenzy! 
Perhaps the person who has studied the science of bubbles the most, is Keith Michael Johnson. And he recently shared his unlikely TOP-SECRET formula for the best bubble solution. - https://sciencebob.com/the-ultimate-bubble-solution/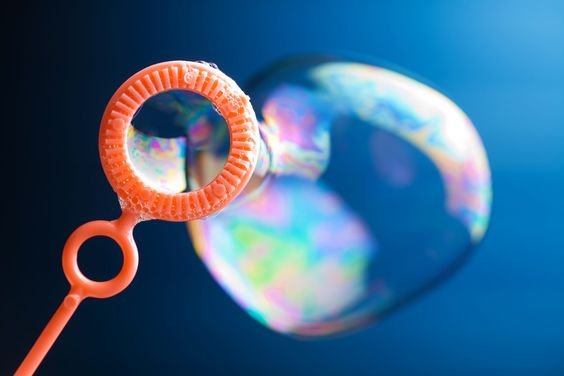 Image Source
What You Need To Make Your Very Own Perfect Bubbles:

 
You will need: 
Water (preferably distilled, but not necessary) 
Dish washing liquid 
KY Jelly (lubricant) 
A clean plastic tub or bottle for your bubble solution 
To make: 
Simply mix the following – 
12 parts water 
1 part dish liquid 
½ part KY Jelly 
Shake all of the ingredients together well and then let the solution sit for a few minutes, preferably a few hours, before use. 
While you wait, if your kids are old enough, you can explain the science behind how bubbles work! 
The Science Behind BUBBLES

 
Who thought that you could learn from bubbles? These soap play things provide the opportunity to learn about science concepts like: elasticity, surface tension, chemistry and light.  
A bubble is just air wrapped in soap film. Soap film is made from soap and water (or other liquid). The outside and inside surfaces of a bubble consist of soap molecules. A thin layer of water lies between the two layers of soap molecules, sort of like a water sandwich with soap molecules for bread. They work together to hold air inside. - https://www.kidsdiscover.com/teacherresources/bubbles-for-kids/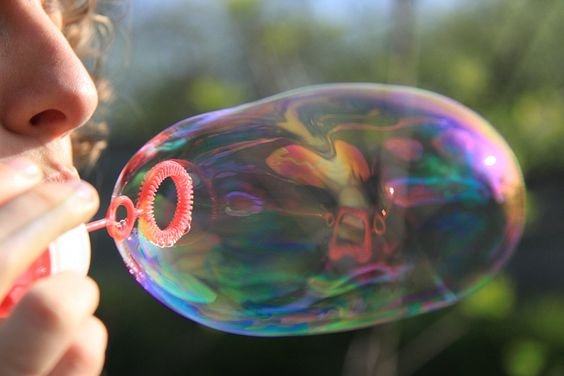 Image Sorce
Why are bubbles round? 
Bubbles can be stretched to make all sorts of funny shapes, but once a bubble is sealed, it will always default to a sphere shape. This is because the tension in the bubble's film shrinks to the smallest shape depending on the amount of air it contains. A sphere is the smallest shape, since it has the smallest surface area for the amount of volume it holds.  
Why do bubbles pop? 
Bubble pop when the water on the soapy surface evaporates (or more obviously, they have been poked). On colder days, evaporation takes place more slowly, or not at all, allowing the bubble to freeze in very cold temperatures.  Did you know: A bubble will rise higher on a cold day, because the air you breathe out is lighter than the chilly air!  
------------------------------------------------------------------------------
Source: https://sciencebob.com/the-ultimate-bubble-solution/
------------------------------------------------------------------------------
HAVE FUN WITH -

 

Bubbles can be used in so many different circumstances and in so many ways, they really are one of life's "fun" gifts to us. Spend time with your child blowing bubbles and help them to learn about the science behind them – open their eyes to the very simple wonders of the world! 
------------------------------------------------------------------------------

Team South Africa banner designed by @bearone
(bringing you original content)