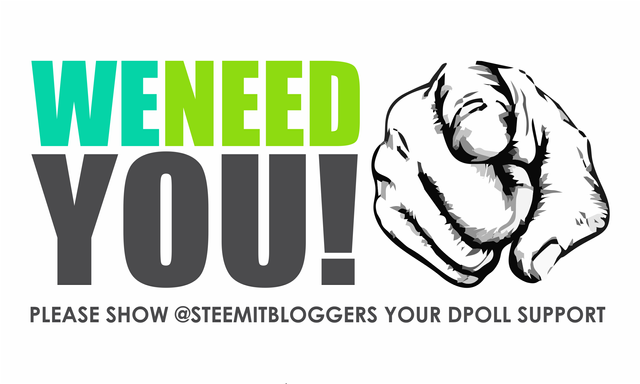 Hello, friends!

This time it's me, coming with a call for Your support in a dpoll which will decide who gets a delegation of 20K SP by @theycallmedan. There's a chance you didn't know about it yet, right?

Also, you might not know about the @steemitbloggers yet. Or the new hashtag #powerhousecreatives. But that does not mean that you haven't seen the content of its authors. You probably have, if you're interested in... blogging...

or Writing or Poetry... or Crypto and Blockchain... or Charity... or Art, Photography and Design... or Travel... or Philosophy... or Cats... or Cooking... or Health and Fitness... or Sports... or Gaming... or Music... or Science... or Education ... Gardening and Homesteading... Nature preserving ... or Cultural stuff... what not...

from all around the world...

or Contests ;)

(Speaking of which, one will be coming soon, designed by me and under the hat of the @steemitbloggers, again ;) )

Meanwhile, there's already one running - if you're into poetry, really, check it out here

Yeah, it's about the poll and its creator. That's the topic of the week, I guess. But it's also about your place here. Our place here.

So, if you want our efforts to weigh more, now is the chance for you to
Help Our Curation Support Grow...
with just a vote and sharing with your friends.
This is the WHERE
From there, just login using SteemConnect and
help @steemitbloggers help those who promote the platform through their creations and engagement.
And this is how you stimulate those who take extra care about what they show and what is the thing that all people coming to take a look at the platform will see. As is everybody else, right. But this is in favor of everybody else, too. If you want to know how, post a comment about what you're doing.
Yours,
Manol