"They Call Him Dan" (poem-contest) ... 20,000 STEEM Delegation Contest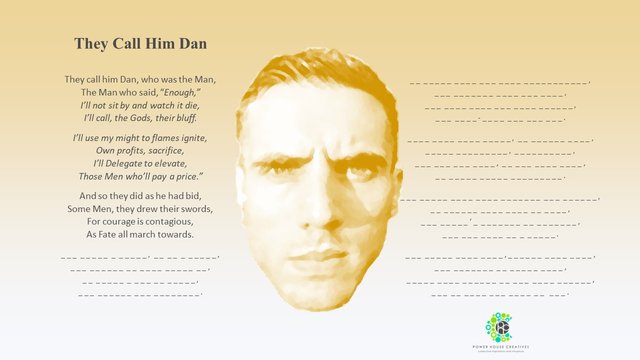 Poem by @QuillFire
Member, The Power House Creatives

They Call Him Dan
They call him Dan, who was the Man, 
The Man who said, "Enough," 
I'll not sit by and watch it die, 
I'll call, the Gods, their bluff.   
I'll use my might to flames ignite, 
Own profits, sacrifice, 
I'll Delegate to elevate, 
Those Men who'll pay a price."   
And so they did as he had bid, 
Some Men, they drew their swords, 
For courage is contagious, 
As Fate all march towards.  
(Your Stanza)

So, it's Day 2 of The Great @theycallmedan 20,000 STEEM Delegation Contest. The begging and pleading, coercing and cajoling ... anything to increase your team's dPoll votes.
And, undoubtedly (and understandably), people are getting weary of the Contest-related posts and resteems. But let me ask you this: When was the last time Steemit possessed this kind of enthusiasm? And, despite the circus-like atmosphere, do you believe it beneficial to re-energize the lethargic-of-late?
To my poem.
As you can see, I gave you the first three stanzas, and on each subsequent day of the Contest, I will provide another. There are eight stanzas in all.
I'm in advertising, which means I'm a sneaky and manipulative S.O.B. Here's my Machiavellian Plan. 
People have a need for completion so I'm going to draw you in with my unfinished, but ongoing story, the finale ever-so-close, yet tantalizingly just out of your reach. And, you'll want to resteem it too. Why? Because you'll want your friends to think you're erudite. And what's more erudite than poetry? You are a sophisticated thinker and it's time your bloody friends take note of the fact.
And, because each subsequent post will be different from those that proceeded it, and therefore novel, in your quest for erudition you will not even notice that you're giving me the ongoing distribution I desire.
Pretty clever, huh?
There's more.
All great Ad-Men know that you need to engage your audience, to get them involved. And so, I'm going to engage you by getting you to write The Next Stanza and drop it in my comments section.
@jaynie (our Commander-In-Chief) has agreed to hit The Best Stanza, daily, with the full might of the Power House Creatives' (SteemitBloggers) upvote, about $0.30 at the moment. Undoubtedly, there will also be lots of PHC members milling about, so who knows ... $0.50? Welcome to my world ... that of the Starving Poet.    
Mind you, the poem (an "epic") ... is about Dan and it uses both his name and his face. And, it recounts a story, about him ... in public. Now, he probably anticipates that I would refrain from writing anything salacious (after all, I have a erudite reputation to protect), but you lot are notorious rabble-rousers and hyenas. So, God only knows what you'd write. Right?
In advertising, this kind of high-stakes, ego-threatening ambiguity is called neurological crack cocaine. So ... perhaps a whale will be joining us in the shoals.
In any event, even if you don't get filthy rich, you'll at least become incredibly famous. So, tap your inner-Shakespeare and give me your best 4-line soliloquy to syrupy sentimentality.    
And ... prepare for the paparazzi.
Quill

How To Vote
Click this Link 
When asked, Login to steemconnect
Select "steemitbloggers"