যেভাবে @steemitbd বাংলাদেশী ইউজারদের সহযোগিতায় এগিয়ে আসছে।
হ্যলো বাংলাদেশী স্টিমিয়ানরা আশা করি সবাই ভালো আছেন। আজকের পোস্টটা স্টিমেটে নতুন যারা জয়েন করেছেন এবং পুরাতন যারা রয়েছেন সকলেরই জন্য। আজকের এই পোস্টে আমি @steemitbd নিয়ে আলোচনা করবো ।
LOGO Credit @ishratamin
STEEMIT BANGLADESH হচ্ছে এমন একটি কমিউনিটি যেটি আপনাকে সঠিক ভাবে স্টিমিট ব্যবহারে সহযোগিতা বা গাইড করবে, তার জন্য আপনাকে কোন ধরনের ফি দিতে হবে না। ইদানিং স্টিমিটে প্রচুর বাংলাদেশী জয়েন করছে। সবার একটাই উদ্দেশ্য , আর সেটা হচ্ছে কিভাবে স্টিমিট থেকে ইনকাম করা যায় । এটা ভালো কথা, কিন্তু অধিকাংশ ইউজাররা এই ইনকাম করার জন্য ভুল পথটা বেছে নেয়, সত্যি বলতে Lack Of Education এর কারনে এমনটা হয়ে থাকে। এখানে অনেকে ইনভেস্ট করে ইনকাম করে আবার অনেকে নিজের টেলেন্ট তুলে ধরে ইনকাম করে। কিন্তু এখান ইনভেস্ট এর তুলনায় টেলেন্টের কদর খুব কম। আর তাই STEEMIT BANGLADESH সেই সব টেলেন্টেড ইউজারদের হেল্প করার জন্য কাজ করে যাচ্ছে । STEEMIT BANGLADESH এর কার্যক্রম গুলো নিচে দেওয়া হলো ।

Curation Competition League ( Progress and sponsorship discussion)
---
Curation Competition League এই কন্টেস্টটির স্পন্সার হচ্ছেন @aafrin @withsmn @aanika . প্রতি সপ্তাহের মঙ্গলবার ও শুক্রবার এই কন্টেস্টের উইনার সিলেক্ট করা হয়। কন্টেস্টে যোগ দিতে আপনাকে যা যা করতে হবে তাহচ্ছেঃ
---
Daily curation Support issue article
---
STEEMIT BANGLADESH ডিস্কর্ডের #post-promotion থেকে প্রতিদিন ৩ টি পোস্ট বাছাই করে ১০০% আপভোট ও রি-স্টিম করে থাকে। আর সেটি Daily curation Support issue article হিসেবে পোস্ট দেওয়া হয় @steemitbd কমিউনিটি একাউন্ট থেকে। Robin ( @mdaa51) এই সেকশনটির দেখাশুনা করে থাকেন এবং এই আর্টিকেল গুলো সাপোর্ট দিচ্ছে @bdvoter ।
Example:
---
Photography competition ( Presentation by @tdas0 )
---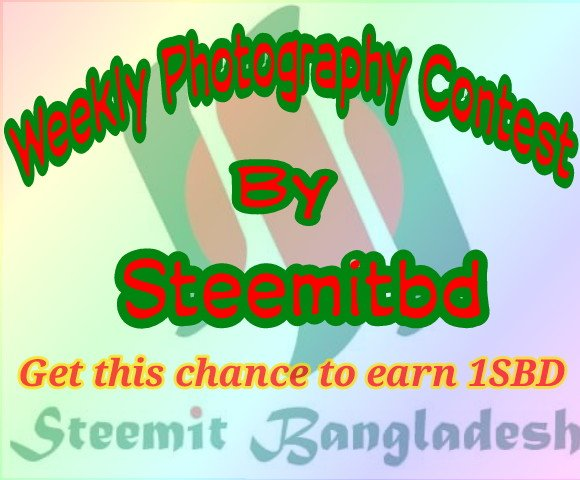 আপনি যদি ফটোগ্রাফি করতে ভালোবাসেন তাহলে এই কন্টেস্টটি আপনার জন্য । আমাদের কমিউনিটি মেম্বার তুষার (@tdas0) এই কন্টেস্টটির স্পন্সার করেছেন। কন্টেস্ট সম্পর্কে বিস্তারিত জানতে পারবেন এই পোস্টের মাধ্যমে Weekly Photography Contest: Episode #1।
---
আপনি যদি আমাদের কমিউনিটির সাথে যোগদান দিতে চান তাহলে আমাদের সাথে বিভিন্ন সোশ্যাল প্লাটফর্মে জয়েন করুনঃ
Our Steem chat room
Our Discord Channel
Our Facebook Page to promote steemit
Our Facebook Group to promote steemit
Our Twitter to promote steemit
Our Instagram to promote steemit
---
About SteemitBD
@SteemitBD Steemit Bangladesh is a community by Bangladeshi steemians to support each other. We find a lot of steemians from Bangladesh face difficulties to find visibility and their talent are overlooked. The community organisation is helping to value their work from the community. We are also arranging contest among Bangladeshi steemians. If you would like to support the Steemit Bangladesh community, don't forget to upvote and resteem the post.