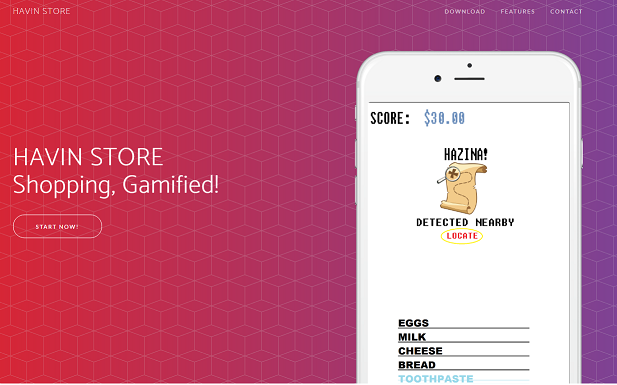 Want to shop locally with steem backed dollars?
We're getting local merchants to accept your steem dollars directly for merchandise and bringing in thousands of new users, here's how.
Ever look at your shopping list and wish it was something a little more?
Ever think the whole world would look better in 8 bit?
We're building it right now! It's called HAVIN
Here's how this works...
Users download our game, HAVIN and create an avatar in the system.
This is a real steemit account, because we're using the blockchain to save infrastructure costs.
As you run low on items in your house, or just find merchandise you'd like to spend SBD on, you simply scan it in and it's uploaded to the blockchain automatically.
You're now in a live action role playing game, powered by the finest in 8 bit graphics.
Every time you add an item to your list you are given a piece of "The Sacred Map" and this is where the fun begins!
Your epic quest, is to adventure out and find all the items on your list. Each time you go out on a quest, the game takes you to local retailers but, because you have pieces of the sacred map, you will also be searching out Hazinas!
Hazina means treasure!
These treasures were hidden in ancient times throughout the world by the Empire of Old Havin!
What's in each treasure chest? No one knows! Some think it could be the riches of the Ancient Steemian Empire from before the Synereo wars. A war that was eventually won, but only at great cost. Many voices were silenced in those days, never to speak again.
If you're a player, each time you make a list and go on a "quest", you will be rewarded with something, and of course you earn points and level up your character. The game keeps a spendable change purse as well thanks to blocktrades.
(note to folks reading this, we give you a fresh account)
These are all brand new accounts we'll be bringing into steemit by way of Google Play and the iTunes app store.
Now here's the reason we're doing this...
We believe that steemit has enormous potential as a social engagement platform and
SBD has the potential to redefine the payments industry.
You see...
Even the smallest merchants waste thousands of dollars just trying to get people in the door!
Yet here are the shopping lists and spendable balances of thousands of players in their local area. So we setup a bidding situation for the merchants. This enables them to convert their loss leader items into faithful customers.
Example...
Barbara has a shopping list that includes "lipstick".
I need more lipstick!
Charlie's Corner Market has time limited deal from their vendor making the wholesale price of lipstick $0.25
Hi! I'm Charlie from Charlie's Corner Market and Discount Makeup Shop
But he's small and no one knows about him.
He sees that Barbara wants lipstick, so he makes this a freebie item for her as "Hazina".
There's treasure nearby!
She was on on her route to the MegaBucks big box retailer but now she stops into Charlie's and starts scanning all the items on her list until she finds her treasure.
Her entire list is up in her hands the whole time she's in the store! Plus she's now "show rooming" and she can see what these items would cost on Amazon as well as at the MegaBucks big box store. Of course she's going to buy most of her list at Charlie's!
Of all my options, Amazon, Megabucks or Charlie's. Charlie's is the only place accepting SBD! So yeah I'm getting my list here
Wait! Why would I accept SBD?
www.havin.store explains...
Because SBD is the ONLY way to buy promotional space within steemit's "promoted" section. And the game's servers will automatically upvote promoted ads coming from our merchants. The curation earnings will be used to create completely random cash "hazina's" in the real world, in order to encourage more players to play. While the merchant gets HUGE amounts of exposure to a global audience. An audience with money to spend at their store!
Literally everyone is a winner!
HAVIN We're building it right now!
On Monday it will launch in a closed beta mode. This beta is exclusively for existing steemians and is by invitation only. If you're a whale, you're automatically invited, just express your interest below.
The purpose of the closed beta is to shake out the tech basics.
Nothing like this has ever been tried before, we still need to make sure we're playing nice with the blockchain. That's why it's closed to all but a handful of minnows at the moment. If something goes wrong while testing, the whales have the power to block the game while we sort things out. @onetree and any other merchant that would like to play, this is open for you as well, even if your store is online.
After October 1st, we will enter "open beta". This beta will be available to everyone who already has a steemit account and good rep. We do give you a whole new account for your character.
The game is expected to exit beta and go to app stores in time for Halloween. On Halloween we will have a "trick or treat" special , where we will put hazinas within a 10 mile radius of every player. That will be our official launch and at that point we plan to begin heavy marketing of the game around the country as a...
Just in time for Christmas and of course "Black Friday". Although I guess nowadays it's "Blue Thursday" since folks want to stand outside freezing to death, just to get the best deals. At least this will give them something to do though.
During our open beta period, we will begin advertising the game heavily and nationwide. Our primary hook being that it's just a fun way to manage your shopping lists & wishlists while getting a discount at retailers and oh it also has social media integration and a built in wallet including full "ondemand" cryptocurrency exchange courtesy of @blocktrades
By the way, we do have a full RPG planned here, with backstory and actual quests for people who are serious about their role playing. Content is a primary concern here, but we want to avoid any "death by pokemon" stories. Still I'll personally upvote and resteem anyone that goes out in full costume to play the game and takes a selfie @lordvader I'm looking at you.
Future announcements on the game will come from the official account @hazin and most announcements will be coming fast and heavy, so you should follow that account if you aren't already.
FYI: The game world was originally called Hazin (pronounced Haz In), but too many people felt it had negative connotations including being a bad word in Turkish, so we changed the name of the game but kept the account.
If you're interested in participating in the first or second phase of the beta please make sure to indicate it below. The second phase is first come first served and should start in a week.