I have three friends that made a monstrous mistake on Steemit. Disastrous... and you should never make the same mistake.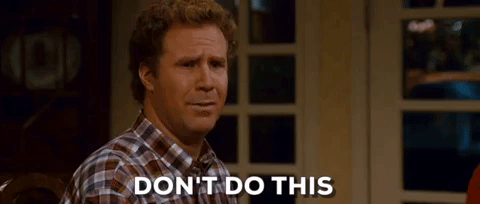 (Source)
All three of these friends are people I personally invited and thought had potential to do well. They are clever and make good content, but all three made a mistake that they'll regret one day.
What is the one thing you should never do on Steemit?
NEVER GIVE UP ON STEEMIT!
I know it can be hard when your account value dropped from a couple thousand to a few hundred, but NEVER GIVE UP ON STEEMIT.
Here's the deal, you're still accumulating the same amount of Steem as you were before, but it's just worth less. In the future, I really think it will be worth a lot more. I don't think I'm alone in feeling this way.
Steemit is a hard platform to gain traction, but it is an incredible community. The truth is, none of us should give up on Steemit. 
I've been on here a year now, and I can tell you that not giving up and engaging with the community will pay off. In a year, I've built up a lot of knowledge and some crypto thanks to Steemit. The thing I think I have done the best is build into my future. 
There is no doubt that blockchain technology will be huge one day and crypto is a part of that. Just what I've learned on Steemit has prepared me for the future better than I could have received if I paid for it.
Steemit isn't easy, but that is what makes it great and worthwhile. Don't give up on it. Even when you see $1 Steem, don't worry. Don't give up, and just keep building on your future.
Go Steemit!
Have a wonderful day everyone.
Thanks for reading.