Hi Steemians,
As a software developer, I've been developing some tools to help me use Steemit how I want to, with easier ways to filter, browse and find content, as well as to curate more easily. I've decided to make it a product and available to everyone and its finally ready after many weeks of hard work!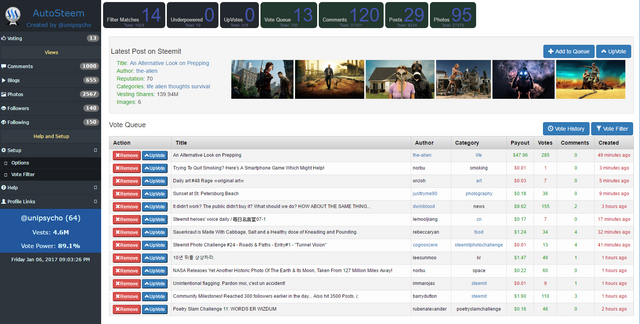 AutoSteem is a tool for:
Filtering Steem Posts EXACTLY How YOU Want
Auto create a voting queue from your filter
Automatic OR Manual voting
View comments for all posts
View blog posts with added images
View all photos from all posts as a stream
Monitor only NEW content
Detailed inspection of followers / who your following
Runs in your browser, along side Steemit
Full NSFW filtering option (you choose)
Tell me More About These Features?
Lets have a look at a few of these in more detail. What I really wanted, was to have some better views for monitoring Steemit.
I also wanted a tool that I knew what it was doing and would only run when I wanted it to. AutoSteem has to be left open to keep it running for example.
Here are some examples of the various views in AutoSteem.
Blog View
This is a stream of all posts in steemit that you can monitor and easily clear as you've reviewed them to keep a list of fresh content available for you to check and read through. Also, it shows the first 3 photos from any post and tells you how many additional photos there are if any. I love this since as a photographer, I care about the images in posts and having the ability to review post summaries, with the photos I find really helpful. It looks like this: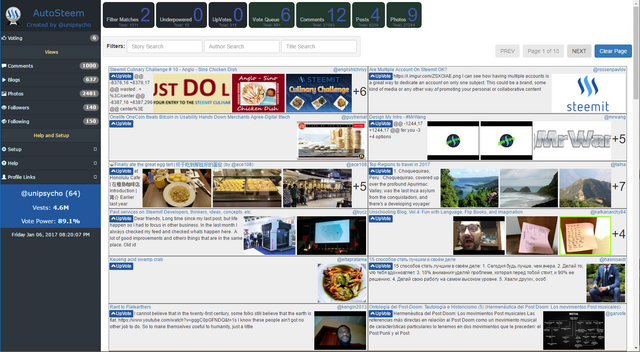 Photo Stream
If you like viewing photos from posts, you'll love this next one, as do I. The Photo Stream page lets you monitor ALL photos sequentially in steemit, so you can scroll through all the photos that AutoSteem detects in the posts as they are monitored. This gives you a great way to find photosets of interest, photos in a post that are not the first visible photo or just to find new authors and posts with great photos in their posts. Here is an example: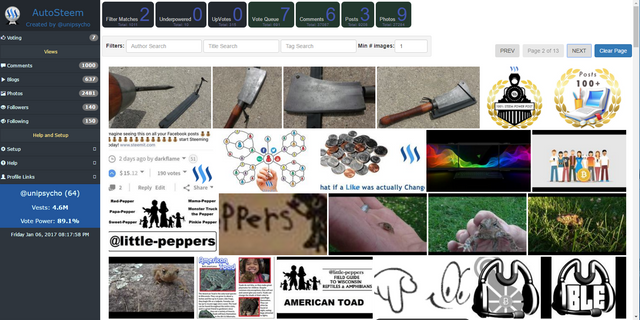 Comments
Keep in touch with comments on all posts, from this great view.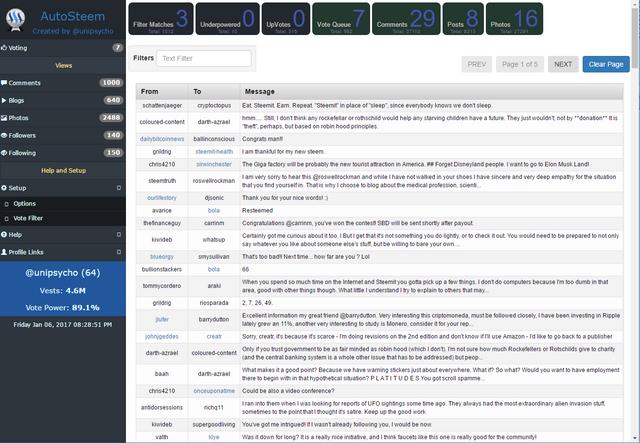 Vote Filter
AutoSteem can do a lot with its filter for you to find content. You setup the vote filter and let it capture all the blogs that match your filter. You have control then if you want to allow autovoting on that, or if you want to manually vote up the content from the vote queue yourself.
To make the automation even better, you can set how much voting power to maintain in your account, and the time delay before a vote is cast. This helps you get the curation rewards and gives you voting control still.
The filter looks like this: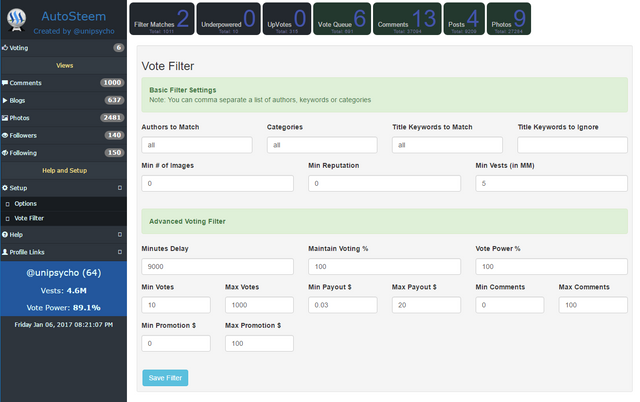 Autovoting
I know autovoting causes mixed reactions for people on steemit, some people love it, some hate it. That's why I build the features I did into AutoSteem. You control completely how the autovoting works. The filters are very powerful, and the advanced voting features let you set the delay of votes, what voting power to maintain and the vote power you want to autovote with.
Tip: If you want to manually control your votes, you can still use this powerful filter, just set your Maintain Voting % to 100% and autosteem will keep those items in the voteQ for you to review and vote up or remove manually.
This gives you the best of both worlds for autovoting.
---
There is a lot more in Autosteem to explore, and I'll be posting some videos and other tips on more of its features.
So, go try AutoSteem today and I hope you find it as useful as I do.
Also, Please Help Support AutoSteem
I'd love if people are able to help support me directly in building these tools, with any donations here on Steemit. You can also help by RESTEEMing this, voting it up and of course, just using and letting others know about it.
I hope to add more features and make it even better, so let me know ideas or suggestions you have to improve it!