Guten Tag liebe Community,
---
Wie heute schon angekündigt gibt es jetzt das Review von dem Tabak den ich heute erworben habe dem Wild Tastic.
Ich sitze noch in der Uni und habe Steuerlehre und ihr so? Habt ihr schon Tabaksorten ausprobiert den ich getestet habe?
Oder möchtet ihr das ich einen Tabak für euch teste ?
Schreibt es einfach in die Kommentare.
---
Schönen Tag noch und viel Spaß beim lesen.
---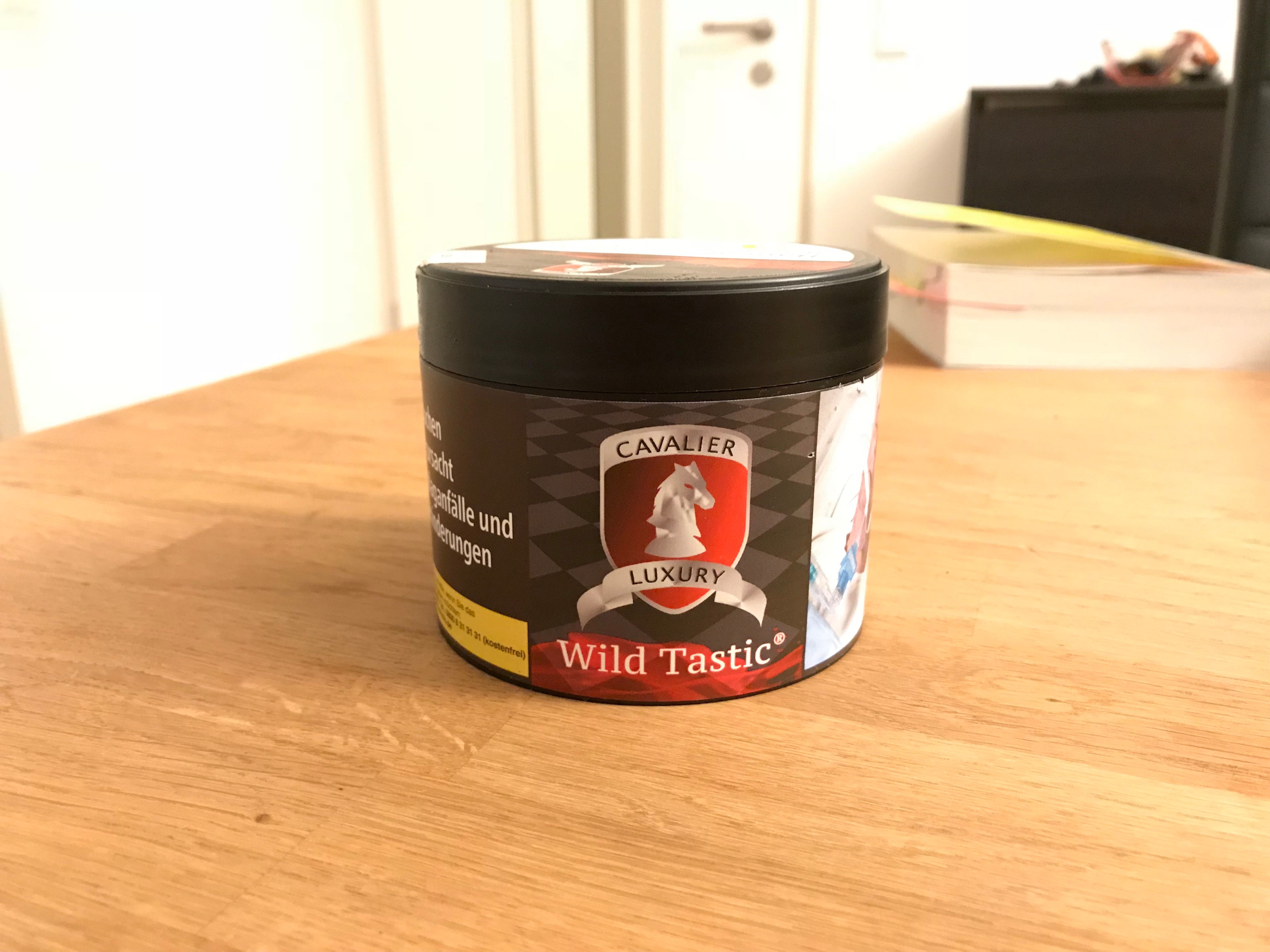 ---
Name: Wild Tastic
---
Hersteller: Cavalier Tobacco
---
Preis: 200g- 16,90€
---
Packungsgröße in meinem Fall: 200g
---
Verpackung: Der Tabak wird wie gewohnt von Cavalier in einer schwarzen Kunstoffdose geliefert. Wie immer ist der Tabak doppelt verzippt. Die Verpackungsdose eignen sich perfekt um den Tabak aufzubewahren.
---
Schnitt: Der Tabak war recht grob geschnitten, ich bin noch einmal mit einer Schere durchgegangen um ihn feiner zu schneiden.
---
Feuchtigkeit: Der Tabak ist sehr gut eingezogen und es befindet sich kaum überschüssige Molasse in der Dose.
---
Geruch: Wie in der Produktbeschreibung beschrieben, riecht man im Vordergrund die Waldbeernote. Die Waldbeernote ist eher künstlich. Im Hintergrund schwebt eine süsse Note die ich nicht genau identifizieren kann.
---
Geschmack: Im ersten anrauchen schmeckt man die Waldbeernote, diese ist wie auch im Geruch schon eher künstlich, eine Himbeernote mit leichter Blaubeernote schmeckt man, genau identifizieren kann ich es leider nicht. Das positive hierbei ist das man keine kühle Note hat und der Tabak dadurch sehr angenehm zu rauchen ist.
---
Setup: Power Bowl RT mit Fake Lotus
---
Rauchentwicklung: Die Rauchentwicklung ist wie man es von Cavalier oder auch True Passion kennt sehr gut.
---
Fazit: Wild Tastic ist an sich ein guter Waldbeeren- Mix, der Geschmack ist wie schon gesagt etwas künstlich, jedoch gar nicht störend. Also ich finde den Tabak ganz gut, jedoch gibt es genug alternativen die besser schmecken.
---
Von mir gibt es keine klare Kaufempfehlung, jedoch kann man sich den Tabak schon einmal gönnen.
---
---
Hello, good day dear community,
---
As already announced today, there is now the review of the tobacco I have acquired today the Wild Tastic.
I'm still in the university and have taxation and you like that? Have you already tried tobaccos that I have tested?
Or do you want me to test a tobacco for you?
Write it in the comments .
---
Have a nice day and have fun reading .
---
Name: Wild Tastic
---
Manufacturer: Cavalier Tobacco
---
Price: 200g- 16,90 €
---
Pack size in my case: 200g
---
Packaging: The tobacco is delivered as usual by Cavalier in a black plastic tin. As always, the tobacco is double-zipped. The packaging box is perfect for keeping the tobacco.
---
Cut of tobacco: The tobacco was cut quite roughly, I went through with a pair of scissors again to cut it finer.
---
Moisture: The tobacco is absorbed very well and there is hardly any excess molasses in the can.
---
Odor: As described in the product description, one smells the forest berry note in the foreground. The berry note is rather artificial. In the background hovers a sweet note that I can not identify exactly.
---
Taste: In the first taste you taste the berry note, this is as well as in the smell already rather artificial, a raspberry note with a light blueberry note tastes, exactly I can not identify it unfortunately. The positive here is that you do not have a cool touch and the tobacco is very pleasant to smoke.
---
Setup: Power Bowl RT with Fake Lotus
---
Smoke development: The smoke development is as you know it from Cavalier or True Passion very well.
---
Fazit: Wild Tastic is a good forest berry mix in itself, the taste is, as I said, somewhat artificial, but not disturbing. So I think the tobacco is quite good, but there are enough alternatives that taste better.
---
From me there is no clear purchase recommendation, but you can treat yourself to the tobacco ever.