Steemit Home Page Redesign Part III
Revised Iterations, Feedback, Features and Pain Points.
Once again its your Steemit Community Neighborhood Yeti, coming in with the new scoop for Steemit Home Page Redesign Part III.
1st Pitch
In the first pitch we addressed pain points and other misleading on boarding things for new users and how they get lost. We iterated, commented, notes were taken and written down and we started this ongoing phase of iterations.
2nd Pitch
In the second pitch more concerns gravitated towards the logged in user, as a returning user and how to best make the page more usable for me once I've logged in. Many pain points surrounded the conflict between my "landing home page" vs "my blog page". Trying to dive deeper here into more usable feature sets that gravitate to user intuitiveness and ease of use as well as allow the platform to be more aware of what I want, when I want and how I want to see it.
In this last phase of efforts, comments, pain points, features presented etc, we are most definitely tightening the screws on a solid approach on how best to capture a new user and how best to keep the users we already have. Here are the lists we came up with from Home Page Redesign Part II.
Construction Zone! - How should we build this? Here was the take-away.
Comments on Iteration 2
Add better tabs that relate to users. The tabs are outdated and provide little to no use as it is curated to whales, big users, and doesn't relate to me.

Some tabs to add - on boarding or new users, curated content with my favorites selected

Introduce a way to favorite a follower so I can see their content in my feed easily or isolated.

Persona: I favorite a user @aggroed and user @themarkymark. If I select the tab Favorites, the content shown are the favorites I've selected.

Works great for scalability when we decide we have 1000 friends but really want to stay up to date on 20 of them. How easy is it to find their content? Top 10 like myspace

I managed through a bit of personal brainstorming come up with this.
"Basically I have a "My Top 20" Tag. This tag takes both the top 20 favorite steemians, and the top 20 tags that you like and places both in a feed that defaults to Steemians, or Tags. On that Feed selection you can then tab between Favorite Steemians and Favorite Tags, and the Tabs are smart enough to arrange content that has both favorite steemians and favorite tags into a list where those are curated at the top under the Favorite Steemians tag."
Adding a favorite user section
Adding a favorite user article feed
Adding a foreign language filter for localization. This would be ideal and could use the industry standard. ( going to translate.google.com will allow you to type in the website and the website will be translated into that language. I think thats an easy fix for now)
Surface the " my feed " as the default on both the home page logged in and to the "my blog" section, not defaulted.
Create a "Tag widget" that is smart. Allow me to select tags I'm interested in by both users I like and content I like.
Merge promoted tag into the feed tag. Doesn't have as much value.
Add more visibility to sign up / login
These were the new items in review from the last post.
Comments from so many Steemians that deserve credit here again, thanks for your assistance. It's you that use the UI and you are the voice that allows me to help shape this community, and empower my creative energies to work hard and into the nights on rebuilding these pitch proposals.
THANK YOU
@aggroed, @themarkymark, @velimir, @fredrikaa, @fulltimegeek, @brandonp, @geofftk, @fourfourfun, @dlew, @venalbe, @grizgal, @shawnvanderveer, @dedicatedguy, @datascience, @mitneb, @edicted, @jlordc, @arcange, @spiritualmax, @makerhacks, @isnochys, @dlew, @mikesthoughts, @rock220, @daan, @davidshaw, @rawdawg, @yogajill, @mcblessing1, @patrice, @princessmewmew, @kerlund74, @yabapmatt, @ma1neevent, @poeticsnake @shadowspub, @folken, @whatsup, @kubbyelizabeth, @freedomexists
Your comments, criticism, pain points, and praise help drive successful change.
Thank you. For anyone I left out, thank you as well. don't forget to leave your comments below, and upvote if you liked the design work and the direction.
Now lets show off the adjustments to the new build below.
Logged Out - New User Home
Persona: I am a new user accessing Steemit.com for the first time.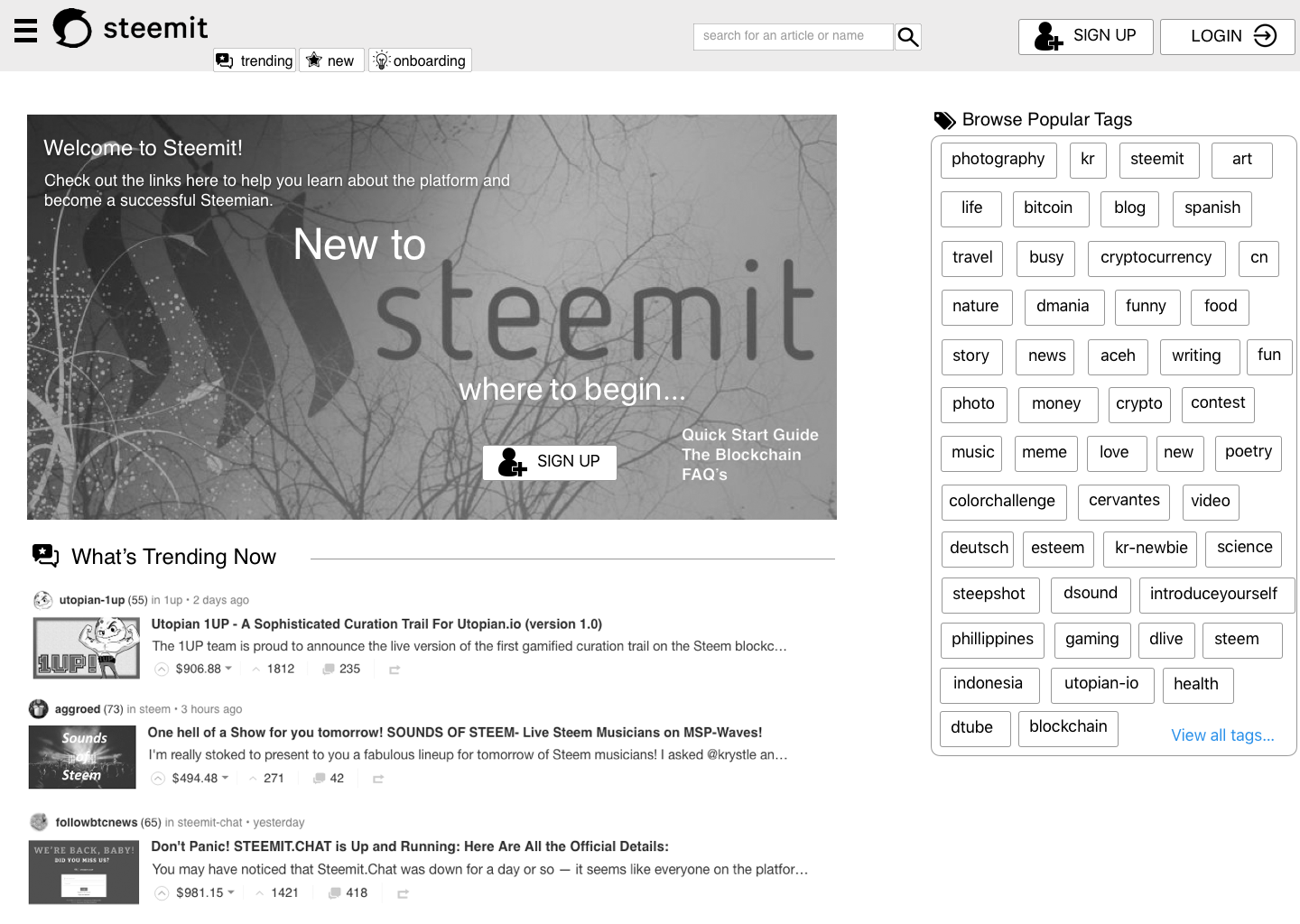 Logged In - Returning User Home Page - (Not my blog)
Persona: I am a returning user accessing the home page.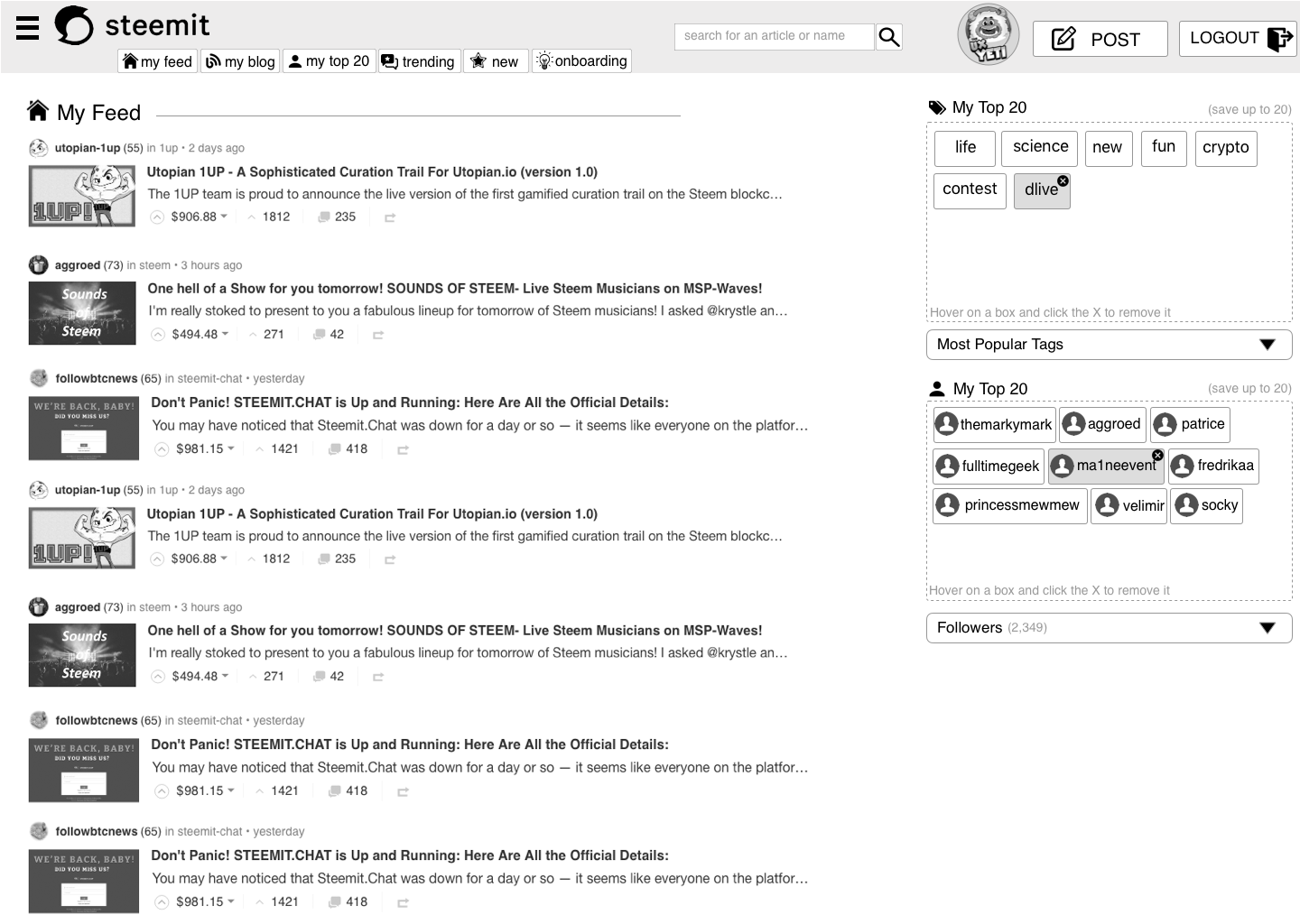 Logged In - Returning User Home Page - (Not my blog) Expanded Drop Down Favorite Tags
Persona: I am a returning user accessing the home page and want to add or delete Top 20 Tags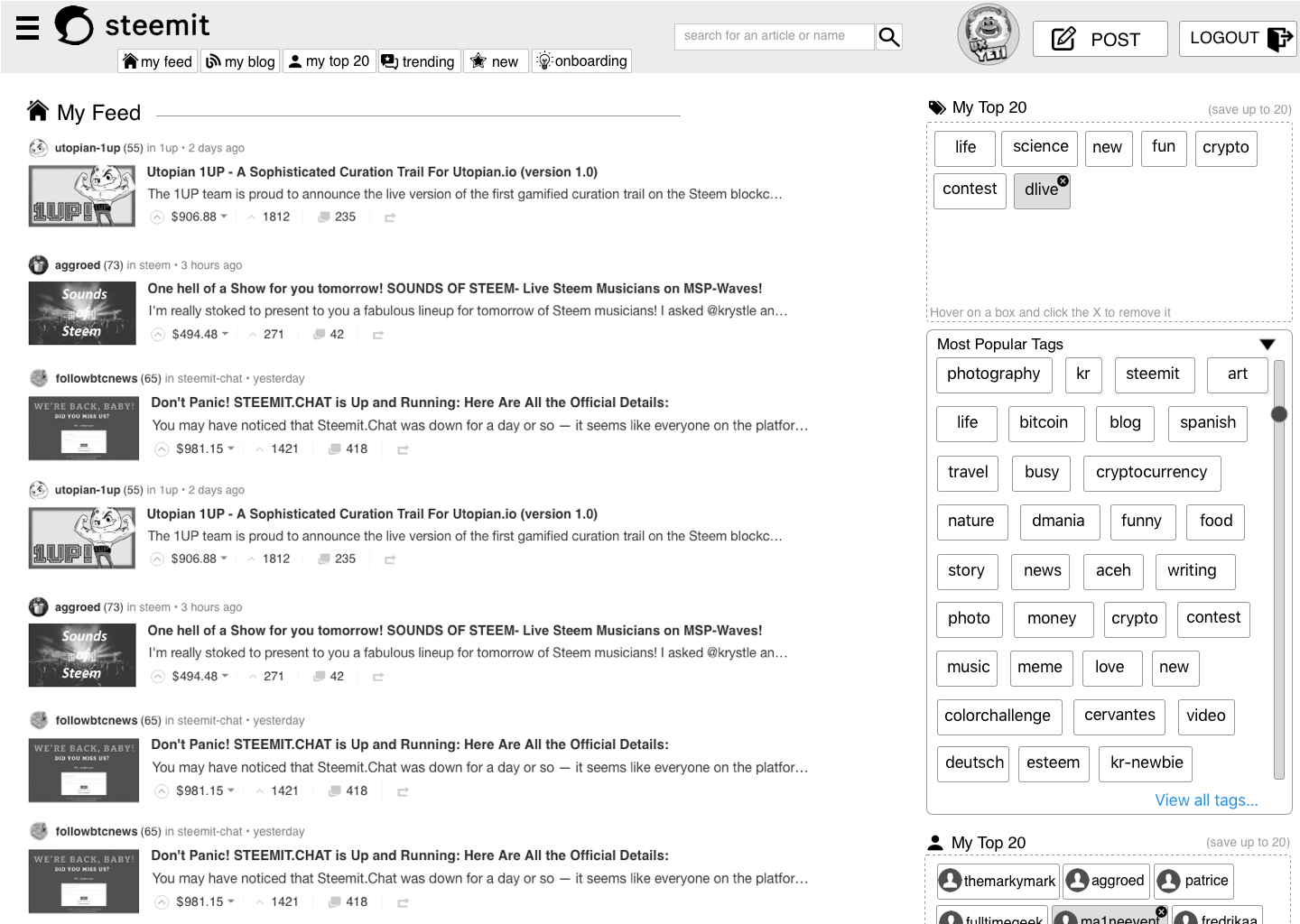 Logged In - Returning User Home Page - (Not my blog) Expanded Drop Down Favorite Steemians
Persona: I am a returning user accessing the home page and want to add or delete Top 20 Steemians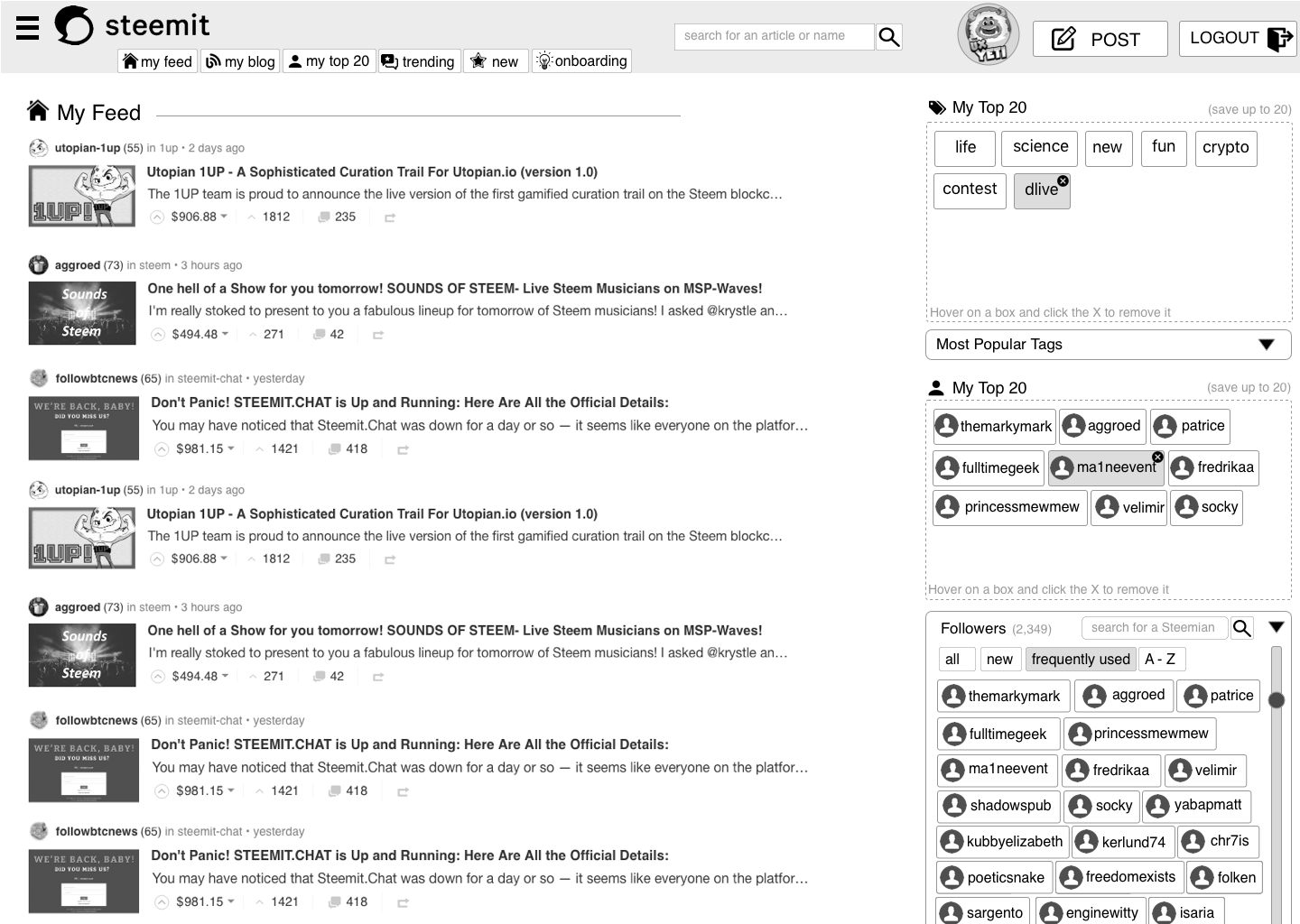 Note: The TOP 20 Tab works in 2 ways.
1. It allows users to favorite Tags and use them as a tab to see in a content feed specific to tags they like
2. It allows users to favorite Steemians and use them as a tab to see in a content feed specific to steemians they like. It also allows a user to follow a combination of favorite tags and steemians as a combo that serves up in the feed first as well.
After this version edits, praise, pain points we will start to visit the more exciting pages. I'm personally excited to dive into the "MY BLOG" page and the "POST Layout" items on feed pages. There has been much discussion about 3rd party plugins for analytics and personalization for "MY BLOG" when I'm looking at my page, vs looking at my home page. Stay tuned for Version IV "MY BLOG". Assuming theres not crazy edits here lol.
If you'd like to revisit this series you can see both Parts 1 and 2 below.
Part 1 of this Redesign Series can be found here
Part 2 of this Redesign Series can be found here
If you liked what you read, Please don't forget to Upvote, Resteem, and follow me. There's much more great design work to come.

@theUXyeti - This is me! Hilarious, funny, ex reality tv guy, loves app and web UI, competitive card player, scuba instructor, dart thrower, MTG player, WSOP player, gamer, hearthstone mechanic exploiter, sports handicapper, Geek of all trades.
How to find me
Steemit: www.steemit.com/@theUXyeti
Discord: TheUXyeti or TheUXyeti#5698
Dtube Channel: https://d.tube/#!/c/theuxyeti