If you would like an UpVote and tweet to my +195k Twitter followers then follow steps below. Enter the Steem Dollar amount you offer for these actions (All offers considered). I will perform the actions within 24 hours. I reserve the right not to perform the actions in which case I will return your Steem Dollars with the reason why I decided not to accept it. If I like the post I might also resteem it is well.
Minimum Steem Dollar I accept for this service is 0.01 SBD. The higher the amount the more places I promote the post to.
If you would like me to tag you in the Tweet add your Twitter handler at the end of the memo field after the post link.
If people refer this to their friends and their friends buy the service I will pay the referrer 25% of amount paid. Tell your friends to add "Referred by @YourSteemitID" at the end of the Memo field after the post link they want shared.
New UpVote/Tweet Bot coming soon!
1. Go to to your Steemit Wallet and click the Steem Dollars.

2. Click Transfer.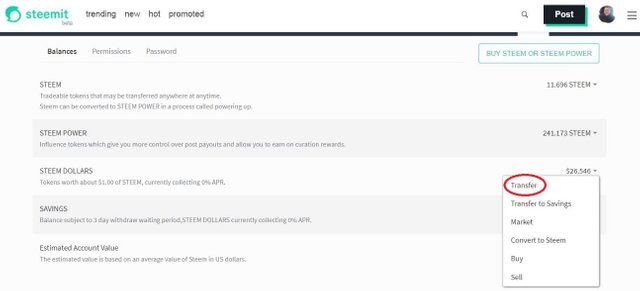 3. Enter "sydesjokes" in TO field, the Steem Dollar in Amount field and your Steemit link in Memo field.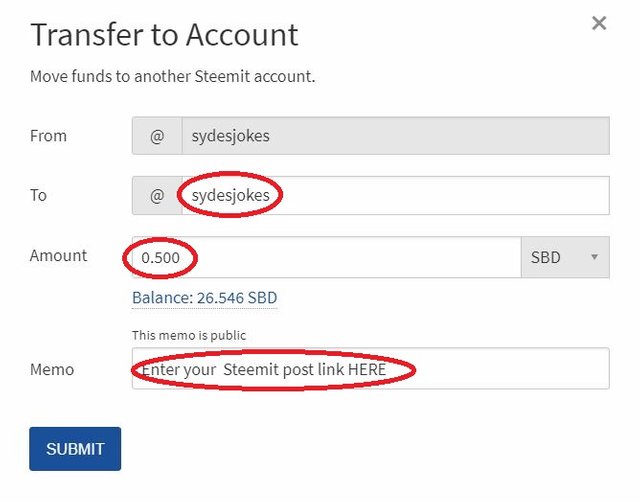 ---
Advertisement: