Kindly subscribe to my YouTube channel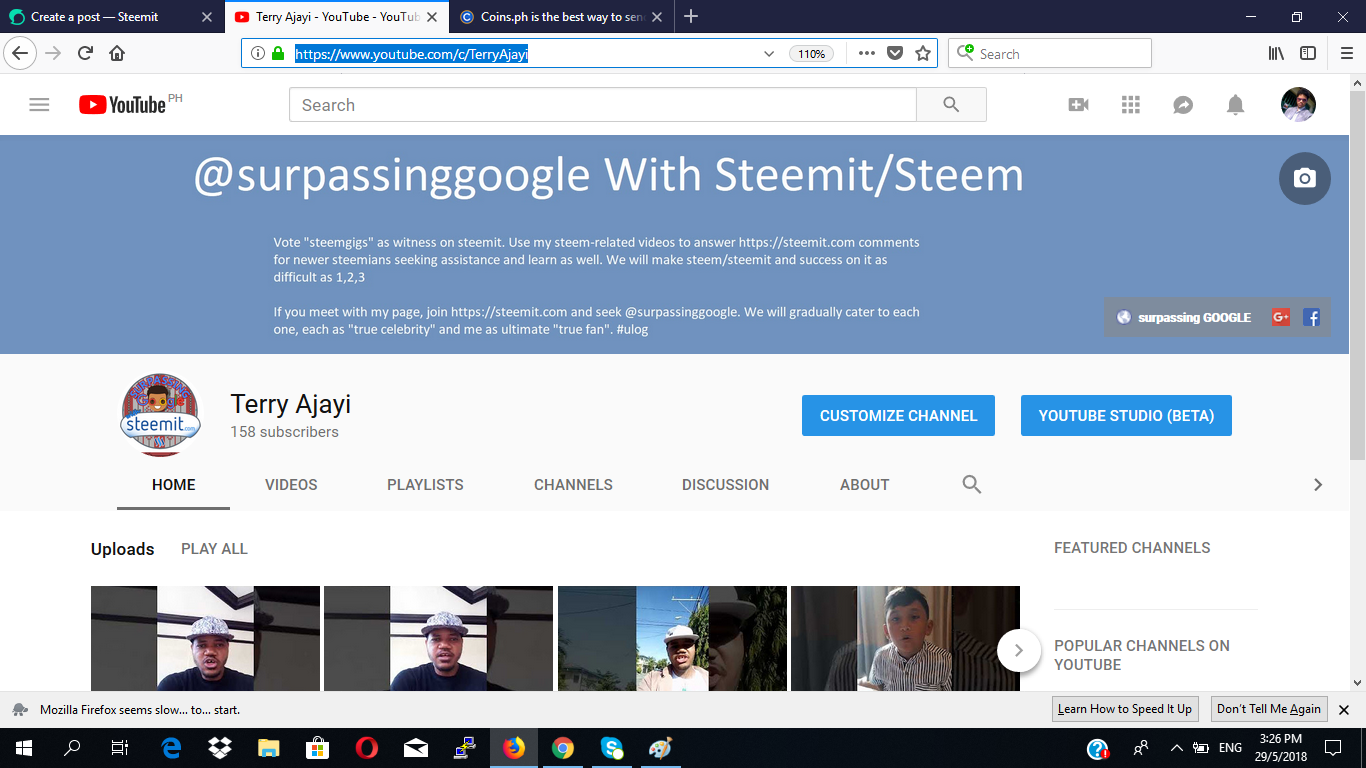 Today's SteemGigs Discord Talk Show
It will happen a few hours from now at 12 am Manila time (+8 GMT). It happens every week at the same time. 
Last weekend, i wasn't able to do an update post before the talk and attendance was low; so i had to do this post. 
Today, is another rough day; thus, the talk show will find a flow on-the-go. In truth, i had a lengthy chat with the hosts of the show earlier today i.e @maverickinvictus and @mermaidvampire; yet, we weren't even able to talk about the format for today's talk show. 
This may give us insight into how i mean, when i say "that i usually find out that Sunday is near, on Friday midnight".
Speaking to @maverickinvictus earlier today, we ended up talking of the future, the grand picture etc and with @mermaidvampire, we ended up talking about how we can take her niche ("contests innovation") to great heights, to where each very simple-looking contest adjusts the world etc
We end up speaking for hours combined and the day flies but not emptily by
With @maverickinvictus, the plan was simply to show him a video done by @snook about ULOGS; "this video":
then further talk ensued and in these talks, we were caring about the world and generations yet unborn.
Well, i started the day to that video above by @snook. 
ULOGS touched her and i smiled and drew strength as i saw the video. She grasped. She felt. She spotted the spottables. She was touched. It is simple.
She hasn't seen the entire picture or maybe she has but i haven't told her; yet, she got touched and these things are grand for me. 
Being able to appeal to the soft-spot of human, from every nook and cranny of Mama Earth, is an essential paradigm to even the tiniest things that i do. 
So, yes @snook started my day! She came into my mind's eye this morning and put on the ignition, then, i started to foresee the future for ULOGS, perhaps more vividly.
She is one pretty woman. She doesn't look at you (in the video) but you see it. Now, that's beauty.
Then @mermaidvampire came into my mind's eye too and together we played out "the application of a similar paradigm for her contests", so that as simple-looking as these contests may look, they had undergone the magnitude of innovation that shot the first man to moon. 
It is testimonial, when the tiniest or simplest-looking things, can start to have overwhelmingly grand global impact.
Well, all these and more happened and happens all week long, then suddenly it is Sunday and time for another talk. 
I explained all these things above, to implore your patience with me, regarding a set format for the weekly talks. 
"A set format" is bound to happen, really soon. 
Note: that in between, i thinking of my dad, who is side-by-side with me, but whom i am a not able to fully-love.
Today, the talk will go on! We will discover a format on-the-go and don't worry, we will all learn something or at the very least, leave inspired and empowered. 
We will see light inside the tunnel and move closer to it (each talk) and we will draw assurance.
Today, we will likely cover matters related to the state of the community. We may try to explain further what i means, when i say, "too much FOMO equal MO" (in relation to steem/steemit/life). 
I will also try to explain better, what i am trying to accomplish with my recently re-awakened YOUTUBE channel and the array of videos (in relation to steem/life success and steem growth) that i will be filling it with.
A Bit More About Ulogs
The funny thing is, if you only knew how many amazing things are cooking up in relation to @ulogs. 
The funny thing is @ulogs will have a kind of game AND more tied to it etc 
The  concept is still being conceptualized and it is beginning to form awesomely and I tell you, cryptokitties, pokemon, zombies etc shouldn't be hotter cake than say, Teardrops SMT etc
Superman, batman, blacky the rich cat etc shouldn't incite more buzz than say, steemian, human, etc. 
The arrangement for the Ulogs website is cooking up too. Who knows, on this particular steem-based website, there may be some form of "swipe effect" or maybe not. I don't know much yet but much of the concepts are playing out in my mind and really fast too. 
For the most part, we will all gradually attain "true celebrity-hood" by virtue "solely of being the awesomest version of human".
ULOGGERS will form a core part of the website. "Each" is likely to have a merchandise space, where true fans will be able to avail of their merchandise using steem etc. Merchandise will have to be freshly-made. We will create trend for a new craze each time. 
See once again how @snook spoke of ULOGS in this video:
See once again, how i spoke of a ULOG here:
See some additional details about a ULOG in relation to a VLOG below
A VLOG can constitute a ULOG but a VLOG can't cover all dynamics of a ULOG.
So please, if you are doing a video about you or your environment or covering events in your day etc "anything that is freshly-created and created by you" and are uploading it to dtube, dlive, youtube etc kindly consider joining the trend #ulog and the movement represented by the now existing word ULOG.
Simply add #ulog or ULOG in title in place of VLOG and use #ulog and it is considered a ULOG.
Other newly existing words are ULOGGING, ULOGGER, ULOGGERS etc
Note that even a post on dsound can constitute ULOG, on its own or as part of a entire steemit blog post. 
A ulog is all encompassing (as it can contain each/all forms of media. A vlog is quite limited.
How about some additional information about a ULOG, in relation to a blog?
Well, for the most part (based of the general view) not everyone feels fit to be considered blogger. 
"Everyone/Anyone" can be Ulogger as the only requirement is "U" where U = you.
A Ulog is a grand movement. It puts "everyone" in the picture.
A Bit More About SteemGigs
https://steemgigs.org has been undergoing development behind-the-scenes. I am waiting on a team, to complete the addition of a design/style-guide across the UI and there have been delays. 
The truth is i have had many disappointments with people but i will wait just a bit more. Once the design/style-guide is completed, i do plan on going all out with completing the core framework of steemgigs.org (so that it is very usable (limited bugs) and the core features and grand picture is fully evident), using bounty after bounty.
In the meantime, we try to sustain our growing SteemGigs community organically on the discord, doing activities, like our SteemGigs weekly talks etc
We are past 5,000 steemians on the discord server now and that, i consider progress. 
https://steemgigs.org is still usable and i especially implore us to try out https://steemgigs.org/surpassing-google
Sometimes, we have to apply patience before going all out. "We are humans."
The grand picture for that domain, is an entire steem-based website that will look to enhance content discovery and curation for steem. 
The model has been ready for a long time but development for it hasn't ensued as i have wanted steemgigs.org to be completed first.
Lately though, you will recall that i have decided to put the domain to use (in the meantime), hosting a repository of YouTube videos (mine), dedicated to sustaining and growing steem communities. 
Please read about those plans HERE!!!
The landing page/website is already ready AND it will be deployed to https://surpassinggoogle really soon. See how it looks below: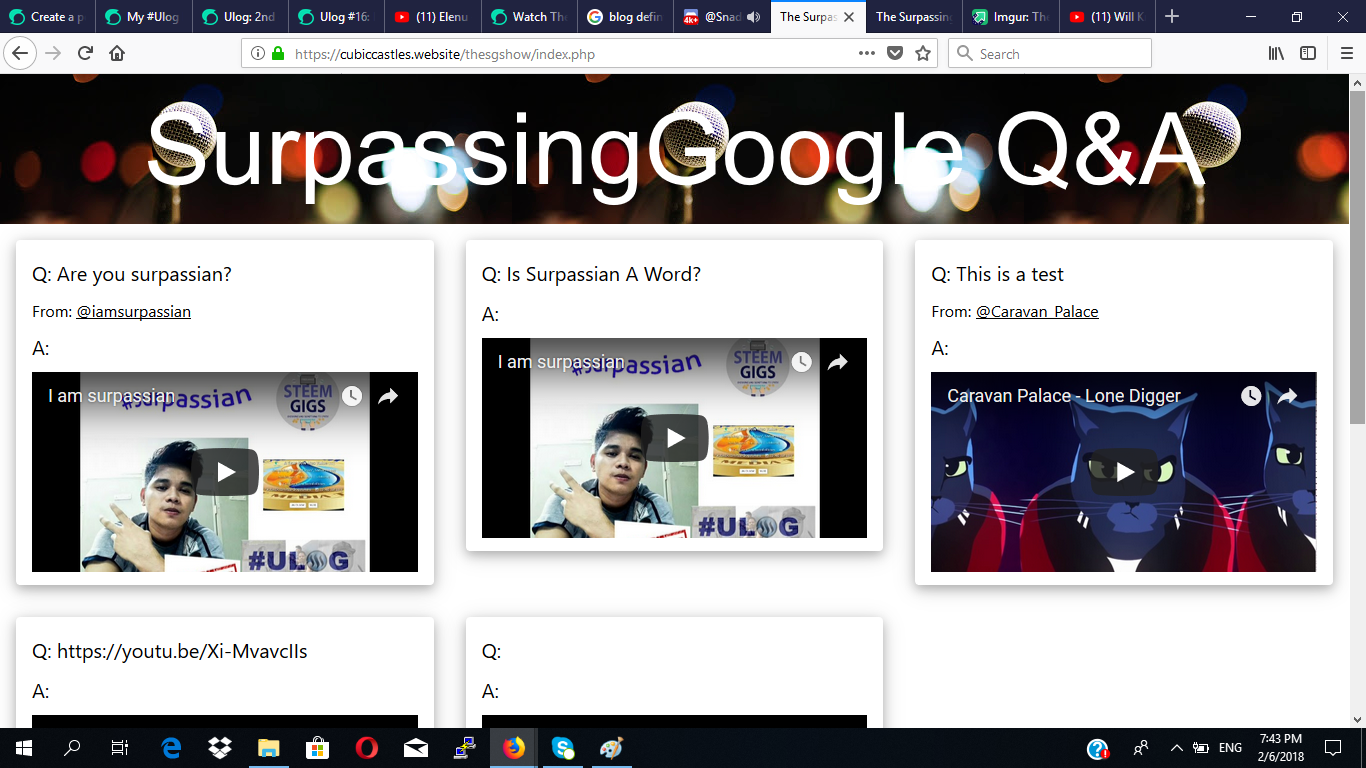 I am just looking to have it point to "https://surpassinggoogle.com and it will be good to go. I will manually fill it up with the right videos etc and will go on to do more videos, so that it fills up quickly and can form a valuable resource for "everyone".
It was designed by young @cadawg. Well, he is sixteen; "so i mean body-young". 
If you have joined Steemit recently, where should you start?
I will now confidently say; "start by subscribing to my YouTube channel here and join the SteemGigs discord server here to be part of the weekly talk show. 
If i have not been able to tend to your DM yet?
Please don't hastily conclude about matters. Simply join in on the discord talk as well on the weekend and you can reach me on there "live". 
During these talks, however rough, i end up staying on there for 9 hours or more. 
Plus, subscribe to my YouTube channel as i could reach out to you using my videos directly or indirectly.
Each of my steemit posts as well, very much involve "YOU"
Join the weekly SteemGig talks!
This is the direct URL, leading to the voice chat room for the talk. It comment a few hours from now:

Too, subscribe to my YouTube channel and let's go on a journey, up the testimonial harder route and let's taste how surprisingly simple a route it is!
Your Boy Terry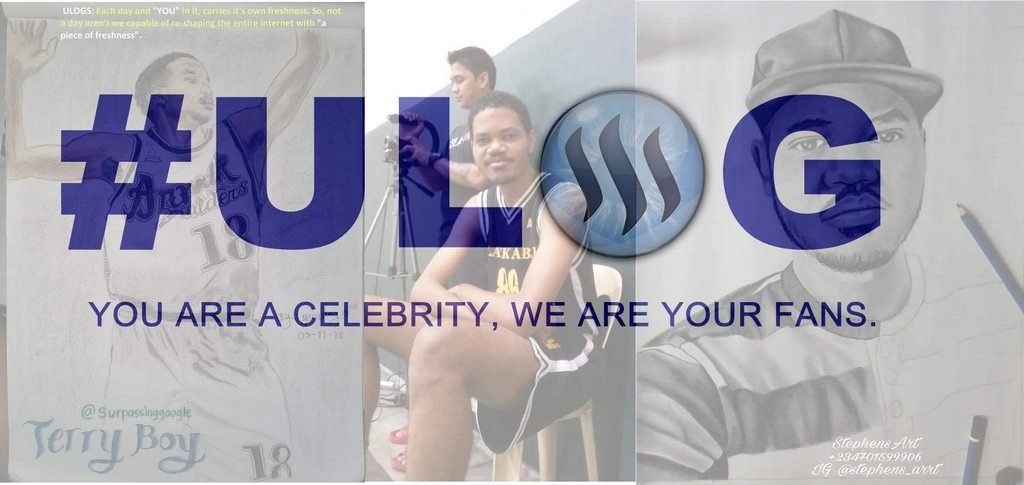 Quick Update:  
#ulog  generated more than 6,000 comments and 2029 posts within the first 6  days since the tag was born. Join in and become a ULOGGER today. 


We are seeking coders/developers to help, by  means of utopian.io or direct contributions. I would like to invite all  coders/developers, to show up on our SteemGigs development channel. 
Kindly visit and use our steem-based website today
https://steemgigs.org
Note that on SteemGigs, "everyone has something to offer". At the very least, you can update your profile on our website to open yourself up to more potential possibilities and improve your  general reputation even within the steemit community.  
To create awesome steemit posts, try our "un(dis)talented editor". 
Read our detailed FAQ & Answers  
 
You can use the divider that i used for your posts as well:  https://cdn.steemitimages.com/0x0/https://cdn.steemitimages.com/DQmZjQstnMTKFPUC2wWfTssa7cRXxCzvWMjzfvis6HkSbwn/divider.jpg 
I do need strength
Dedicating My Entire Steem/Steemit Journey To My Mum
If you want to support an extra witness and you support mine "steemgigs", it will be really helpful. 
To vote my witness, simply visit https://steemit.com/~witnesses and type in "steemgigs" into the first search box for witnesses or simply click Here to do it on one click! 
If you want me to make witness voting decisions on your behalf, simply visit https://steemit.com/~witnesses and type in "surpassinggoogle" in the second box for proxy.  

Let's Go!!!
Offer a service under hashtag "steemgigs". Attempt out-of-the-boxness on hashtag (untalented). 
Join the Steemgigs Community on discord: https://discord.gg/CGuPyyT  
"Everyone has something to offer!" Why not?