Announcing Steemit's New Delegation Application Process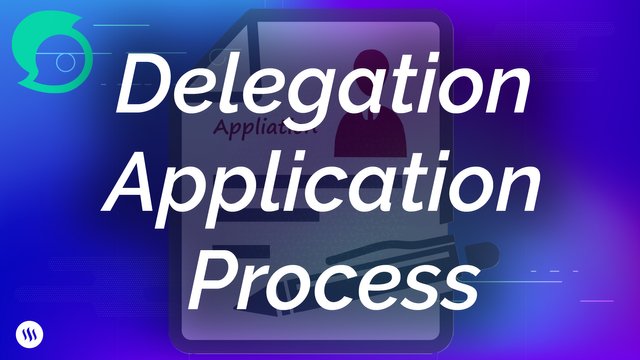 Hello Steemians, our #1 goal at Steemit is to onboard the masses to blockchain technology. One of the tools we have in our toolbox that has gone underutilized is Steemit, Inc.'s stake. In the beginning, there were only a small number of great applications. This made the task of determining who deserved a delegation relatively straightforward. But as the ecosystem has grown, the number of potential delegation recipients has increased dramatically, and the lack of a formal delegation process has led to confusion, uncertainty, and distrust around delegations.
A Formal Process
That's why today we are excited to be releasing a formal delegation application process that is intended to add more transparency and decentralization to the process by providing a standardized format for delegation applications which will be applied by an independent committee tasked with determining which projects satisfy the criteria. The full process is included in this post below.
The Goal
Our goal with this process is to add a higher degree of rigor to the process through which delegations are distributed with an eye toward maximizing value creation on Steem. To that end there is a strong emphasis on projects that have a coherent business plan and revenue generation model. Ultimately whether organizations that are not designed to generate a profit should be given delegations will be determined by the committee and the process outlined below is intended to be a living document that is iterated upon in collaboration with the committee. If you have any feedback on this process, please share it in the comments sections below.
The Steemit Team
Steemit, Inc. Delegation Process
In the coming months we will restructure all Steemit delegations in an effort to move the ecosystem in a more fair and sustainable direction without harming existing delegations that add value to the ecosystem.
The Goal
This document outlines a new delegation process that is more transparent and decentralized, ensuring that recipients of delegations act in the best interest of Steem stakeholders and the overall health of the Steem ecosystem. This is intended to be a living document that can be updated and improved over time.
Delegation Tiers
Three tiers of delegations:
Top–Tier: 1,000,000 SP
Mid–Tier: 500,000 SP
Test–Tier: 100,000 SP
The STEEM amounts associated with the Tiers are set at Steemit, Inc.'s discretion and are subject to change based on the number of applications and the STEEM price.
The delegations will be treated as "at-will" meaning that they can be withdrawn at any time for any reason, whether stated or not.
All delegations will be re-evaluated on a quarterly basis and redistributions made if necessary.
In order to receive a delegation a project must complete a Delegation Application and post it to the Steem blockchain with the tag: delegationapp.
To continue receiving a delegation, a project must complete a Delegation Renewal Form and post it to the Steem blockchain on the first day of every quarter. The delegations will be reviewed every quarter and projects will be judged as if they were applying anew. At that time delegations will be removed or adjusted based on an evaluation of the renewal application.
General Advocacy Agreement (GAA)
As part of the application process every project that applies for a delegation must indicate their willingness to sign a contract agreeing that their business will continue to leverage the Steem blockchain as long as they are receiving a delegation and 1 year following the removal of the delegation. During this time they agree to advocate for the Steem blockchain as a valuable technological protocol that delivers unique value to application developers, regardless of whether or not any contract is signed.
What is the Goal of a Delegation?
Delegations should be like adding "jet fuel" to an existing Steem-powered business. No business should receive a delegation if it isn't already seeing some kind of success which can be accelerated through a temporary delegation. The most attractive delegation recipients are those who do not require a delegation in order to survive and thrive. If a business requires a delegation to function, it is not a business, and does not warrant a delegation. A delegation should only be awarded if it will result in specific and MATERIAL (not ambiguous or theoretical) economic benefits to both Steem users, and Steemit, Inc. (the entity sacrificing the opportunity costs that result from delegating Steem Power).
We acknowledge that there are circumstances under which non-business organizations should be awarded delegations. Some of these are addressed in this document, but further consideration can be given to such organizations in future processes.
These applications will be reviewed by an independent board of Steem stakeholders and Steemit, Inc. will have final approval.
Delegation Tiers
Top–Tier: Reserved for projects that bring value to the Steem ecosystem beyond the potential of their own business. Due to the external benefits of their work to the community, additional support is given. This may include being complementary to other Steem business growth or addressing critical bottlenecks like user onboarding. Obtaining and maintaining this delegation should require both business validation (proof that the business logic is sound, that growth is happening, and that there's a sustainable business model), as well as community validation which supports the idea that the business does add additional value to the Steem community.
Growth–Tier: Used to help grow a validated idea that has gained community support. For businesses that have figured out their Business Model and proved that they deliver value to the community and are ready to grow their business.
Test–Tier: Used to help validate an idea for a product. The emphasis is not on growing, but instead on testing and obtaining feedback from the community. Delegation is short-term, and the expected reporting is less about numbers and statistics and more about development and testing ideas with the community (see LEAN StartUp). Test Tier delegations expire automatically after a 3 month period and should be re-applied for at that time.

Illegitimate Use of Delegations
Delegations must not be used to enrich the recipient of a delegation through upvotes (aka "self voting" or purely by means of beneficiaries gained through the use of a project's platform).
Projects shall not use the delegation in any exploitative way that is detrimental to the Steem community, such as to grow a community, product, or application and then cease to leverage the Steem blockchain.
Legitimate Use of Delegations
Account creations
Incentivizing users for the purpose of growing the Steem user base
Incentivizing users for the purpose of increasing revenue which is then powered up
Delegation Recipient Obligations
Projects receiving delegations shall operate with the Steem blockchain as a core mechanism to their business concepts. They shall build and operate on the Steem blockchain with a long–term view toward growth that benefits the Steem community.
Projects that receive the highest tier of delegation from this process are obligated to develop and operate their projects on the Steem blockchain for the duration of the delegation and 1 year after the removal of the delegation.
Projects that receive delegations shall conduct themselves with the highest regard for the Steem blockchain and its community. They shall not in any way abuse their position or their delegated stake in a way that causes net harm to the blockchain.
Should it be brought to the attention of Steemit, Inc. that a project is abusing its Steem Power delegation, or using it for means outside of the scope of the delegation as originally granted, the delegation may be removed immediately without reason.
Key Performance Indicators (KPI's)
In some cases, KPI's may be placed on projects in order to have an agreed upon means of measuring its progress, to hold it accountable for appropriate and adequate use of the delegation, and for the approval of delegation extensions.
Existing Delegation Re-Balancing
Projects with existing delegations will be re-balanced in order to fall in line with the new Tier system. In order to accommodate projects with existing delegations that exceed the new Top or Mid-Tier amounts and have on-going obligations to clients that are based on their current delegation, there will be a quarterly step-down in delegation sizes for these projects until their delegations align with the new Tier system.
In order to qualify for the re-balancing program, projects MUST agree that they will continue to leverage the Steem blockchain at the end of the process and agree to the General Advocacy Agreement.
For example, if the Top-Tier is a 1,000,000 Steem Power delegation and the project in question currently has 2,000,000 Steem Power delegated, then the delegation will be reduced based on the following calculation:
2,000,000 – 1,000,000 = 1,000,000
1,000,000 / 3 = 333,333
Quarterly reduction of Steem Power for 3 quarters = 333,333 SP (until the project has reached the top tier of 1,000,000 SP delegated, assuming that it has been approved for that tier. A project's current delegation should have no bearing whatsoever on the committee's determination as to which tier it should belong in the future.

Delegation Application
Project Information
Please limit your responses in this section to 140 characters.
Company name:
Place of Incorporation:
Token name (if applicable):
Token Type (ERC20, Steem-Engine, etc.):
Market
Please limit responses to 300 characters.
What problem is the product / project solving?
Core Team Details
Please limit responses to 500 characters for each team member.
Write short summaries about each core team member including their achievements to show they have a strong track record. Add links to their LinkedIn profiles to this section.
Minimum Viable Product
Please limit responses to 500 characters for each team member.
Provide links to your minimum viable product and describe it. If it is not available, please describe it and include how you plan to build it and when it will be built
Business Strategy
Please limit responses in this section to 250 characters.
Fiat Revenue Strategy: [E.g. We plan to sell NFTs which represent in-game items for US Dollars]
Fiat Revenue Projections in $/user every month: [E.g. $10]
How will this increase the amount of STEEM being powered up?
What financial incentives are you willing to provide to Steemit, Inc.? [E.g. project tokens, revenue-share, etc.]
How will you become financially sustainable once the delegation is removed?
KPI Progress Measurement
Please limit each KPI description in this section to 100 characters.
Suggest at least 3 KPI's with which to measure the progress of your project in its current phase. KPI's must be measurable and objective (a percentage or numerical value), or binary (yes / no or completed / not completed).
KPI1 description:
KPI1 target:
KPI2 description:
KPI2 target:
KPI3 description:
KPI3 target:

Token Offering
Please limit responses in this section to 10 characters.
Token Launch date:
Total Token Supply at launch:
Fundraising target (in order to fund expansion into the operational / project growth phase / mass market adoption):
Yearly inflation:
Percentage of total token supply that will be airdropped to ALL Steem stakeholders (a/k/a SP holders) in proportion to their SP:
How many tokens will you offer Steemit Inc. in exchange for the delegation?
Do you plan to launch an IEO, ICO, or other public token offering?
Do you plan to raise money from other investors?
What is the vesting period for the following:
Team members:
Early investors:
ICO investors:
% token distribution to:
Team:
Marketing:
Delegation Request
Please limit responses in this section to 10 characters.
How much of a delegation are you requesting? Limit your requests to one of the three tiers: Top-Tier, Mid-Tier or Test-Tier.
Specify the desired time frame for the delegation in 6 month increments: [E.g. 6 months, 1 year, etc.]
Which one of the following answers best describes how the delegation will be used to add direct value to Steem:
A. It will be used to create new accounts
B. It will be used to give new accounts 15 SP to give them the resources needed to use Steem and purchase goods and/or services through our platform
C. It will be used to incentivize the creation of content that promotes Steem on external platforms
D. It will be used to provide limited trial or discount services to clients to encourage them to hold Steem and delegate in the future
We agree that our business will continue to leverage the Steem blockchain as long as we are receiving a delegation and 1 year following the removal of the delegation. During this time we also agree to promote the Steem blockchain as a valuable technological protocol that delivers unique value. We are willing to sign a legally binding contract with Steemit, Inc. to this effect.
Delegation Renewal Form
How many new users have you onboarded this month?

What is your monthly growth rate? [Answer to #1 divided by total users]

How much revenue have you generated in $/user per month:

How much revenue have you brought to Steem as measured by total STEEM powered up whether through the company account, the aggregate of your users' accounts, or a combination of the two?

How much Steem is delegated to your project to manage on behalf of your clients?

Report progress on each of your KPIs. Was the KPI met, exceeded, or failed to be met? By how much and why? Present your answer in contrast to the target KPI and calculate the % it either exceeded or missed the goal by.

Describe the business validation behind why your project continues to add value to the Steem community

Describe what value the project continues to bring to the Steem community and why the community should continue to support your project
Immediate Grounds for Withdrawal
If at any time the recipients of a delegation misrepresent data, metrics, or any other piece of information that is intended to justify their receipt of a delegation, this will constitute bad faith and be grounds for an immediate withdrawal of the delegation.