Hare Krishna ! Hare Rama ! Hare Krishna !!
Surprised to see me chanting...?? Don't be..today I am bringing up some interesting points right from Bhagvad Gita. Last couple of days , I come along with few post from my dear Steemians, who seems losing faith and also finding it difficult to survive and thereby leaving such amazing platform.
Bhagvad Gita is a Sanskrit scripture containing Philosophy and Commentores preached by Lord Krishna. It teaches you ethical and moral lessons for selfless life.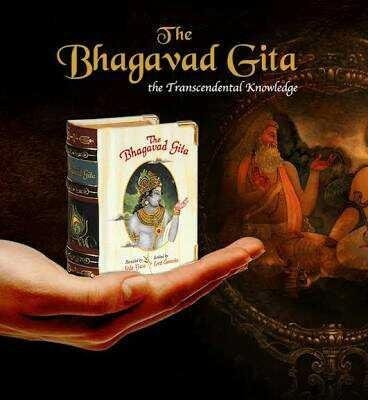 ---
I cames out with 2 pharases which is suiting correctly on Steemit platform currently
Firstly -
क्यों व्यर्थ चिन्ता करते हो ? किससे व्यर्थ डरते हो ?
Why do you worry unnecessarily? Why do you fear in vain?
An important lesson in everyone life. Why people bother about so many things. In this artificial world the need and greed to have more keep people worry. Which keep them fear of losing everything.
Secondaly -
तुम्हारा क्या गया जो रोते हो ? तुम क्या लाए थे, जो तुमने खो दिया ?
What have you lost, that you cry? What did you bring with you that you lost?
You have come on this earth empty handed, so you do not need to bother of losing anything.
---
If I put up these preaching on Steemit, then i would consider that we have not bought anything hereon Steemit. We keepp ourself worried due to the falling Steem prices, but we forgot when we have joined and at first Steemit also put emphasis on building community. Any rewards generated thereby is just the bonus you deriving out of it. Still people feel failed and thereby leaving the platform.
If I ask,what is the secondary option you will do leaving Steemit??? ....Facebook...Twitter?? Right...and do you get any rewards from there??? NO....then why not stick to Steemit. What are the advantages / benefits you will be deriving out of leaving Steemit???...Nothing..!!!
I would suggest to Just consider Steemit as another social platform leaving aside all the bonuss..i.e rewards you are getting out of it.!
Put emphassis on building community and knowing people. Instead of leaving stick to it 👌 . It is blessing in disguise for those who do not know how to make utilisation of time. If you have spare time then be on Steemit to explore its different facets.
Leaving Steemit is not an option...enjoy your stay!!
Recently , I come against a conversation between a user and sir @surpassinggoogle i was amazed to see that the Steemit great's view on the subject is same as mentioned on Gita. @surpassinggoogle glad to read such amazing thoughts from you
Keep Steeming...Steem On !!!