Introduction Trailer of Teelkee.com
(Introduction Trailer of Teelkee.com)
Hello Steemians!
We are proud to introduce and announce to you our second project based on the Steem Blockchain, as a FutureShock Incubator. We try to challenge ourselves to develop a brighter world and we hope that this new tool that we are creating will be of great use in achieving this goal. After the successful launch of our previous project, @Fundition, we have prepared for you and for blockchain world a new stepping stone to a great future for everyone. This is Teelkee!
In the video you may get some hints about the project, namely that Teelkee.com will let you Tokenize your world. Also that it is a next-generation, decentralized DAPP builder platform on the Steem blockchain. When working on one project, we always aim to be a solution for a existing problem, and in this case it is the ease of understanding the process of creating distributed Dapps and tokens.
Now you don't need to be a programmer, you don't need to have in-depth knowledge of how the blockchain functions.
Teelkee will connect you with the people who already have that knowledge and allow you to create your own tokens and DAPPs quickly and with no hassle. It will democratize the process, the same way that Wordpress and Wix has enabled millions to create their own websites without needing to understand web-programming.
Problem
Launching an application, decentralized or of any other kind, can be difficult. Various barriers to entry can prevent many great concepts and ideas to be realized also them coming to life. Teelkee exists to make it so that any business or user can create their own dApps based on the Steem blockchain.
Teelkee.com will enable anyone to distribute and monetize their decentralized applications on mobile and desktop. The participants will have no intermediaries — users, developers, and business are all one and the same. By providing the essential functionality needed to create and tokenize dApps and their plugins, themes... The Teelkee Market essentially removes all barriers to entry for anyone.
The purpose of Teelkee is to bring the Smart Media Tokens to the business users who do not necessarily have the technical know-how needed to create a DApp backed by a social blockchain and cryptocurrency.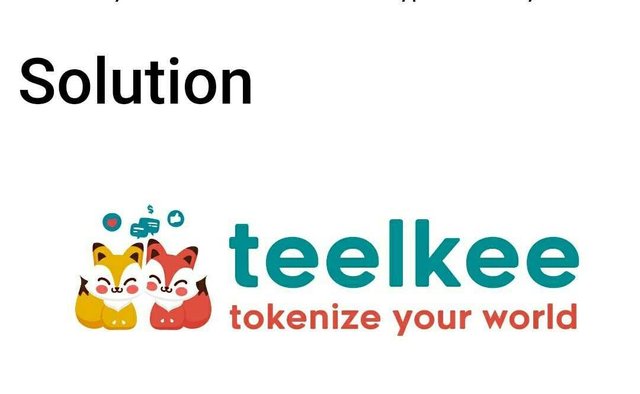 The name Teelkee comes from the Turkish word for "Fox" and "Smart", "Tilki". But because that wasn't enough, we've added "ee", which when placed at the end of a word means "the person who receives from others" in Korean.
THE TEELKEE BUILDER
Teelkee is a SaaS platform for businesses and users to build real-time decentralized application over the powerful Steem Blockchain. It is our vision that anyone will be able to create a secure, flexible and legally binding DApp based on SMT and take benefit of the social mechanism of Steem by using Teelkee.
Teelkee is about to enable mainstream businesses, users to benefit from deploying their own branded DApp crypto-backed by token economies (SMT), without a need to support their own publicly-tradable ERC-20 token.
THE MARKETPLACE
Teelkee aims to enable DApps plugins and distribution with premium features through its embed marketplace, while providing a well established mobile development and hosting platform for Steem developers. At the heart of it, the Steem blockchain will be used for every single moment. We are leveraging blockchain technology to build real world solutions that demands the use of a Smart Media Token.
Teelkee Token (SMT) is a utility token that fuels the Teelkee platform. This includes the dApp builder and a Marketplace of dApps, plugins and themes, built on top of the Teelkee platform and powered by the Steem blockchain. The marketplace will not only allow anyone to create and distribute their own Teelkee dApps but also give a way to developers and designer to sell their work.
How it works?
Teelkee platform is end-to-end, businesses/users can easily move into the blockchain world; project owners will be able to easily activate the tokenization of their Steem Dapp by just drag and dropping modules and selecting a few parameters in the UI interface. These decentralized applications will be able to launch branded tokens powered by their own communities and their own SMT.
With Teelkee it is easy to create and edit social DApps with no coding skills, similar to how Wordpress and Wix allow for the creation of websites easily.
Building dApps on Teelkee also enables businesses, users to benefit from network effects across the participating companies. Teelkee connects businesses with the blockchain technology even if it is not a trivial task to integrate applications and blockchain for businesses.
Apply now to be an early tester.
While our project is still under development, we are looking to get our first people to test the CMS, especially people which are involved in businesses, communities, developing and creators to apply to be our alpha testers. We will work with them to ensure their needs and bring to theirs users the DApp for what they are waiting.
Teelkee Pre-Alpha Tester Form
http://teelkee.com
https://docs.google.com/forms/d/e/1FAIpQLSf4953DBCcKLYTVBdq14bp1Om9VZw5k1o8XUNPe3Ahvt48DrQ/viewform
About our Successes
@hightouch is the Founder of Futureshock. Right after his early success on steem he came up with an idea to build the next generation peer-to-peer crowdfunding and collaboration platform. Where together with the team working non-stop since the beginning of February, the idea was realized with the announcement of @fundition which got a great support and changed many life and exists to build a better world all together. Helping projects to fundraise via crowdfunding.
This is not the first project of Futureshock not even the last projects, because we as an Incubator with Hightouch in our head, are unstoppable. And after delivering its heart with Fundition, here is its brain, which follow our vision of developing a brighter world.
Read more about our first project as Futureshock here
Other members behind Futureshock and our success stories
@free999enigma @unacomn @enisshkurti @addicttolife @cnylmz @burakakdogan @goyard @scottcbusiness @pennsif @planetenamek @drkent @theshinstory @fredo77200 @ekitcho
What is SMT?
A Smart Media Token (SMT) is a native digital asset on the Steem blockchain that can be quickly launched by anyone to help monetize online content and create incentives to encourage desired user behavior.
They're like Ethereum's ERC-20 tokens, but with certain built-in 'Proof-of-Brain' properties and a token distribution reward system designed specifically for digital content businesses.
Source
See the latest news about the release date of the SMTs here
Follow us on Steem
Contact us
To be continued...