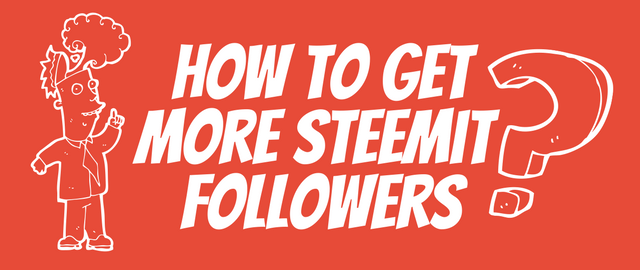 Now based on experience with other social media platforms I know your message is only as strong as the amount of people you can reach. Meaning that you need large and ever growing following to do well.
So I set out to see what other Steemian's suggest is the best way to grow your Steemit following.
First up on my google search we have @aboundlessworld
People who follow you will see your content. If you provide valuable content on a regular basis this will encourage more people to follow you.
More Genuine Steemit Followers
Use Steemit Chat to build relationships.
Produce great content on a regular basis.
Promote yourself.
Include a small bio of yourself after every post.
Leave genuine comments on articles/content you like.
Reach out to people you like and connect with them in real life.
Tagging people who might add value to your content.
Periodically check out the profiles of those who follow you.
The more involved you are the better chances of building a strong following. Don't Spam people.
Next up we have @jacobcard
20 Followers A Day Suggestions
Use other social media platforms like Twitter and Instagram to promote and ask people to follow you on Steemit.
Send direct messages to new followers.
Appreciate fellow Steemians content, drop an honest comment and maybe a follow.
Post relevant content.
3 Simple Strategies From @businesswri
Commenting - Reading posts and commenting helps get your name out there. Have a look at the introduceyourself section and meet new people there.
Steemit Chat - Ask people for their Steemit blog names. Send them a follow and hopefully they might follow you back.
Follow/Follow Campaign - Post and say "comment below and I will follow you on Steemit if you follow me.
Closing
Now you have quite a few suggestions on how to grow your following. I would say the most important part is to create content that ads value and engage with people. Building relationships is important to become successful on Steemit or any other social media platform.
So, what are you waiting for? Go get it ...
This is it from me for now.
To my fellow Steemians,
Thanks for being here. You're awesome and I appreciate you …