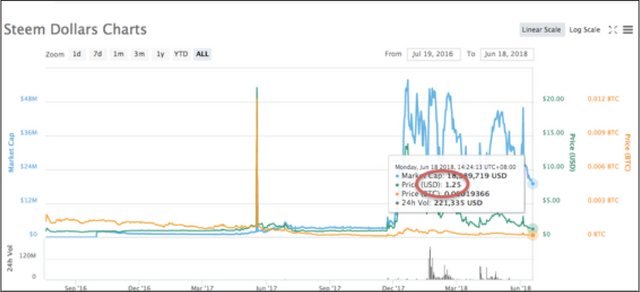 Crypto market in general has been painfully bearish for some time. Today SBD hit $1.25, this year's lowest. The existing Steem holders may find it distressing, but it offers extremely lucrative opportunity to new ZeroCash investors who wish to park their funds in Steemit wallet and use their influence to fund ZeroCash projects.
Why Extremely Lucrative To New ZeroCash Investors?
The investors not only take advantage of the low Steem price, but acquire tokens in startups that utilize the ZeroCash funding model taking home an overall return of up to 71% APR in a market that's making it impossible to stop the sliding values of almost all crypto assets.
A recent analysis establishes that Steem is not only the top blockchain in terms of daily transactions, but it is the most undervalued. So the investors also gain from the impending Steem pump when the bull run starts. It is a win-win for new investors who are having tough time holding the value of their cryptos, let alone profiting in this bearish market.
To get a hang of how ZeroCash works just pledge and see for yourself how you earn tokens without investing any cash.
The Prosperist Pledge
If you wish to continue to participate in the ZeroCash experiment and willing to comply with the rules specified in my previous post, you can make the following pledge in your comment on this post:
"I pledge to share my SBD reward from this post with @prosperist to earn Xteem tokens @ 1 Xteem token / $0.01"
I thank all those who had cooperated and supported this cause. Special thanks to @rahemanali, @bitbulls, @benadam, @musheer @dexin @ormus who helped this pilot campaign.
For FAQ please check here
For Prosperist Elevator Pitch please check here
🙂🙂
PLEASE NOTE:
As explained earlier it is impossible to upvote all pledges. Those who have defaulted their earlier pledges and rated C will not be upvoted unless they comply by transferring their overdue SBDs to @prosperist. New pledgers will also not be upvoted unless majority @prosperist moderators, @zerocash members upvote them.