Prosperist XVI: Defining The Concept Of ZeroCash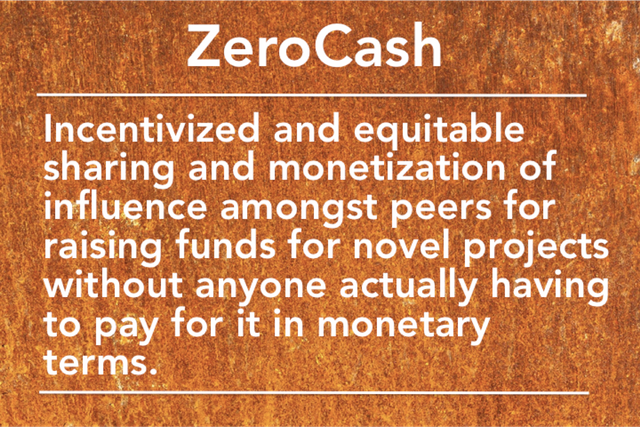 While this ZeroCash experiment continues we have been invited to deliver a lecture on the concept of ZeroCash to the participants forum of innovation and tech startups. The first order of business was to define ZeroCash in clear terms. Here our first draft:
"Incentivized and equitable sharing and monetization of influence amongst peers for raising funds for novel projects without anyone actually having to pay for it in monetary terms."
Comments and suggestions are welcome.
Regarding the Prosperist pledge, if you are willing to comply with the rules specified in my previous post, you can make the following pledge in your comment on this post:
"I pledge to share my SBD reward from this post with @prosperist to earn Xteem tokens @ 1 Xteem token / $0.01"
I thank all those who had cooperated and supported this cause. Special thanks to @rahemanali @dexin, @bitbulls, @benadam, @musheer who are helping this pilot campaign.
For FAQ please check here
For Prosperist Elevator Pitch please check here
🙂🙂
PLEASE NOTE:
As explained here it is impossible to upvote all pledges. Those who have defaulted their earlier pledges and rated C will not be upvoted unless they comply by transferring their overdue SBDs to @prosperist.. New pledgers will also not be upvoted unless majority @prosperist moderators, @zerocash members upvote them.