We all know who I'm talking about. The Brazilian Yngwie Malmsteen who's built a permanent home for himself on the trending page.
I want to voice a few thoughts out loud here.
Is it just me, or is it kinda weird that this dude - who by all accounts seems like a complete normie - shows up from out of nowhere and takes over Steemit? He knows how the site works, he knows how to use the paid bid bots and make a profit, and then a little later he posts about crypto investing and technical analysis.
This guitar dude from Brazil.
Think about how niche crypto is - and then realize that Steemit is a minuscule niche within a niche.
How did he get here?
According to him, his friends and colleagues insisted that he joins Steemit.
I mean, I'm sure that's the story of all us right there, right? We all had those friends and colleagues telling us about Steemit and insisting that we join.
Not a friend and not a colleague. Friends and colleagues.
Right?
Take 100 of your friends and colleagues. Or if you're lonely and devoid of love, just pretend. Or you can go talk to strangers on the street unless you suffer from social anxiety, which you probably do because you're a loner and stuff, but let's move on.
Mention Steemit to them, and how many, out of 100, know what you're talking about?
I'd say absolutely 0.
Somehow, however, this dude has multiple friends and colleagues who promoted Steemit for him.
Theoretically possible, I guess, but damned darn unlikely, if you ask me. Maybe Steemit is just pretty damn popular in the Brazilian guitarist scene.
And I know that he did make this: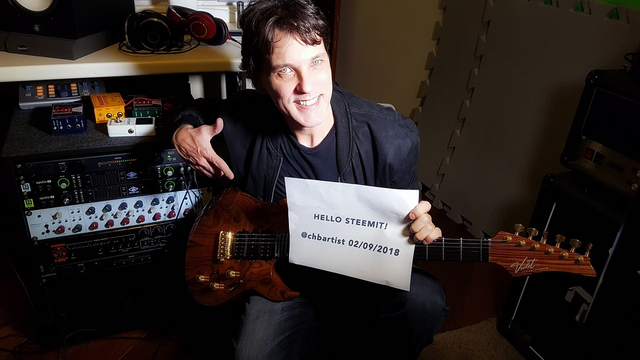 I even asked a friend of mine who is a Photoshop guru to spend some time and look for artefacts in case of manipulation, but he said it does look real.
But that, in and of itself, doesn't mean anything. Maybe a bot owner/whale knows the dude, and asked him to do this for him. Not saying it's the case, but it's possible.
I also spent some time studying and looking up his posts. And the textual tone and style vary drastically. Either this dude has a severe case of identity crisis, he's on different mixtures of drugs every day, or the posts are written by different people.
Sometimes he comes off as a normal person, and then in the next post, he's in the fifth dimension again.
This goes for both his posts, as well as his comments.
He also receives an insane amount of comments. Compared to the other posts on trending, the level of engagement is exponential. And for what? I know we like to joke around about Steemit's userbase being full of retards, but to see his prosaic and banal attempts at wisdom get hundreds of comments from people saying how that mundane and absolutely imaginative trite was damn near life-changing is just odd.
I know people want to comment on trending posts just to get their faces out there, but something is off there.
I just find the whole thing weird. And I'm not ready to believe the account to be 100% genuine yet.
I dunno. What do you guys think?