What STEEMIT teaches us about responsability and hard work.
Humans are notoriously bad at thinking about the future, preparing for it or acting smart today. We are hard-wired to be short-term thinking machines and anything else is effort, work and habit formed by will. As Bill Gates observed:
We always overestimate the change that will occur in the next two years and underestimate the change that will occur in the next ten. Don't let yourself be lulled into inaction.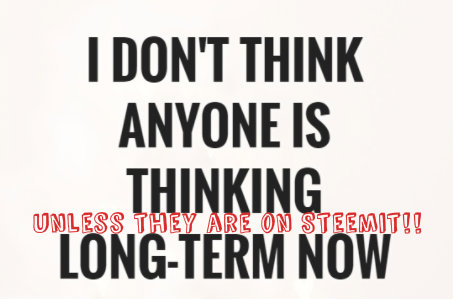 There is a reason why most people don't have savings, why people smoke, why they eat crap and many other examples. Of course, we are not all like this and many of us think about the future - usually with some level of anxiety - but do not follow the plans we know to be smart. Often, we get distracted and sacrifice something bigger in the future for what we want NOW.
So where does STEEMIT comes along in all this?
In my opinion there are 3 ways in which Steemit teaches us that being a long-longer term thinker helps.
#1.Payouts take 7 days.
That means that if you want to be paid TODAY you should have worked 7 days ago. If you want to be paid next week, you should do something TODAY. It's beautiful way to motivate yourself to be better, post and write more and do not slack off. After all there's no drug like a nice stream of income however big or small.
#2. Reputation takes months to build.
You can just jump into this and have high rep and the higher the rep, the higher the RESPECT. Which pays dividends down the line. When someone with rep 72 says something you are more inclined to listen. I know I am, cause I know what it takes to get to 70. I don't care who you are, if you have over 70 rep, you have my attention ( of course, you can lose it fast if you are an idiot but...it opens a door).
So rep is the nice intersection of grit, discipline and perseverance. You can't have that over short term.
#3. SP is most valuable than Steem
Initially it used to take 104 rates to get out all your SP. Everyone was a forced bagholder but also everyone benefited from not selling early. SP gives you benefits, power, curation rewards and a big chance of still having some coins when Steemit will go huge. It has none of the instant gratification of selling a few STEEM for a dollars and thinking:"Ah, I made some profits!!". In reality, you might have lost a ton of future profits!
For me, these 3 aspects changes a lot of how I perceive the value of now vs the value of tomorrow in many aspects of my life. I think it made me less prone to squandering time and money. Maybe it helped you too or maybe thinking it like that will help in the future.
Keep looking forward!!
---
We're still festive so...