RAKOOBOOSTER writing competition, join and win STEEM + FREE 100% upvote from the group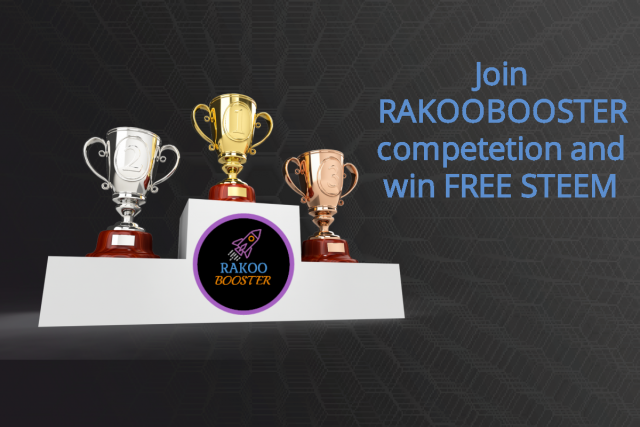 Creativity & Quality work must be Rewarded; as RAKOOBOOSTER arranges a writing competition to reward good content writers.
Part of RAKOOBOOSTER promoting campaign is to have an insight on undiscovered Authors and to encourage them to join RAKOOBOOSTER community.
Authors who work so hard and not getting recognized for their efforts; RAKOOBOOSTER can support to achieve the best gains.
What is RAKOOBOOSTER ?
RAKOOBOOSTER is a group of good content bloggers that if one of the group makes a post all other group members will upvote this post automatically and that`s how RAKOOBOOSTER simply works. In other words, if you are a member of RAKOBOOSTER you will receive an upvote from the rest of the group on your post.
Contest Terms
Write a post explaining the main idea of Rakobuster and how it is easy to join the group by using steemauto.com.
Give examples of the advantages of joining the group and the effectiveness of the group to support minnows by a mutual benefit system.
Explain your expectations for the future of the group and how it will be.
The number of words should not be less than 650 words.
Write your post and after it has been published, copy the post link and put it in the comments in this post.
All posts should be in English.
RAKOOBOOSTER team will evaluate and vote for each post participating in the competition according to its quality of contents and it is interacting with steem community.
You must add the link of your post that is participating in the comments in this post and the final date to submit your post is the sixth day of this post.
The minimum count of contestants is five, the competition will be canceled and re-launched at another time if the contestants are below five.
Contest Rewards
1- First place gets 1 STEEM +100% upvote from RAKOOBOOSTER group.
2- Second place 0.75 STEEM+75% upvote from RAKOOBOOSTER group.
3-The third place gets 0.50 STEEM+50% upvote from RAKOOBOOSTER group.
For your guidance and reference about RAKOOBOOSTER please find the below.