So I was just replying to a comment on @dan's most recent post and I was shocked (again) at how easily predictable top content is. Believe me, it isn't because it repeatedly create superior content. Here's how well a (very) simple bot can perform on the current platform: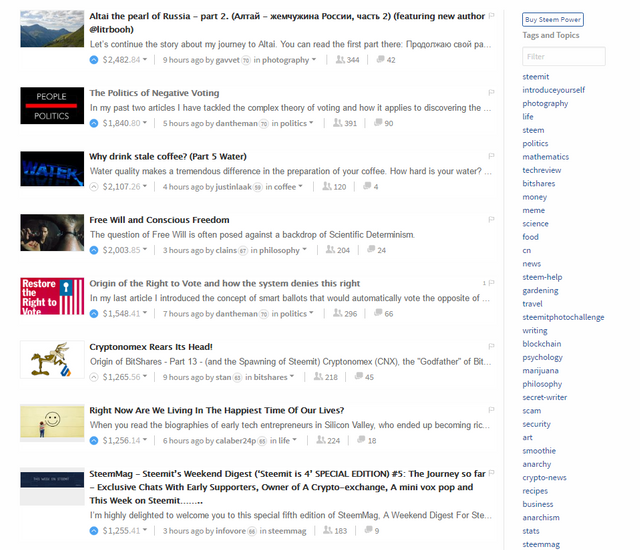 This is my trending page. Note the 6/8 upvotes on today's top trending posts. I haven't manually upvoted a single one of these posts. They were all early votes that should get (close to) optimal rewards.
How does my bot do it? Is it some wizard? Am I secretly a whale on another account upvoting content after this accoun has upvoted it? Does it use advanced machine learning for text comprehension combined with live analysis of sentiment on the platform?
Well, no. It doesn't even bother reading the text, since it has very little correlation with its popularity.
All it does is it reads the username and uses past data to determine the most lucrative users and the optimal upvoting rate at any given hour during the week.
Without even optimizing its timing (which is a huge part of the upvoting game) and with massive connection issues on my end, I was able to make close to 1.5% of my total SP in a week through curation rewards only. I'm confident that it won't remain that profitable in the future, but that would lead to a 216% yearly increase in SP.
The problem should be pretty clear now:
If you're not part of the bot game, a lot of your potential rewards are being sucked up by them.
It's in fact so bad that I almost certainly lose rewards by manually upvoting content I find interesting (each vote reduces your voting power/ future rewards). And if you don't care about small players like me, you should care about the big ones.
I think we need to realign the incentives by solving some of the visibility, centralization and voting issues. I highlighted some of those in my previous post and still think that incentivized downvoting would help. I also believe that a lottery based trending page based one's upvotes as described by @arcurus would be a huge plus - I invite you to read his post if you haven't. Finally, I also support investigating the people rank voting structure.
Let me know what you think in the comments.