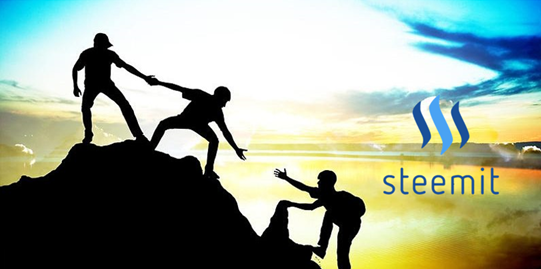 Source:Lavozweb

Let's grow together here on Steemit!!!
I love all the contests, quizzes etc. here on Steemit. Therefore I decided to create my own. This challenge is to truly see how social we all can be on this social media platform. Should be easy - right?
I appreciate all Steemians who take time out of their busy lives to read or scan my posts. Those that take the time to get the gist of what I spent time putting together – then making a comment. These comments are truly appreciated and I respond to every one of them – out of gratitude.
I left Steemit for 9 months but I am now back!! I realize that engagement is the name of the game. However, I am spending more time on Discord that on Steemit. I love it there as I am meeting some great people. However, I would love to bring some of that chatter to Steemit. In my humble opinion, "conversing" more on the blogs is important for the continued success of Steemit.
WARNING This Contest is not for everyone. I know that this will not be the most popular contest because people often comment on post where they get a large upvote. Do not forget that you earn when you make a comment.
To entice you to engage with me –I do a giveaway for this contest and will do random giveaways in the future.
What you need to do?
Rule #1. Always respond to my posts with a legitimate comment. (nice post etc. - does not qualify)
Any other rules?
No - Rule #1 is the only requirement.
It might make sense to follow me, in order to know when I make my daily posts. I will make one post daily but sometimes 2 when inspired!! So it might be good to pay attention.
Upvoting and Resteeming will be appreciated but its not mandatory - however the more I earn the more frequently I can do a giveaway and the more participants - the merrier.
THE WINNERS FOR CONTEST 1:
🏆Winner – 1.5 Steem - @ifeluwa88
🏆2nd place – 1 Steem - @resuscitate
🏆3rd place – 0.5 Steem - @ogine
Many Congratulations to all the winners, but especially @ifeluwa88 - you have commented earlier than the other winners, @resuscitate commented on every post and @ogine all but one. Everyones engagement was top rated and added value to every post. Close contenders were @chiknows, @zyx066 and @botefarm.
I am so pleased with the engagement - > The Contest continues!
**What is the prize? **
The follower who engages the most with me for the next 7 days will be the winner but the top 3 will be selected. The contest starts with this post.
🏆Winner – 1.5 Steem
🏆2nd place – 1 Steem
🏆Third place – 0.5 Steem
IMPORTANT - To keep things equitable – numerous comments on 1 post will still count as 1 comment - so first level comment only - the rest is engagement. 😄
The contest will end at 11:00 GMT+1 on the 8th day. If I decide to continue the contest, it will start with this post which also announces the WINNER(S).🏆 If there is a tie - then the time of the comments will determine the winners.
BONUS - I will randomly give good comments an upvote if I have the Voting Power - so not always.
I am a humble minnow or red fish or whatever you call it – but just call me Momogrow; the point is that I would like to grow and so do you - we can do it together.
Ultimately, I would to have real followers - not the ghostly type who visits me for a contest and never again. I would like real followers who appreciate what I share and stick around.
I am looking forward to engaging with you!!!! 😄😄😄