Universal Basic Steem Income + Engagement + Proof Of Steem + Anti-Spam + Anti-Plagiarism Rolled into One Simple Daily Game
Hi, Steemheads!
I just thought I'd present to you an idea.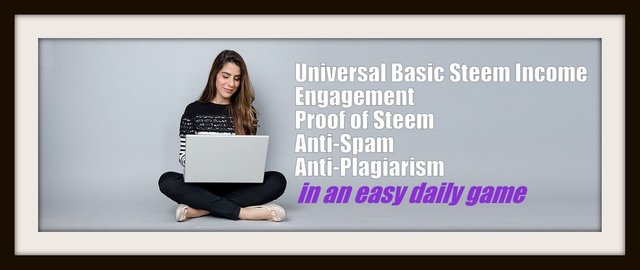 Image Source
I love Steemit, obviously. I stumbled upon Steemit now that I'm so bored with life being chronically ill and stay at home. That means I am lucky! Because rather than lying on my bed staring at the ceiling, I am in here learning new things everyday, blogging and meeting new friends in cyberspace.
Okay, enough about that boring intro.
I've been in Steemit for awhile, it's tough here but it works. I've been running a game daily for 140+ days and in it, everyone wins a little something everyday. The concept of Universal Basic Income is a good thought to me so I designed it that way. My Steemit BFF @cadawg, calls it's a splitter game where the prize is split to all. Some call it a Steem faucet. I call it mini "Universal Basic Steem Income." It's been running for 130 days now, and I have around 40-100 people playing the game daily. It lost the momentum when the HF20 happened, the little fishes can't join anymore because of RC issues and it was cancelled for an entire week because of the HF. I get little to no support for this game but I plan to keep it going because that is the only way I can help little fishes other than my close to nothing upvotes as a minnow.
If you want to check my game out, look here: Guess the Color Game - Day 144 | Mermaidvampire's DAILY Splitter Contest
Does Steemit work? It does, for sure. But it's difficult to thrive here when you do not engage and you are not getting traction to your posts. Does the platform really reward content, yes it does but there's too many people who are in the platform that are... hmmm... I don't even know how to break it nicely but some really have it wrong, they are not in anyway helping the platform to accomplish more. At this point, it's not even about what good you want to do here or how good you are, it's just about who you know or how much you are willing to invest in bidbots.
My account and my daily game is an example that you can thrive here when you HELP OTHERS. Since day 1, Steemit has all been about GIFTECONOMY in my eyes. How you can help others and how others can help you through curation and making good content. Everyone has power, no matter how little, it helps when you come together. So, I want to call on my fellow red fish and minnows again, of course, big fishes are welcome, too. Let's try another game that will try to correct some odd stuff about what people do here in Steemit.
I have always wanted to help onboard newbies here. Like have my own program or community running here to nest new Steemians and guide them of the do's and dont's and teach them some ways that could possibly work for them. I am not powerful, so, it's really a long shot but I think I would like to start with something fun like a game or a contest.
I want to run another game here in Steemit. I might run this in all graphenes but I would love to test it here in Steemit because this is my first love of all graphene social media platforms. I really wish people help sponsor the game because I will need funds for the prizes but if it does not happen, it's fine. I will try to earn the money I need to roll it just like how I run my daily splitter game. The red fish and minnows who join my game are helping to keep it afloat and some condensers and DApps have been helpful like @good-karma's Esteem Surfer and @steem-plus as well as @dclick.
The game is simple. It will incorporate 5 things in one. Universal Basic Income or rather Universal Basic Steem Income (LOL), Engagement, Proof of Work, Anti-Spam and Anti-Plagiarism.
How?!
For now, I will set a reward pool to 1/2 of the post payout minus curation. I will be the one to make the daily game post. Everyone who wishes to join the game will have to drop the link of one Steemit post they did that day under that post (Proof of Work). He/she must state the number of words and it must not be below 50(For it not to be Spam) and it should also not have plagiarized content (Anti-plagiarism). I will then check the post and make sure it is not Spam indeed and no plagiarized material was used. Violators will not be rewarded. Those who followed the instructions and came out clean will share equally among themselves a fraction of the accumulated Steem reward after 7 days. Submission of entries will be closed in 24 hours only since the posting of the contest post.
I think it will be both rewarding and fun if everyone will get a little bit more through a simple game like this. There are no barriers to entry, anyone in Steemit can join. Hopefully this will boost engagement and more user activity in the platform. This will also reinforce good behavior of the people in this platform.
Additional requirements can be asked if needed, like the posts should have graphics or good quality pictures. The game may evolve as it progresses depending on the new ideas I'll come up with to make it not so monotonous and for people not to get bored with it.
I hope Steemheads help me make this happen. I mean to help this platform and hopefully I can do it through this. I will start the game next week. Feel free to leave comments and suggestions regarding this proposal or idea.
Thanks for reading and have a nice day!
THANK YOU ALL SO MUCH FOR THE SUPPORT!

Join the house of cool bunch Steemians right here in #steemitachievers!
Follow @steemitachievers.
Join the amazing Pinoy Steemian crypto-heads in #steemitpowerupph!
Follow @steemitpowerupph.

If you still have room to fill since one can vote 30 witnesses, please consider voting these witnesses because they are simply awesome!

#