Hi, Steemheads!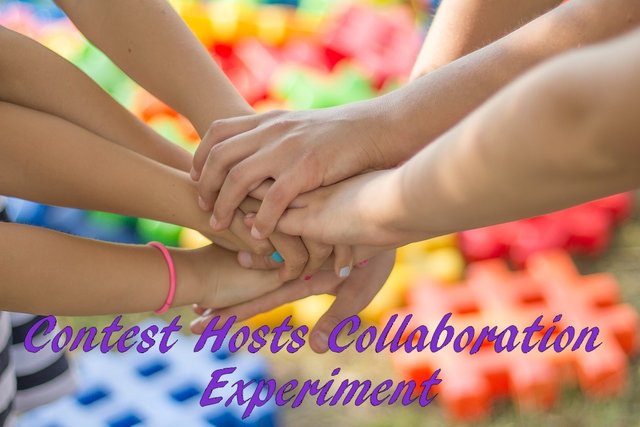 Image Source
Remember when I had called for a collab for interested contest hosts here in Steemit? That was 20 days ago and some people responded and it was nice to know some people were interested. If you have not seen that post, here it is: Call for Support: Contest Hosts' Collaboration.
Early today, I finally had this lightbulb/eureka moment on how I can support each contest host with prizes and how we can roll with support, just having each other. If you don't know me yet, I am into the thought of having real Basic Income in Steem here in Steemit. Thus, I have 2 faucet like games that runs daily and they require nothing than just plainly steeming as proof of work. A mere comment of a color or just making a post that's not violating Steem standards will do.
I have been running the two games for months and a number of people have somehow been into it and benefiting from it. Of course, I don't make them rich, I don't give that much for prizes because my account is not a huge one. I'm just a minnow in size, but imagine if a number of minnows do what I do? Let me give you an example below.
@olivia08 joins my games daily. Today, she earned from my 2 games this much:
0.019 -Guess the Color Game Day 202 (she just commented a color)
0.014 -PROOF OF STEEM GAME - Day 84 (she shared a link of the post she made for the day)
=====
0.033 Steems
If there were 10 contest hosts doing a mermaidvampire thing or perhaps something better everyday, then @olivia08 could earn this much during her free time:
0.033 x10 = 0.33 Steems
@olivia08 will earn 0.33Steems/day on top of her author and curation rewards.
It is not much but it is still something. One thing, I am proud of, is that I have a number of names playing my games and I appreciate and admire those people because those are my tribe, the people I know who knows how to appreciate the little things and they know that small things make the big things. Slowly we are growing and the cooperation and camaraderie is being built, in the games, in the comment sections. Regardless of what race or whatever, we are helping each other grow in the platform. Sometimes, I wish I was a whale and I could give them significant figures as prizes but sometimes I think it is better to start this way so that we learn to appreciate the people who help build us in our journey. It will take time for us to grow to something but we will learn so much along the way. Steem is a cryptocurrency, a very volatile asset, with the long journey, we will learn how things are at highs and lows. What's important is we appreciate the nature and gift of Steemit to reward content and to be able to help others with engagement and curation.
Now, what's the plan?
I need 7 ACTIVE people who are holding contests daily and weekly or some days within a week and I have come up with a list in my head, I am hoping they agree to join my experiment. I will be making an experiment project on how to help these people with the prizes, I just need someone to do some stuff for me first because the mechanism needs to be objective and fair without a flaw. If you are in my list, please check if you can commit to the rules of the experiment. I will send you a memo asking for your permission to join this collaboration and your commitment to do the tasks.
Tasks and Commitment
You must be active and posting at least 5x a week and has a contest running weekly, daily or some chosen days in a week;
*You must run the contest without fail, and inform @mermaidvampire if anything arises;
You must be able to vote all 7 hosts who joined in this experiment, the list will be final once all 7 people commit their participation later, check comments below;
Weekly contests will be voted 50-100% by all 7 Hosts, with VP not below 50%;
Daily contests will be voted 20-50% by all Hosts, if one person runs 2 daily games like me, then he/she can be voted 10-25% per game posts, with VP not below 50%;
So far, these are just the things I want to require from everyone and I am not a fan of changing the rules in the middle of the game so maybe these are the only rules we will have throughout the experiment. This is all experimental and everyone offered the chance to join will be given the chance to participate or to decline. Are we -circle-jerking? Some people might suspect us as such. The answer is NO. Circle-jerking is only tagged to people with huge or significant Steem Power and they are usually people who vote the same people and no one else. My curation list will show that I will not just vote the 7 people, I have many more people to vote, around 200 heads. I'm also pretty sure the hosts I have listed votes their contestants and will not be solely voting the 7 people in the experiment.
I mentioned that we will have a mechanism to support people with the prizes, it will be discussed thoroughly later once I have the project up and running. There is a reason we are asking 7 contest hosts as participants here. We will dedicate one day for 1 host, that's the reason why. Hopefully when this experiment succeeds, we can double to 14 hosts in this collaboration.
I won't be showing the names of the prospected hosts for them not to feel pressured to say Yes to this. If any of them backs out, I will ask suggestions or accept people who will present themselves to join, instead. A follow-up post will be made to confirm all the 7 people that will be part of this experiment. I won't make this post any longer. Feel free to make comments and suggestions in the comments below.
Love and Peace,