A SteemIt Game Plan (That Anyone Can Follow)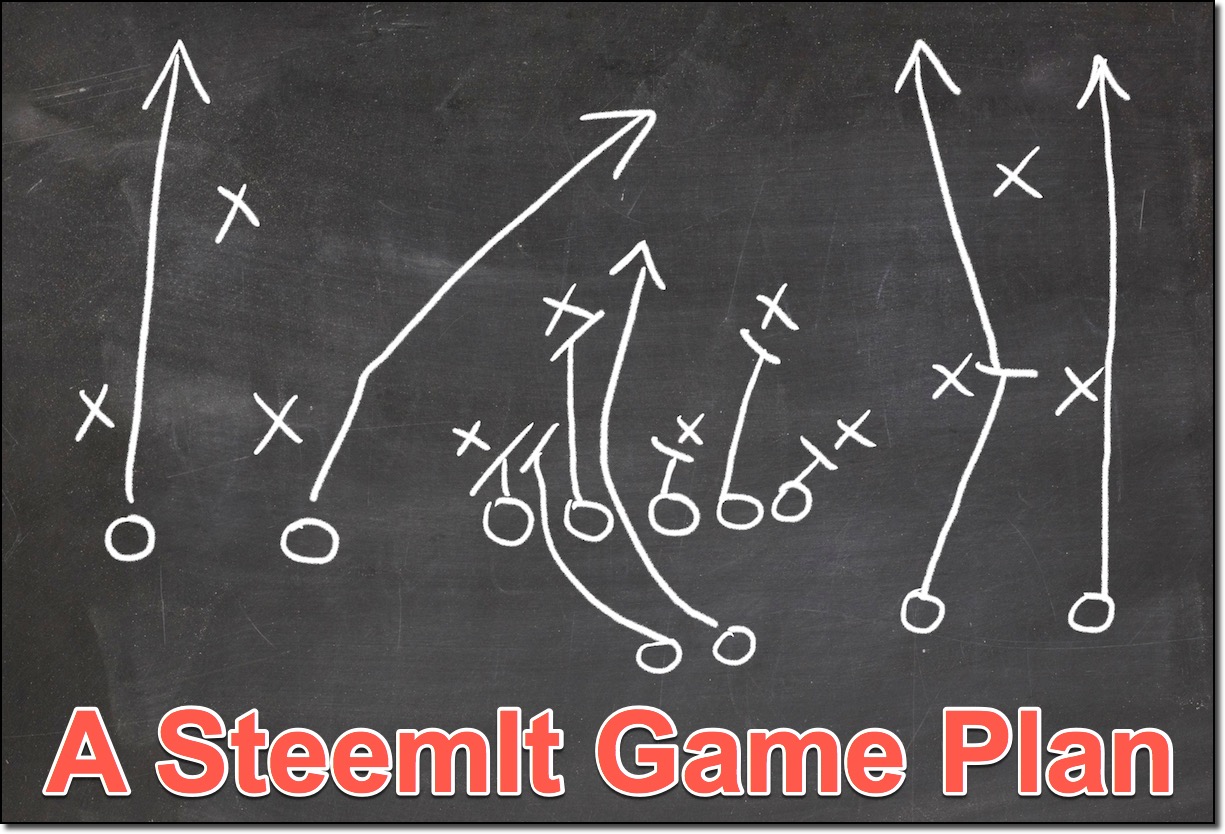 I'm obviously very very new to SteemIt. I've been posting every single day and I've been trying to post highly quality content. I've also been spending a ton of time reading other people's posts, commenting, upvoting, resteeming, and testing everything else that goes along with this platform.
On top of that, I've been consuming every article I can find about the platform.
With everything I've been testing, I've been compiling a bit of a game plan to follow, complete with external tools and posting strategies. The only thing I haven't done is put my own money into Steem. I will eventually invest in Steem. However, in the beginning, I'd like to see how far I can take things without spending money out of pocket.
So here's my preliminary game plan (subject to change as I learn more)...
Post a new piece of content every single day. This content should be high-quality and helpful. It should not be quickly thrown together crap, copied and pasted from other sites, or a single image. I will focus on quality content that provides value for its intended reader.


Leave a high-value comment on at least one article that I find valuable. Likely, I'll leave a lot of comments on a lot of articles each day but I'm requiring myself to do at least one each day. Again, these will add to the original article. No "nice post" comments or fluff. If I can't add value, I won't bother commenting.


Upvote a handful of valuable posts each day. If I find it valuable, give it an upvote. At the moment, I'm not too worried about my vote percentage or anything like that. To be honest, I don't totally understand that aspect yet. For now, I'm just focused on being a good, active, SteemIt citizen. If I find value, I'll give it a vote... Voting power be damned. My assumption is that voting power means very little at this early stage for me so I'll just ignore it until it has a much bigger impact.

Use SteemVoter.com - This is a little contradictory to my last comment but I'm testing it anyway. I'm using SteemVoter.com to automatically vote on posts from a handful of my favorite writers. I've set it to upvote new content by 3 of my favorite writers, right around 25 minutes after they post. This is content that I would have upvoted anyway because these 3 people always post high-quality stuff. This automation just helps me upvote it at an optimum time to maximize the power of my upvote. I'm only using it for people that I upvote 99% of their stuff anyway. And I'm only doing it for 3 people because 3 is the max you can do for the free plan of SteemVoter (not investing my own money... yet).


Use the Streamian Curie Guild - With a Streamian account, I can watch for new articles that I think are high quality and SHOULD get a lot of votes on SteemIt. When I find that content, I can share it to the Streamian Curie guild and, if they decide to curate the content that I suggest, they'll pay me 20 SBD. The more I find good content at a really early state, the more SBD I'll earn from Streamian. I can then roll that SBD into Steem Power here and make an even bigger impact with my content and upvotes. It did cost me 0.001 SBD to create the account (less than a penny) but, even for that, I used earned SBD and not out of pocket money. Check out Curie guidelines here. It's kind of a pain to become a curator but, once you do, you can really make some moves.


Watch for UnderSteemed posts once per day - Each day, I'll spend 20 minutes or so over at under_steemed. Specifically, I'm looking for new posts from people who typically get a lot of interaction but have had very little interaction so far. If it meets might criteria above and I find it to be helpful to the community, I'll upvote it and leave a comment. Stuff that I REALLY like, I'll resteem to help with the exposure even more. I've found some hidden gems already with this tool.


Post promotion - Every single time I make a new post on my blog, I'm going to share it as much as possible. I'll start by sharing the article on Twitter, Facebook, and LinkedIn. Next, I'll use SteemIt chat and post in the relevant promotion section to share my article. Finally, I post it to the SteemIt Bloggers group (in the promotions area) on Discord. Thanks for the tip @thekittygirl!

Bonus Tip: Find writers that you like on SteemIt and look them up on Steemd... Here's my Steemd page: https://steemd.com/@mattw - You can essentially use that site to reverse engineer the actions of others on SteemIt. If you see writers that you really like, that are doing well on SteemIt, check out their Steemd account to see what they've done to get there.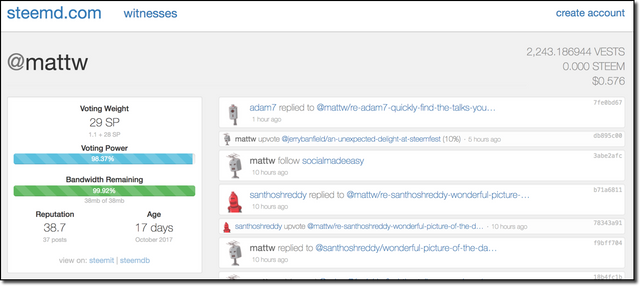 And that's pretty much my game plan.
Once I've proven that I can grow on SteemIt without investing a cent (so that I can show others how), I will start investing my own money into Steem and converting it to Steem Power in order to grow my ability to have an impact on Steem. For now, I'm completely testing without investing anything.
Please let me know if you have any other tips or advice that I'm missing.
The strategy is really to post great content, curate great content, and engage with people in the comments, using great content. Combined with a tiny bit of automation and promotion, I believe I'm putting together a winning formula.
That being said, I DO NOT believe SteemIt is a quick income strategy by any means. It's a long haul strategy and I'm in it for the long haul. I love blogging and writing. This gives me a new outlet and I'm excited about the potential. If you're going to follow a similar strategy, understand that it may take a while to gain traction. Just keep plugging away at it.
Looking forward to your thoughts and additional tips based on experience. :)
Follow me here on SteemIt if you want to get weekly updates on my progress!
---
If you enjoyed what you read here, don't just 'retweet' it, don't just 'like it' elsewhere. Make sure you sign up and UPVOTE it, here on Steemit and share in the rewards! Also, if you enjoy what I put out, be sure to follow me here on SteemIt as well.
---