Among the scathing self-referential critiques that make it to the top of the trending page these days complaining about the system (while simultaneously exploiting it), I've noticed a pattern of claims about women (or rather, "hot girls") having some sort of monetary advantage on this platform. I've only been here a month, but I have yet to witness such a phenomenon. In fact, I've actually been pleasantly surprised to discover that my gender doesn't seem to have much of an impact on anything. Even in my introductory post (which is in dire need of a reboot), in which I am very clearly visible, any comments about my appearance were, at most, compliments about my choice of hair color. (Okay, I'll admit, there was one animated gif of a bear with hearts coming out of its eyes, but it was reference to being able to read Sumerian.) I've been through hundreds of #introduceyourself posts on this platform featuring many young women who I would characterize as attractive, and I can't recall any creepy comments off the top of my head.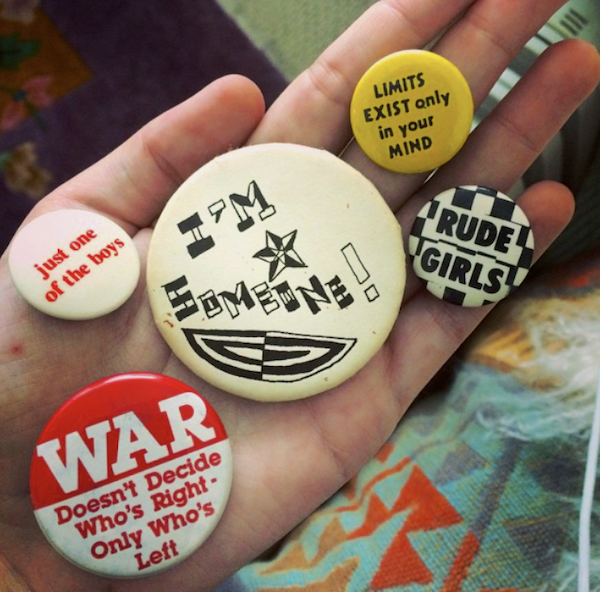 Super rad 1980s feminist pins that my 9th grade ballet teacher gave to me.
Now I must provide a caveat; I operate within a small corner of this site, primarily consisting of academics, historians, poets, and photographers. My modest following is probably split evenly among men and women, if I had to guess--which, as you'll see below, is not representative of the site as a whole. I also keep my NSFW filter on, so if there are many scantily clad women profiting handsomely from their photos and taking up the entirety of the trending page, I'm out of the loop. (No shade meant to be thrown at our scantily clad sisters--you do you, girl.)
But let's put aside the scantily clad element and talk about being a woman on this site in a more general sense. There have only been two times when anyone has mentioned this phenomenon directly to me, and each time it was the assertion that I, as a woman, will have an easier time developing a following and attracting upvotes. The irony in that statement is that, if that is indeed false, it would suggest that there may be a slight disadvantage because of the perception of an unfair advantage, which may make some more reluctant to upvote or support female content creators out of resentment. But that's just a theory.
Enough with the opinions--let's see some numbers!
I admit that I'm naturally inclined to believe that women are at a disadvantage in most aspects of life, and I can only speak from the perspective of someone with some disappointing experiences which have colored my beliefs, so I'm hardly objective. I have no desire to start a debate about wage gaps, so let's talk numbers here with respect to Steemit in particular (and I'm open to a collective brainstorm on how we might accomplish this in the most objective way possible).
According to Alexa, Steemit's demographics are overwhelmingly male. Eyeballing it, it looks something like 5-to-1 male to female. That sounds staggeringly high, but it's actually slightly lower than the ratio on Coinbase, so that makes sense, since the site is built on blockchain and is largely populated by crypto enthusiasts.
.........................................................................................................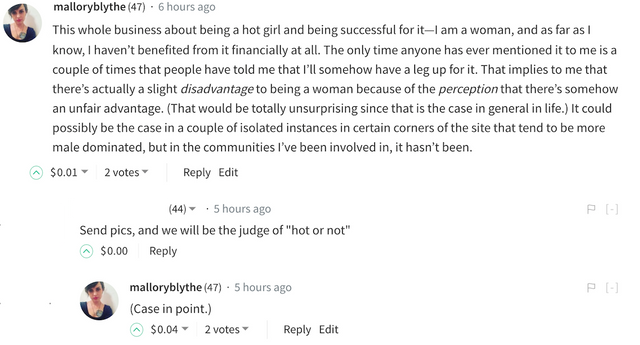 Well, at least I made it a month without any of this... (my comment edited down for brevity)
...........................................................................................................
Taking the 5-to-1 ratio as a benchmark, I looked at lists of the most successful users on Steemit by various metrics. At first I was looking at Steem Power, but I realized that the lists were too populated with bots or accounts that weren't exactly tied to personalities for one reason or another, and so I went with numbers of followers and posting rewards. I could only find some lists that are slightly outdated, but that's good enough for me. The top posting rewards list would probably be the most representative because it means that the account is posting original content in one way or another and not just upvoting or resteeming for bribes.
Now, you'll have to allow some margin of error here and insert caveats about gender identity, as I was giving a cursory glance at each and noting if I could tell that the poster appears or presents themselves as female, or appears or presents themselves as male, or if I couldn't tell one way or another.
| Gender | Followers | Posting Rewards |
| --- | --- | --- |
| Male | 31 | 27 |
| Female | 4 (+1 resteem account) | 8 |
| Unknown | 14 | 15 |
Although there are plenty of unknowns here, the point is that only 5 (but really 4) of the top 50 followed accounts, and 8 out of the top 50 most financially successful accounts, are held by users whom others would recognize as women (and are therefore capable of deriving any monetary advantage because of their gender). Even when you adjust for the high male-to-female ratio, women are at best slightly underrepresented among the most successful Steemit users. Of course, this sample size is small, and a thorough study would look at other metrics as well. I invite anyone to jump in on this if they feel inclined. It could be interesting to look at the genders of the most influential users (i.e., the "whales"), but I haven't been around long enough to have the encyclopedic knowledge required to do a deep dive into the matter (no pun intended).
If this pattern holds up, it would suggest to me that the simple fact of being female is not inherently financially advantageous on this site, even if a small number of women post in ways that take advantage of their gender or sexuality. (And as a final thought, I would argue that there is nothing inherently lesser about posting scantily clad pictures of oneself than posting about any other topic that interests you, but that's a discussion for another time.)
...........................................................................................................
Edit: I just read in an illuminating post by @ladiesofsteemit that there are only two confirmed female witnesses (out of 400!). Obviously, that power imbalance far exceeds the 5-1 ratio of men to women on Steemit and certainly deserves a closer look.