Content : A Massive SEO Advantage for Steemit
Steemit has a massive SEO advantage, because of the massive amount of content that's being created.
And it shows!
This is from SEMrush, which tracks millions of keywords and combined with estimates from adwords they show traffic.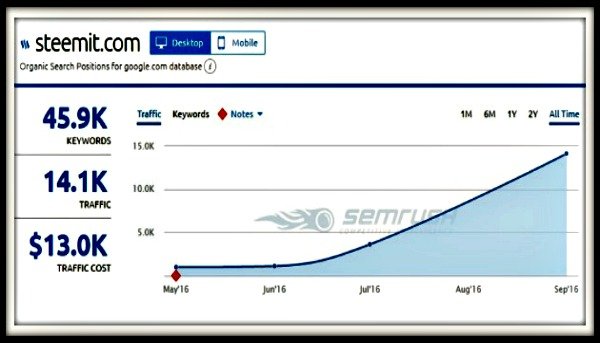 There's an explanation for it.
At the core of google's algorithm, there's the number one. The number one stands for 1 page with a 1000 words, which means that a page with 500 words has 0.5 as value in that formula.
Over the years google has been making all kind of changes to their algorithm, but the principle of it is still at the very core of it; 1 page with a 1.000 words has 1 'point'. That's where the term pagerank comes from.
Each page (of at least a 1.000 words) has basically 1 point, by linking out to another page it will pass on ~70% of it's value to the other page, so that page, as long it also contains at least a 1.000 words, will then have ~1.7 pagerank.
But when it links out to 2 pages, they would each get 35% ... 10 pages each 7% ... get the picture?
And if the page has only 500 words, it will not pass on ~ 70% of 1 point but only 35% ... because 70% x 0.5 (only 500 words) is ... 35% .. 10 outgoing links ... each only 3.5%
And that's why you need to make sure that all your pages have at least a 1.000 words.
So ... there are thousands of posts being created every day, and so far Google has indexed more than 500.000 pages already, this while not all of them have a 1.000 words, but the comments also count. Everything together it's really significant.
I have honestly no idea how many pages reach the 1.000, but what I do know, although there's a loss, when the page has less than a thousand words ... the total amount of pages also count. So, although shorter posts have less value, it's still positive value that ads to the total.
Next are the links of course, as the page itself holds the pagerank value, but the value increases, which is generated by links ... it's all about links.
Now, if you look around on this page, there are not that many links, which means that those few links that are always there; the links to the tag pages (the internal link structure) get a lot of pagerank.
While each and every post will rank on the new tag(s), from which it gets pagerank as well.
And because those tag-pages get thousands upon thousands of links, so they actually have a lot of pagerank.
And that's is also why google is constantly re-indexing those tag pages and following the links on those pages, which is why the posts are all getting indexed and why Steemit posts are ranking remarkably well on Google's SERP's.
Steemit has a massive SEO advantage, which is the total amount of content, and while it's just getting started, it's already visible.