Litas.IO upvoter starts his journey in Steemit ocean! Get a Vote from Litas.IO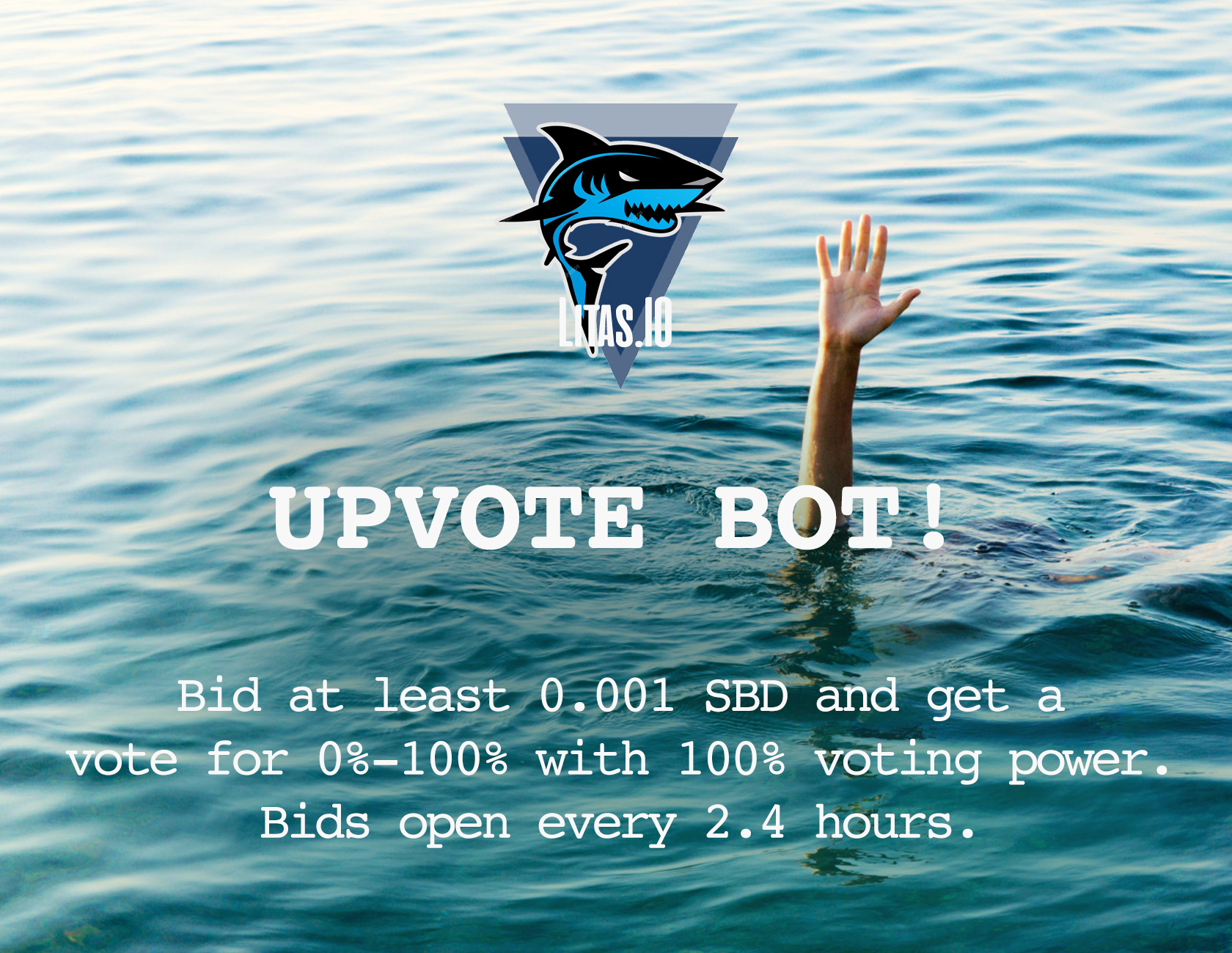 Dear All,
This is Litas.IO captain speaking! This is Upvote service for all minnows out there!
How Litas.IO works?
You send at least 0.001 SBD to @litasio - whatever amount you want, it is completely up to you. What will happen next is when the timer runs out every 144 minutes, it will upvote everyone in that time-window with a 100% upvote divided among the bidders and give a stake-based % on amounts received.
Example
Jane and Mark both bid for in the same voting batch. If Jane bids 2 SBD and Mark bids 1 SBD, Jane will get a 66.66% upvote and Mark will get a 33.33% upvote.
Guidelines
Important: If you use the services of @litasio you are accepting these conditions. If you do not agree, do not use @litasio.
Your post are older than 5 days (7200 minutes). Your bid will not be refunded. (keep in mind that the Bot needs at least 3 hours to vote. So do not wait at the last minute.)
Only Bids for Posts and NOT FOR COMMENTS.
Your Bid is less than the minimum of 0.001 SBD.
You sent STEEM instead of SBD. The robot only works with SBD.
The URL must be correctly expressed in the memo alone. Malformed memos will not be refunded.
Your post was already voted.
If for some reason you send the wrong amount of SBD. No refunds will be made. Because all Transactions are considered by the Bot and can not be canceled from their routine.
Before sending a transfer to @litasio verify that your publication meets these conditions. After the transfer is made, no claims will be received.
If you send a bid to @litasio and your post does not meet the mentioned conditions. Your bid will not be refunded and will be considered a donation.
---
How to use LitasIO upvote service? - Tutorial on how to use our service in 3 easy steps.
---
If for some reason your Post meets the conditions and did not receive its vote after 4 Hours. Then contact @litasio Technical Services
We are looking for delegates ! Help us to grow bigger.
If you are looking for investment opportunity in our service, don't hesitate to contact me.