I wrote a post about 8 months ago about the Zones. You should read it
https://steemit.com/steemit/@lahvista/being-in-the-zone-how-to-get-there-how-to-stay-there-how-to-know-where-you-are
In that post I promised to write more on the subject. shortly after that I hit a wall. Fell right into the Red Zone. Stopped working on my book. Stopped working on Steemit. I was already in the Red Zone with Steemit, but I slid all the way down to ABSENCE.
I left!
You can't go more absent than that.
I went absent from writing my book and I went absent from writing on Steemit.
Bet you wish you'd stopped and read the article linked above now, don't you? This would make a lot more sense. Go ahead. Read it now. We'll wait.

So, it's time to start explaining those charts. And since I've recently been at the bottom of the RED Zone. Let's start there.
Anytime you start learning something new, you start at the bottom of the Red Zone. You are first absent.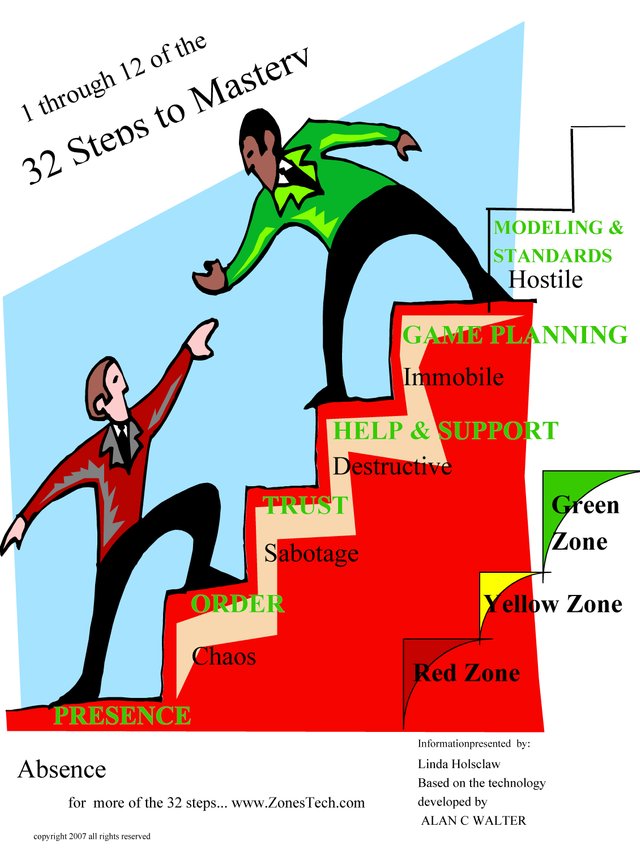 You know nothing!
Your first step is to become present. I like to use the example of learning to drive a car. You may know how to ride in a car, but until you sit down behind the wheel you are absent from driving. When you do get behind the wheel everything is chaos (the 2nd rung on the negative side of the zone ladder.) What are all these dials? Where does the key go? Do I need a key? Where are the dials? (if it's a newer car). What's a PRNDL? What are all those little symbols?
You study and learn
And before you know it you've made order out of chaos. Order is the 2nd rung on the positive side of the ladder. It's in a Green Zone within the Red Zone. It feels good and it's tempting to stop there. But,
You still can't drive!
You need to put it in gear. That means moving into the next Red Zone area which is Sabotage. What does sabotage have to do with driving? Did you ever put the car in the wrong gear to start? That's sabotage. Could you turn the steering wheel the wrong direction and cause problems? Sabotage. There are many things you can do in a car when you are at the beginning of driving that will sabotage your chances because you don't Trust yourself yet.
Trust! The 3rd rung
When you begin to trust yourself at the wheel, you are on the 3rd rung on the positive side of the ladder. Once again you feel comfortable because you're in a Green Zone bubble.
The rest of the steps follow this same pattern. There are people who spend years studying the steps. Finding what emotions are associated with each step is very helpful. I have more charts that line those out.
This is all we're going to cover this time. Think about it. Study it. Mull it over. Chew on it. Things will come up that make you uneasy. Just feel the uneasiness and let it pass. Or contact me. I might be able to help. Or contat the ACLC - Advanced Coaching and Leadership Center. https://aclc.us/ and tell them Linda H sent you.
And again: Just knowing about the Zones puts you light years ahead of most of the planet.
These great folks were interested when I first posted the article. Are you guys still around?
@adambarratt
@mrday
@jcedwards
@jasonshick
@derosnec
@ethandsmith
@drpuffnstuff
@camillap
@magpielover