Hello Gamers,
Thank you so much for trying out our platform and giving overwhelming positive feedback till now.
We are a community oriented project at our core and are completely committed to the needs of the gamer community.
Hence, we encourage you to give your valuable suggestions/feedback on our games/features/reward system so that we can modify any of our existing systems or add new ones as per the demands of the majority.
We are excited to introduce different kinds of reward system for our gamers along with a brand new dashboard to keep track of your status.
Lowest House Edge Advantage
We, ourselves, are a bunch of gamers and we know exactly how you feel regarding the house edge. So we are the only platform to have the lowest house edge sustainably possible in the industry: 0.5% in blackjack and 1% in dice. All other platforms have 100% more house edge than us (2% in dice). We are always focused towards the gamer community and giving them the best playing experience gives us the utmost satisfaction.
kryptogamers.com
Club Rewards
Our club reward system introduces seven clubs starting from Gamer upto Platinum. Each club has different criteria as well as different rewards for its club members as per the table mentioned below.
Good News: All the bets placed till now will be counted towards the club eligibility and rewards system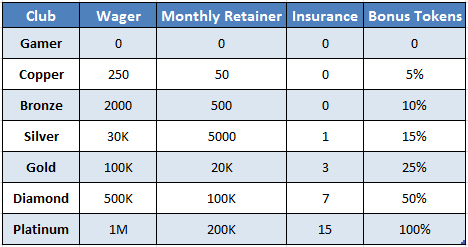 Wager – Total Lifetime Steem Wager of all the games required to become a member of the respective club.
Retainer – Minimum Monthly Steem wager required to retain the respective club. If a player upgrades to the next club in any month, the retainer of that particular month is waived off. In case a player does not upgrade and fails to meet the retainer wager of his current club, his monthly steem wager will be matched to the retainer of the next club down the line. In short, Retainer system is to ensure that monthly active accounts receive majority of the rewards.
Insurance – No of insured zero-risk bets received per month. An insured bet means that if you win you will receive the winning amount as per the respective game and if you lose, we will transfer back your bet amount. Insured bets are meant for you to play highly risky bets (Dice Roll Under 5), which now becomes risk-free, so that you can win 50 times your bet amount.
Bonus Tokens – Our token system will be launched within the next two weeks. We will adopt the model of 'Gaming is Mining' and all the bets after the launch will receive extra bonus tokens as per their respective club apart from the normal tokens received per steem wagered.
Example: Player John has a total steem wager of 28000 steem in January and is a member of Bronze Club.
A) Suppose John bets a total of 500 steem on dice and 1500 steem on blackjack in February. He will get upgraded to Silver Club instantly and his retainer of 5000 steem for silver club will be waived off for the Feb month.
B) Suppose John bets a total of only 500 steem on blackjack in February. His Bronze club is retained in March as his monthly steem wager (500) is equal to the bronze retainer (500).
C) Suppose John bets 100 steem on blackjack in February. He will be rolled back to the Copper Club in March as he fails to meet the Bronze club retainer and his monthly steem wager (100) is above the Copper Club retainer.
Referral Rewards
Refer a Gamer and Earn 20% of the house-edge (0.5%) of all their blackjack bets and 10% of the house-edge (1%) of all their dice bets. In short, you can daily earn 0.1% of the total steem wagered of all your referred users.
You can check your total number of referred users and your total received referral rewards in your dashboard.
Referral Rewards are distributed daily at 7 AM UTC
Dashboard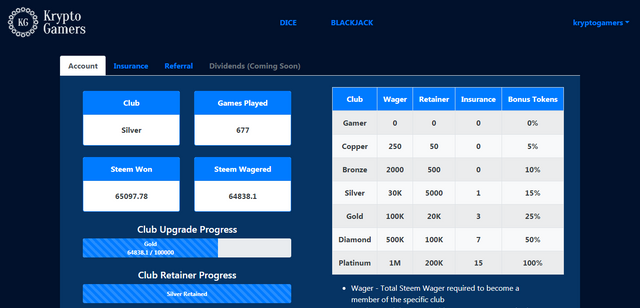 We present to you a sleek new dashboard design which provides an intuitive tab-wise feature selection which is much easier to use and navigate. More features will be added to the dashboard when our token and dividend system is launched. We are open to any new ideas/suggestion for feature addition or modification.
Token Launch Update
As a community oriented approach, we want you to "Be the House" and earn a fair share of the daily profits of the house.
So our token system will be a multi-purpose utility system in which the token holders will receive a high share of the profits of our platform in the form of daily dividends.
Also, our token will be designed to be tradable in the future by leveraging the SMT platform when launched. We are in the process of finalizing the token distribution plan and are planning our token launch within the next 2-3 weeks.
Good News: All the bets placed till now as well as the bets that will be placed from now till the token launch will receive their fair share of the tokens PLUS An Early Bird Bonus.
kryptogamers.com
Early Bird Advantage
"Early Bird gets the worm"
Suppose John starts playing now and becomes a Silver Member. As soon as the token launches, John will get an extra Early Bird Bonus and tokens for all his bets placed till launch PLUS he will start earning an extra 15% bonus tokens for every bet thereafter and since the token distribution rate is the highest in the beginning, he will have a compounding effect on his total token money. Now that's a smart passive income making John.
Support
For any questions, you can contact us anytime on discord.
Stay Happy! Stay Motivated!