Steemit Releases Groundbreaking Account Recovery Solution = 8859$ ?? Seriously, why is DAN as a founder of steemit getting paid for internal announcements?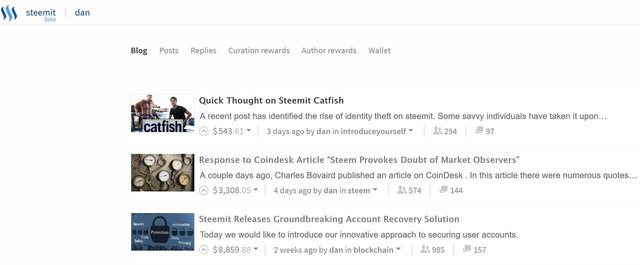 Everybody is focused on the Whales. Everybody is following the whales. Everybody is trying to get the attention of a whale. So if a whale like DAN posts something , it will almost always earn 1000-10.000$ ( i voted for @DAN posts too)
The real problem i am seeing is, that so many people are complaining not earning on Steemit. Probably the content these people are providing is not sexy, not good enough yet to make tons of money. But in the longrun, if an admin/ employee/ founder of Steemit takes away the limited supply of Steem and SP from the platform, it will harm the platform, as that one guy who might have earned 5000$ and would be locked in for life only did earn less, eventually leaving the steemit platform. 
I think i am living and blogging proof, that the lock in of steemits works, check this post and check my Wallet, does that look like real commitment? 
I am in, probably for life (if the steemit platform survives that long), so i am thinking everyday what could improve steemit and why we need to discuss these things. 
My suggestion is, that official annoucements should earn votes, but no $$$
Maybe this will get me a huge downvote from a couple of whales, but if you agree UPVOTE !!!