How To Use Steemit Bid Bots Effectively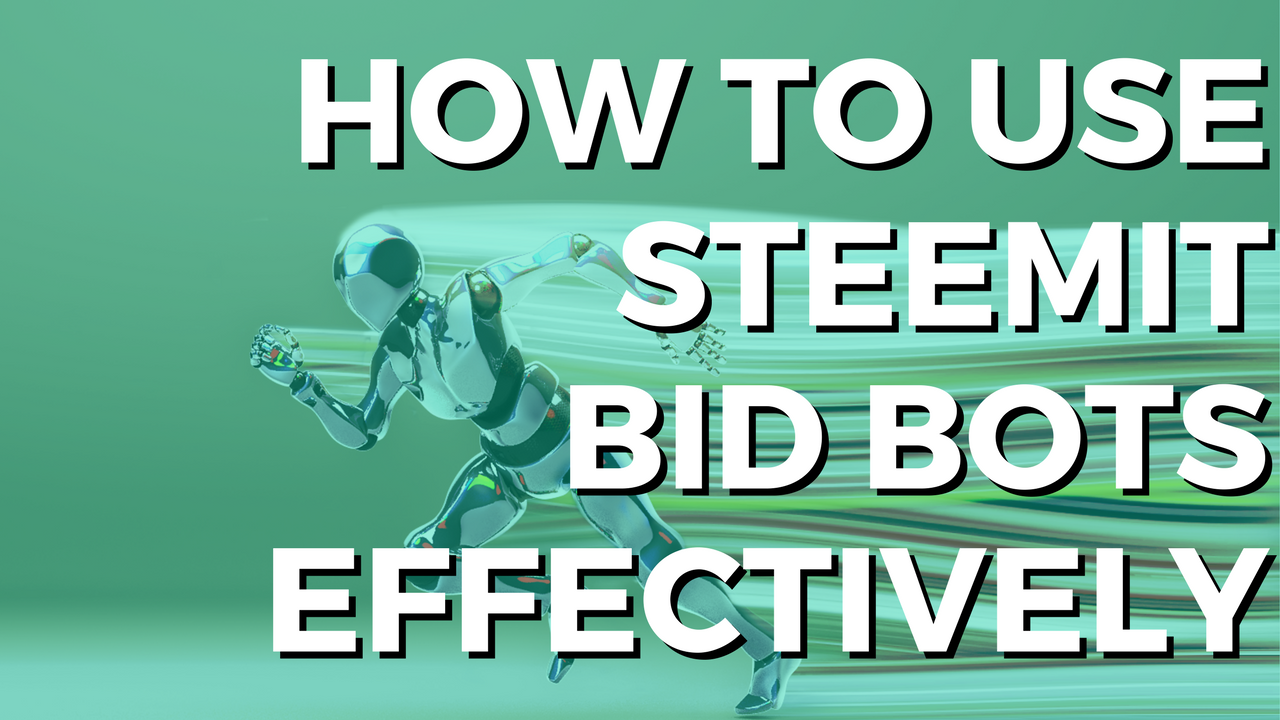 For the past week I used the infamous Steemit to send a bid in SBD and receive an upvote on a post of my choice. This week taught me a lot about these programs. It is very easy to loose money doing this, so I want to cover the basics and tips I think will help every minnow out there.
My Bid Bot Experiment
With so many people talking about the bid bots lately, I chose to test one out on a post that did not get a lot of love: something that was relatively small and did not get a lot of traffic. It was a few days old at this time so it was not going to trend from the spike in rewards.
I decided to go big and send 15.86 SBD to the bot. At the time, the that was about $133.20 USD worth of Steem Backed Dollars. That allowed me to receive 14.5% of that bot's voting round. The total USD amount that was sent my way equated to $150.32 USD. A profit of $17.12 USD.


from steembottracker.com
This took my post rewards from about $1 to $21.74. Not too shabby since my aim was only to bring up that post's reward for a more consistent look on my profile page. Not the best reason, but at least it led me to creating this post for everyone.


from steembottracker.com
The numbers look great on 'paper' but since the price of SBD dropped a few days after using the bot, I basically lost value. Had I taken that same SBD and moved it into Bitcoin Cash, Monero, or another coin it is possible that I would have gained value.
Then I could have taken that same amount and sent it back to SBD for a gain. Hindsight is 20/20 and there was no way to know that SBD was going to pull back. However, I am ok with my choice since I am a Steemian in it for the long haul.
Be A Smart Bidder
This has to be the most important section of this post. It is far too easy to blindly send a Steem Backed Dollar to a bot like @buildawhale or even @jerrybanfield's automated up-vote service. But that also makes it just as easy to overbid since we are not checking beforehand to see if the bot is even profitable at that time.
This site is the best place to make sure your investment will not go to waste. Created by @yabapmatt, it lists out many bots in order of the amount of time till their next voting round. Most bots are on a 2.4-hour cycle in order to power up to 100% before voting on the next set of bidders' content.
Let's break down the columns that the site displays. (If you are reading this in the future and the site looks different, please feel free to contact me on Discord.)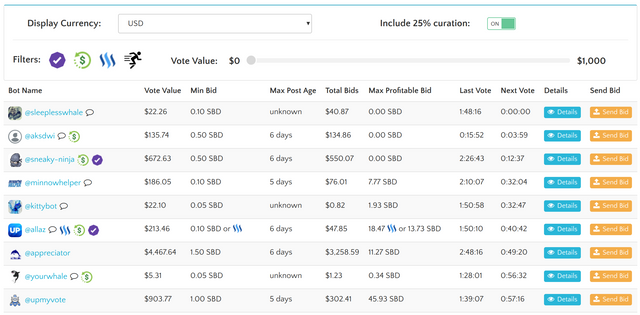 from steembottracker.com
From left to right, we start with column one. This column has the heading "Bot Name" and is just that, the name of the bot. Each name is also a link to that bot's Steemit page if further investigation is needed.
Second is "Vote Value." This is the total rewards that the bot would pass along to an author if it was to vote them with 100% Steem Power. This is a great statistic for determining where to place your bid. The bots with a smaller vote value will became unprofitable much faster than one like @appreciator.
The third column is "Min Bid" and this is the smallest amount of STEEM or SBD that you can send in order to get an upvote. Never send less than the minimum since some bots will not refund for our mistake.
Fourth we have "Max Post Age." This is how old your post can be before the bot will refuse to vote on the content. Most of them are five or six days old, but I recommend not bidding on posts that old. Receiving a bot bid on a fresh post acts like a promotional event. The sooner the bid and the fresher the post, the more likely we'll hit the trending pages.
Fifth, we have "Total Bids" and this is the current value of all the bids that the bot received in its current voting round. This is a nice metric that we can use to gauge the popularity of each bot over time.
In column six we have "Max Profitable Bid" and the most important statistic this tool provides. Over time this amount goes down until it hits zero. Once the amount says "0.00," sending any STEEM or SBD will be at a cost to the sender.
It is smart to make sure we send our payment early if we wish to send a large amount. Also it is good to stick to the bots with huge vote values like @upme. That way, we can be sure to make a profitable return on our investment.
Column seven is "Last Vote" and this is simply the amount of time that passed since the previous voting round.
Eighth we have "Next Vote," which is the amount of time left until the bots vote on their current bids.
Number nine is "Details" and can be a great way to see what kind of payouts the current bids may receive and what the previous round did receive. We use this to plan out the best bot for our investment.
Finally we have column 10 and "Send Bid." This is where we can have the site bid for us. I have not used this feature and only send my SBD or STEEM via Steemit. However, this feature is there for all who wish to use it.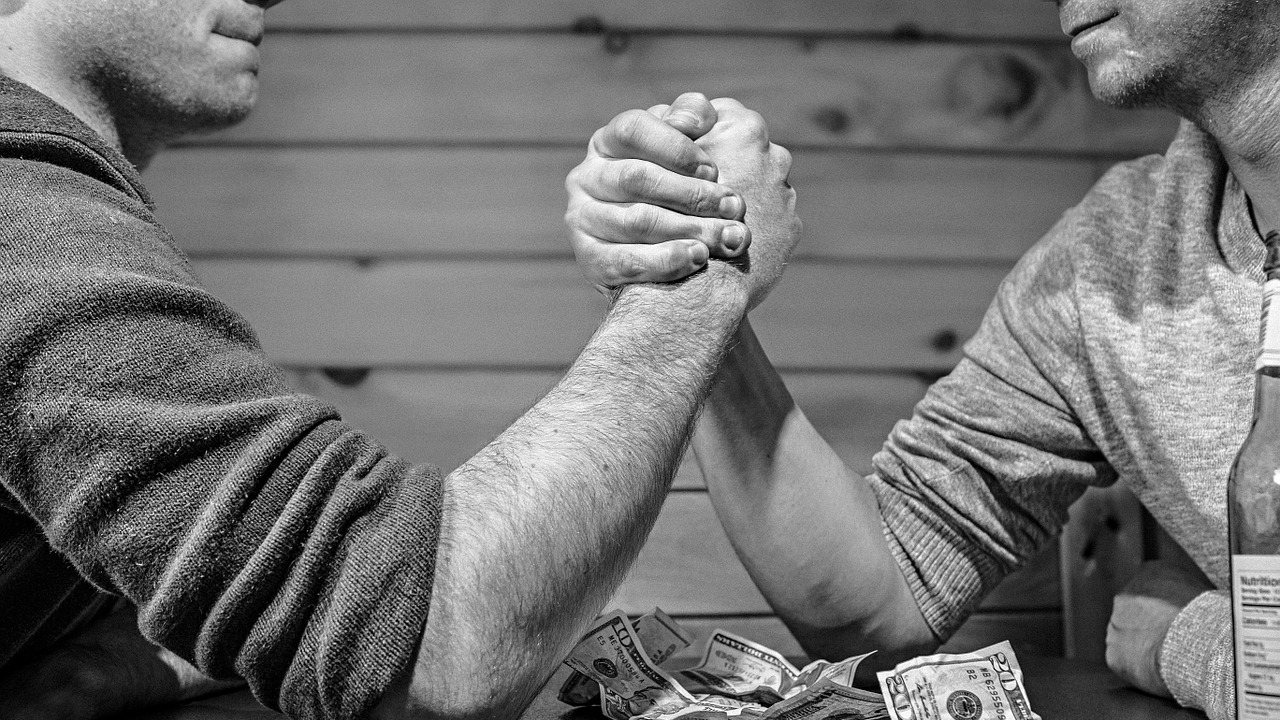 How Much To Bid
This is entirely up to the bidder. For a minnow and someone new to Steemit, there is not a lot of SBD in their account yet. In order to make these bots most effective, sending at least 10 SBD at current market value is great. If everyone starts to only send 10 SBD to the largest bots this will increase that number, though.
If you want to send the minimum amount to several bots, go for it but make sure to do your research on each bot. Also, be sure they are still profitable when you bid. No matter how much you choose to send, if it is more than the "Max Profitable Bid" it's better to just hold.
Will I continue To Use Bid Bots?
About three days into my experiment I was convinced I did not like them because they always leave a comment on the post saying something like, "This post got a 4.39% upvote from [enter bot name here] by @jrswab." That kind of makes me feel sleazy, to be honest.
However, I may still use these bots if I feel a post contains enough value and I want to increase my reach a bit more. But since this all costs SBD and STEEM that I earn, I plan to me more resourceful regarding where I choose to spend my hard-earned STEEM.
Thanks For Reading!
If you have a topic that you would like me to cover and share what I learned over the last ten years of blogging please let me know!
PS: Yes I vote bot'd this post. For, you know... post posterity or something... :rofl:
Other Posts In The Series:
4 Reasons To Avoid Steemit Drama
Using Journals To Improve Our Blog
How To Leverage Criticism To Improve Your Blog
Simple SEO Techniques To Unlock Exposure
How To Stay Motivated As A New Blogger
All images came from royalty and attribution free sources unless specified