Steem Activity - Explore what is the best time to publish
Hi friends! Here is a tool to consult the number of votes that your followers have spent in recent weeks.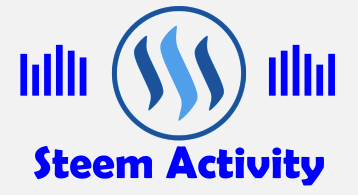 A common problem among Steemit users (and especially the minnows) is that we post at times where our followers may not be online. What happens in these cases? That our publication will only be visible for a few minutes in the tab "new" and is likely to go unnoticed. Remember that our followers are that fundamental energy, our engine, that helps us continue our work, so it is very important to make us visible as much as we can.
Do you want to know when you should post a post?
I have developed Steem Activity, a tool that allows you to check the voting activity of your followers in order to know the best moments in which you should publish.
How does it work?
After entering your user, the system will show you 3 things:
Charts from Monday to Sunday which show the amount of votes that YOU distributed in the last 4 weeks. This will show you your activity in the last 4 weeks and it will serve to compare with the following.
Charts from Monday to Sunday which show the amount of votes that YOUR FOLLOWERS distributed to everyone in the last 4 weeks. In this part, the program takes a bit to load since it has to consult your followers one by one, but the wait will be worth it!! With the charts you can see hour by hour how was the distribution of votes and which are the highest. Precisely in these times of high activity is where you should publish your posts, as it tells us that your followers are usually connected and you will achieve a little more visibility.
The list of your followers. Here you can individually select your followers to know your recent voting activity. This will help you focus the time of your publication if you want more visible to a particular follower.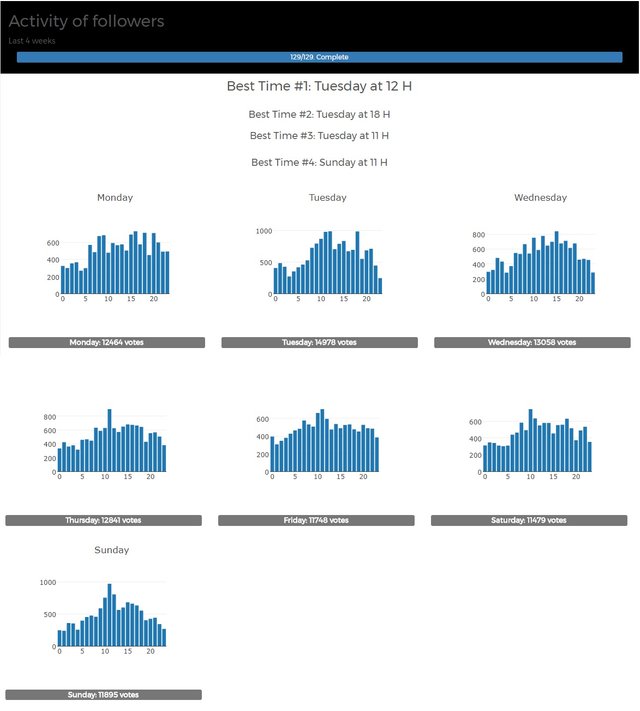 To take into account
The page publishes the results according to your time zone, so there is no confusion regarding the time.
The results are displayed while the followers are loading.
The more followers you have the longer the results.
For the results I make no difference between minnows, whales or voting power. This would be for a future upgrade.
The number of followers may be greater than the one you are used to seeing on your wall (this is something I would like to consult with creators @teamsteem). An example, my blog says I have 114 followers, however, when I consult the names one by one, I find that they are actually 129.
The code is open source!! Anyone can see it since it is made completely over Javascript and api steem.js.
I hope this can be of help to many. Please comment below and tell me your experience using Steem Activity, if you have found useful, if there are errors, if you have suggestions for future updates 😃👍