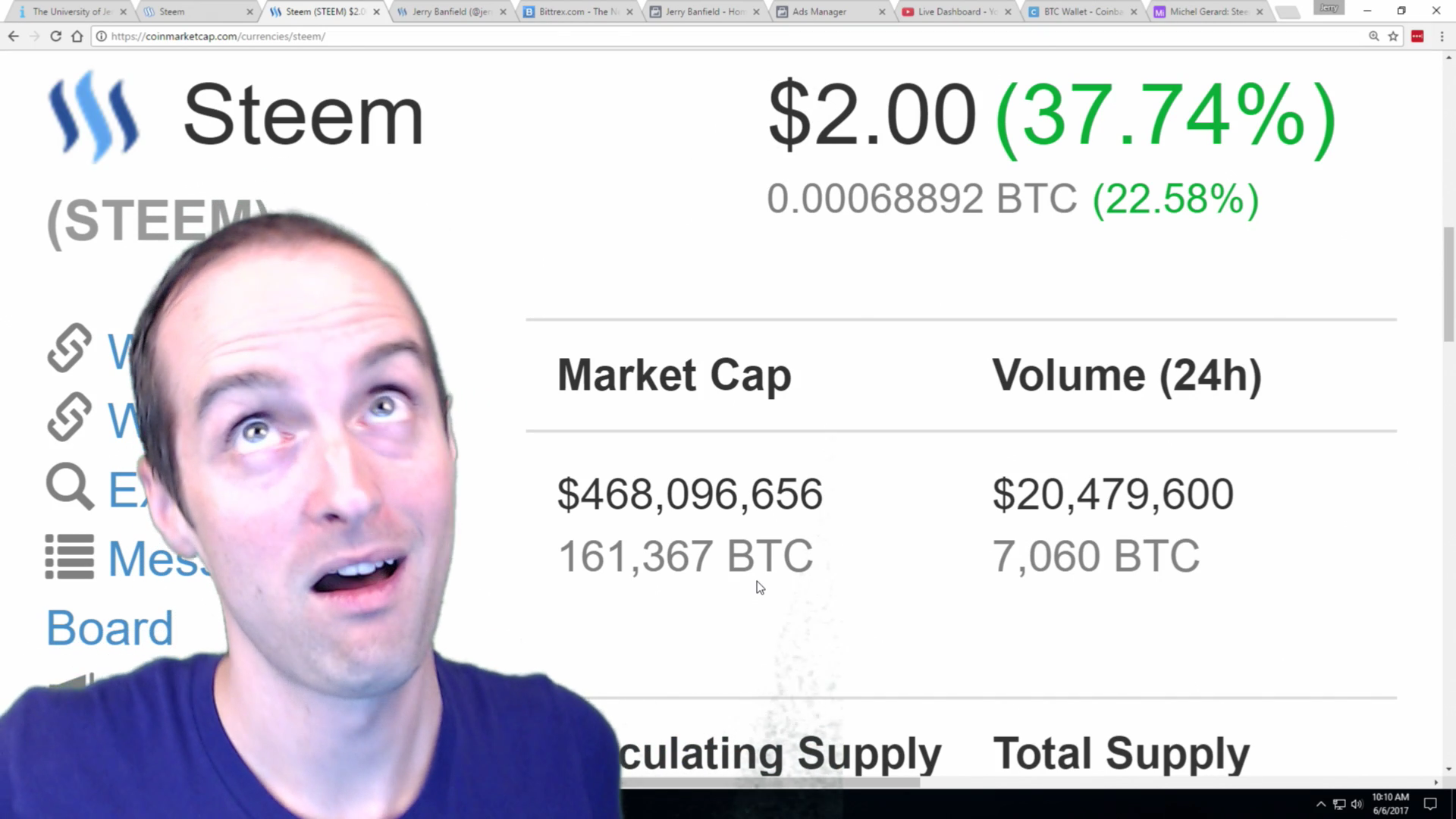 Our Steem price reached $2 for the first time in nearly a year setting a new world record for our market capitalization as a cryptocurrency at $468,096,656 making it currently #12 out of all cryptocurrencies online! Even as the Bitcion price blows up over $2900 and then slides back to $2,700 while nearly every altcoin is down, Steem is trading up 15 to 30% today from several days in a row of gains!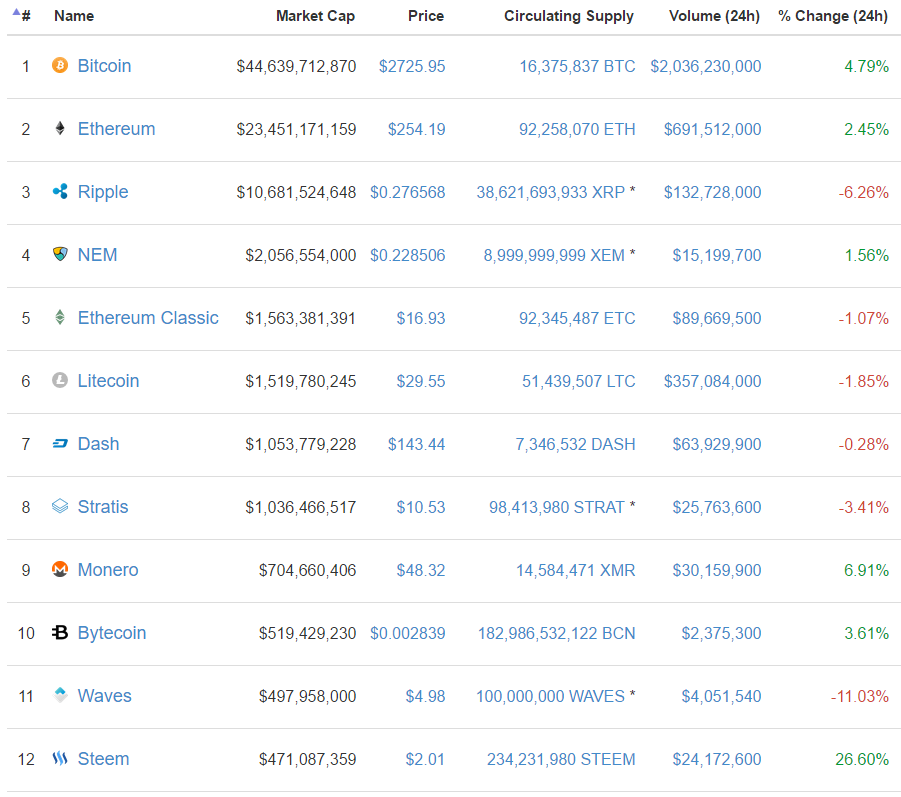 Are these results just a random increase or are they happening because of our generosity and ability to work together? I personally have found collaborating with each of you on Steemit WAY easier than any other community I have ever participated in. For months I struggled to get another cryptocurrency I had invested in to fund ads on Facebook and YouTube. The process for submitting a budget proposal was painful in cost, criticism, and time. Meanwhile, in just four days our community was generous enough to crowdfund me almost $2,000 at https://steemit.com/steemit/@jerrybanfield/steem-video-ad-1-on-facebook-and-youtube-featuring-10-reasons-for-usd10-steem-in-10-months to advertise Steem and Steemit on Facebook and YouTube.
Today I just scaled up to spending $60 a day to reach hundreds of thousands of viewers with the good news about Steem! Here are the initial Facebook ads results!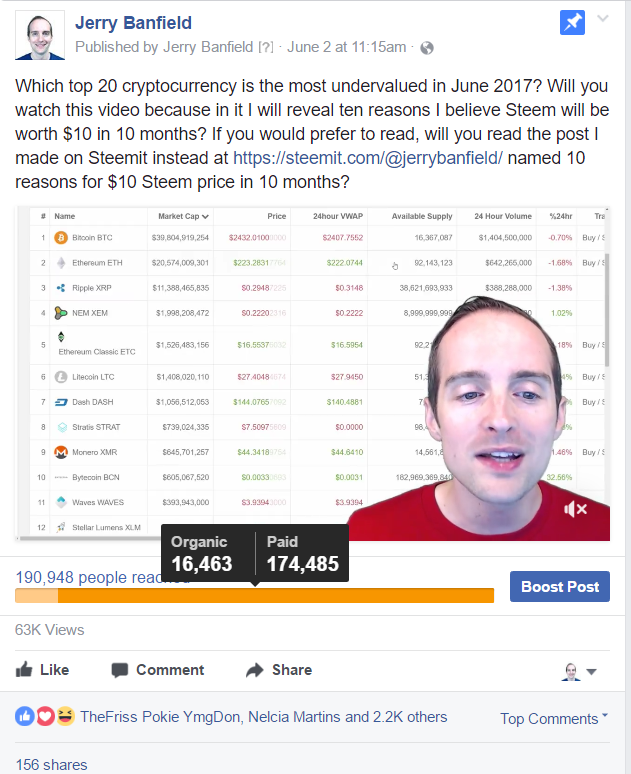 See the detailed report here.

Here is zoomed in.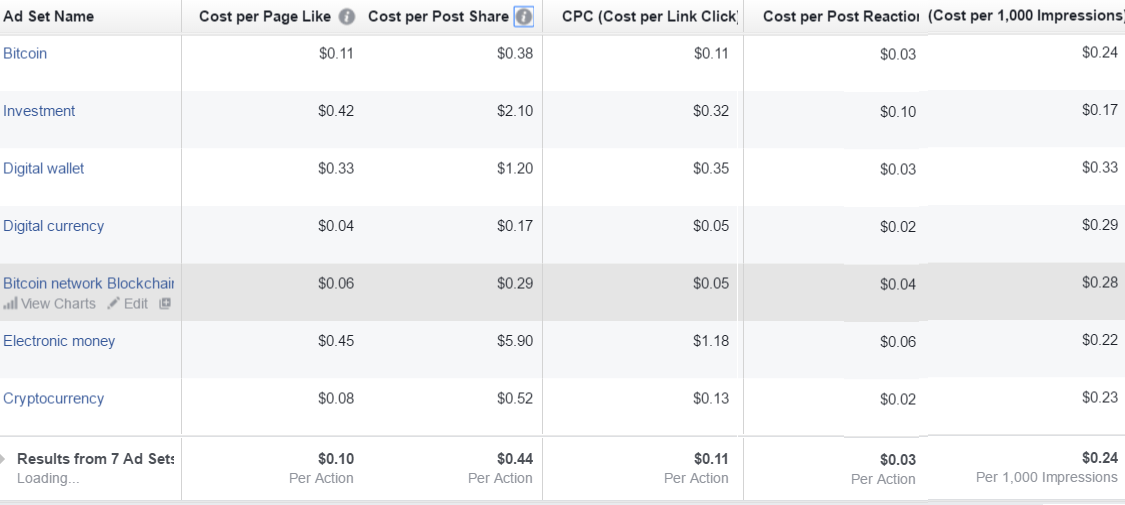 The amazing thing is I have only spent about $100 so far advertising the post on Facebook at https://www.facebook.com/jbanfield/videos/1447089705311201/ and YouTube which has resulted in hundreds of thousands of people interested in Bitcoin and cryptocurrencies seeing the ads! How much higher will Steem go as investors continue to take action after seeing the ads combined with the price increase on the exchanges? How many more new users will join Steemit as they hope to become early adopters in our community? We are excited to see!
Here are the YouTube results.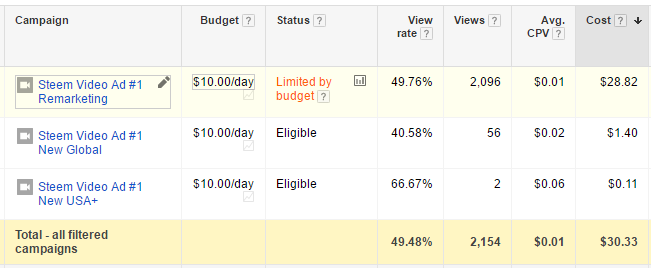 If you see the YouTube ads and think "Why even bother with those when Facebook is so much better?" I have found that advertising on YouTube leads to a much higher ORGANIC RANKING meaning these views from ads will help more people find the video on YouTube when searching, browsing, and seeing suggested videos. For best results, I like to combine both Facebook and YouTube ads to maximize branding on Facebook and maximize organic discovery on YouTube.
Fortunately this is only the beginning of the good news! At https://steemd.com/distribution we can easily see the user data for Steemit which shows a surge in new user signups and new superuser accounts with over $600 in vested Steem Power. Here are the signups as they were around May 21, 2017.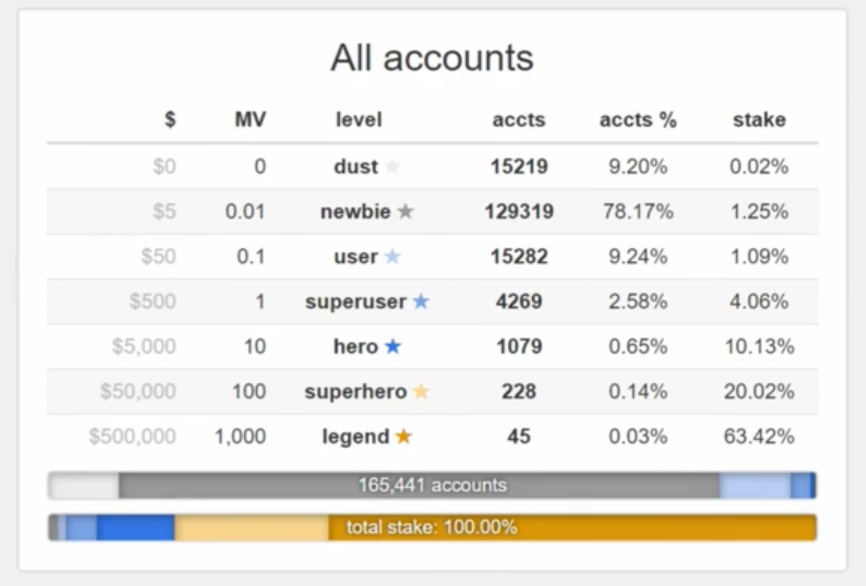 Versus today June 6, 2017.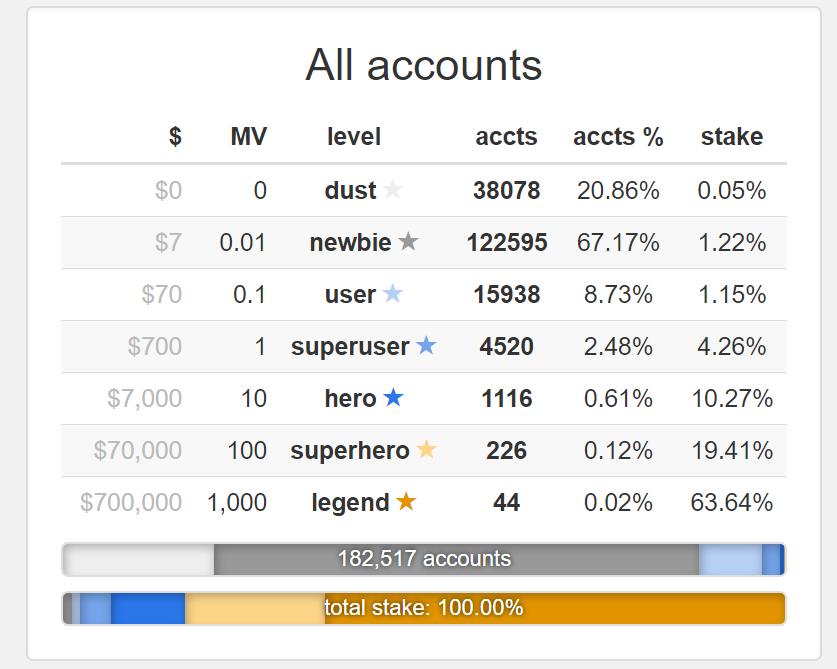 This is the fastest user growth Steemit has seen maybe since it started with a 10% increase in users in just over 2 weeks! While the majority of users are at the dust level, around 1,000 users have jumped into the user and superuser level with more than 30 new hero level accounts worth at least 5000 Steem Power!
If all that is not amazing enough, most of the other altcoins are dropping today as the Bitcoin price goes up. Here is the market from https://bittrex.com where I prefer to trade.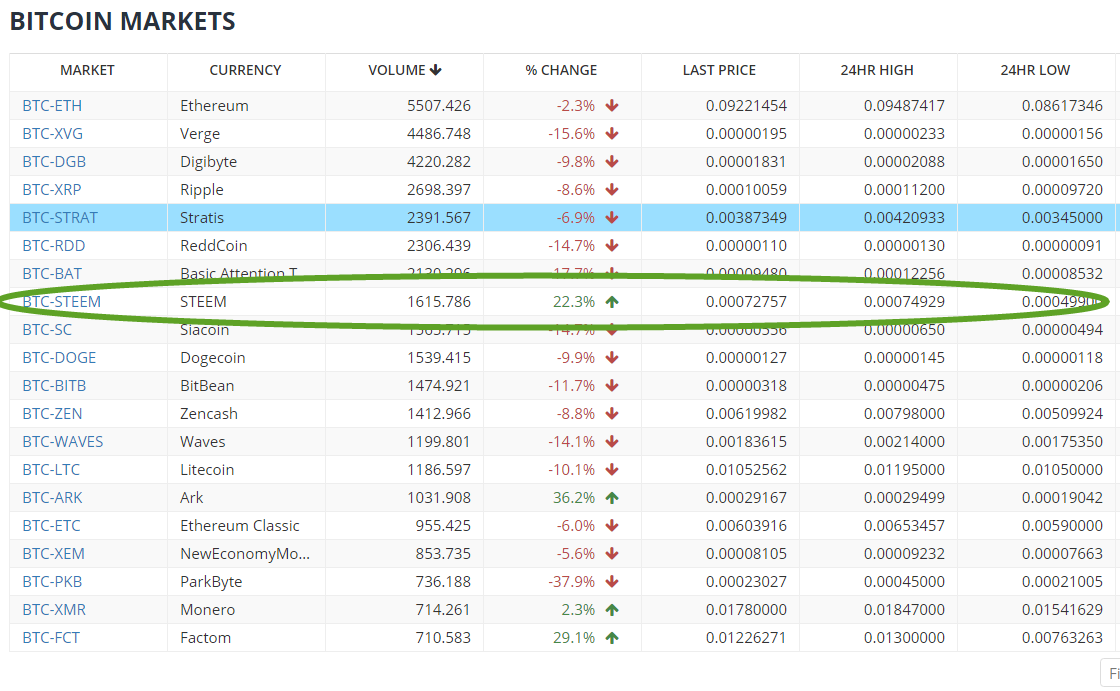 When something is green in a sea of red, it makes jumping in and learning more really attractive which we are all collectively working together on with our use of Steem!
If you are holding SBD or Steem Dollars, you are in for an even greater reward! With the rapid increase in Steem price, the Steem Dollar Marketplace is still selling $1 worth of Steem for just 1.018688 currently in SBD! This means if you have 47.901 SBD you can buy 47.023 which currently is worth $94.51 making SBD currently worth about $2 USD!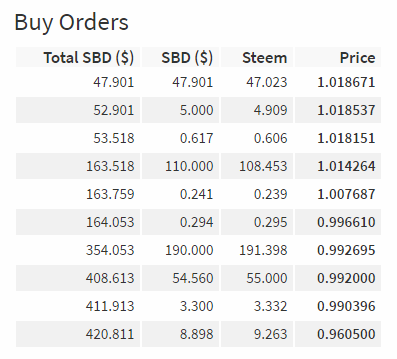 Would you believe what we have all achieved together through our service to Steemit it and generosity in giving to others with our upvotes? Thank you for giving me the chance to be a part of this amazing story and I am honored to have the chance to continue being of service to our community today! If you are happy with these results and with me taking the time to post them here, would you please upvote this because I think it will inspire more of us with new ideas for how we each can build up Steemit? If you would like me to see your posts and follow you, would you please make a comment here sharing how we ended up here together and asking me to follow with an idea of what you will post because this helps me quickly take action in following you?
Love,
Jerry Banfield