Where Does Steem Fit In With the Numerous Altcoin Scams?
As I said in my introductory post, I have been apprehensive about Steemit--and quite frankly, most altcoins--since I first learned about digital currencies. And as I've watched new coins launch left and right, new "projects" that are going to be the future, I watch in disappointment as people lose so much money. That's why I've always stayed on the sidelines and held my bitcoin.
But people were saying the same thing about bitcoin early on and it has proven otherwise. 
If anyone has ever found my writing about the stock market, one thing that becomes pretty clear is that I'm not really a fan of gold. As Warren Buffett once said, "gold gets dug out of the ground in Africa, or someplace. Then we melt it down, dig another hole, bury it again and pay people to stand around guarding it. It has no utility. Anyone watching from Mars would be scratching their head."
He also said: " Gold is a way of going long on fear, and it has been a pretty good way of going long on fear from time to time. But you really have to hope people become more afraid in a year or two years than they are now. And if they become more afraid you make money, if they become less afraid you lose money, but the gold itself doesn't produce anything."
That, fundamentally, has been my problem with gold. We dig it up, turn it into bars, and then put it in another hole. And, unless people are more afraid in the future and are buying gold, the price isn't going to do anything. Along the way, it does nothing for you. It doesn't generate income, it doesn't become a business, it doesn't innovate; it just sits there. 
But bitcoin is different ... Because it possesses the traits of a store of value (limited supply, etc.) while also being a fantastic method of value transfer, suddenly you have an asset that has utility. And once something has utility, its growth is not based on an emotion, such as fear, but rather, it is based on how much demand there is for that particular asset. 
My bitcoin is one part hedge against economic calamity and one part investment in that value transfer tool. Therefore, because there is utility behind bitcoin while it also has fundamental traits of a store of value, bitcoin has a bright future. 
What About Steem?
Back to my original point, though, we're left talking about altcoins. Let's talk about some of the top coins on the market and what their use cases are:
Bitcoin: Store of value and, essentially, decentralized wire transfers
Ethereum: Smart contracts, but which ones currently exist?
Steem: I'll get to this in a second.
Ripple: Wire transfers, but not much adoption
Litecoin: The silver to Bitcoin's gold. 
For the most part, Bitcoin is the only coin that is production ready. Ethereum is interesting, but is about to bastardize itself by initiating this hard fork. And really, other than proofs of concept, what scalable products have launched? Ripple is interesting, but I still don't see much going on there. And then Litecoin, which is the silver to Bitcoin's gold. 
Now we talk about Steemit. 
The use case of rewarding people for creating high quality content, curating content, and voting on whether that content is valuable is impressive. And when a coin has utility, suddenly, my interest is slightly more focused. 
The value of Steem is derived from the level of activity on this site. If there are more people that are looking to become whales on the site, there's the potential that they'll buy steem to give themselves a head start, thus increasing the value of said steem. That boosts the strength of the platform, which results in more people participating. Hell, this is my third post in a week, so clearly the rapid rise in value piqued my interest.
Further, as the utility becomes more pronounced and more people realize its existence, it creates liquidity, which is necessary for any coin survival. Many of the little ones can't provide that, which results in a slow, painless death. 
Creating an environment whereby people are rewarded for contributing to that community is a viable one and, presently, is not one that exists in bitcoin. That could change one day, but for now, this self-funding machine seems to have some room to stretch its legs. 
Steem Will be Volatile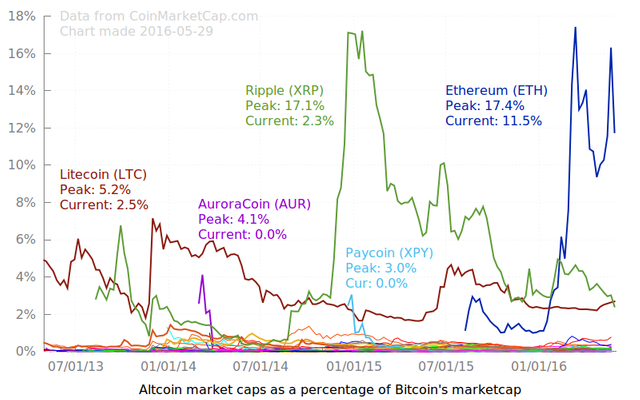 That doesn't mean that it won't be volatile. The price of steem was 0.00052BTC/steem on July 9th. By July 14th, it was 0.006BTC/steem. And by July 18th, it had dipped hard to 0.003BTC/steem before jumping up again today. 
If you've been trading steem, initiating shorts and longs based on these rapid rises and falls, you've made a lot of money. Anytime a coin goes from 0.00052BTC/steem to 0.006BTC/steem in five days, you're going to have people who are very happy and very excited. 
But that volatility makes it a risky asset to hold. I've seen many articles where people suggest you should not take any of your steem out, instead just reupping it into more SteemPower, continuing to boost your ranking on the site. And that makes sense if your ultimate goal is to accumulate more steem. 
However ... Steem doesn't have real world applications yet. While it's true there is someone on the site trying to survive 30 days only on Steem, I am skeptical of this. Bitcoin is still looked down upon and that's seven years old; I don't expect people to warm up to Steem as an offline asset. 
Because of this, it's important to take some chips off the table to use a popular poker analogy. Could it result in less long-term earnings? Possibly. But because of how volatile Steem is, it's hard to know whether it will succeed long-term. And for all those people that are putting in hours and days of their lives to create this great content, it's important that they get compensated. 
It's important to hold onto something that can be used outside of the world of Steemit: bitcoin & dollars. 
And then you have to ask yourself ... Why is a post worth money? Presently, the value of said posts are increasing because the value of steem is increasing. But is any single post worth $20,000? Why should it be? Sometimes when you're thinking about whether something is too good to be true, you have to ground it in reality: who makes $20,000 for an article?
So during this insanely volatile time, my recommendation is you try to cash out when you can. Sure, keep some of it on SteemIt, but make it tangible. Use that money to pay bills, go on a vacation, or invest in bitcoin. And then use the rest to create an even stronger account so that your content goes that much farther. 
I could be wrong ...
What makes Steemit great is that average people who have never been exposed to cryptocurrencies feel as if they are going to become truly wealthy on it. And the thing is, with all the coins in the image above, there were people who got really rich riding the wave. 
But then there were people that lost money. People that bought at the top as insiders and early adopters dumped. And why wouldn't they? Even if it didn't start out nefariously, when you see your asset increase by 1,900%, you realize that tangible assets are worth something. 
And unfortunately, the people that buy at the top are uninformed, late adopters who make it possible for all of us to get out. 
It's important to recognize that every coin--even bitcoin--has seen meteoric rises and then cataclysmic drops. But other than bitcoin (and maybe Ethereum a little), none have survived. 
So what the future holds remains to be seen. I would love if Steemit succeeded and I'm certainly writing on the platform. But the importance of having something tangible to show for your work doesn't go away. Even if I'm wrong, isn't it better to have something you can use?
That about wraps up this piece ... I'd love to engage in some conversation about this. If you have anything constructive to say, please post it below. I look forward to talking with you all.