Variety is a spice of life, maybe even the spice to life, depending on what we are talking about.
Personally I have seen a good chunk of this world, my life has taken me from Australia, Asia, to Europe, the Middle East and The USA. Can't complain!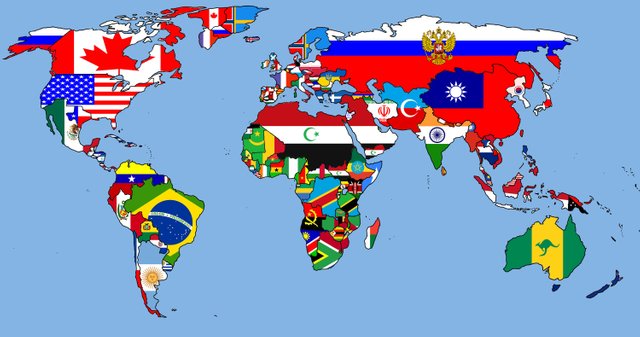 My life has been such that I have worked with people from all over this world, you name it, that is a nationality or should I say a race of people that I have had 101 contact with, well, at least it feels that way because the people I've had contact with cover this entire planet as far as continents go.
Learned a little from everyone!
Still have a lot to learn!
Where am I going with this post?
Well, the other day a mate of mine here on Steemit told me that he had become a Witness. When he told me this I was so surprised and my initial reaction was "GREAT" a person who I understand in a lot of things just became a Witness.
This got me thinking about a lot of things here on Steemit.
Steemit is a world wide platform, it is decentralized and as such requires a variety of people involved with EVERYTHING that is going on here.
I guess that being fluent in English is still one of the factors that still seems to be a big factor in all of this, however that shall change over time as the number of users increases to multi millions.
We shall definitely be seeing many posts in various languages on Steemit, I in fact look forwards to that day. Even if English is my language, I enjoy seeing things move forwards here and one of the things that confirm the expansion and growth of Steemit are posts in languages other than English.
I personally have used Google Translate for some posts, it isn't the best of tools on the net, but it kind of does the job. My Mrs who is definitely bilingual uses Google Translate regularly, but more so for certain words, not for entire posts, so to her it is a fairly functional tool.
I sincerely believe that people who are not "native" English speakers should start doing their posts in both languages, the language that they speak at home and in English.
This shall accelerate the rate at which Steemit grows. So much so that the current number of witnesses out there and the current services that people have made available shall increase tenfold over. This place shall BOOM.
2018 is the year to make things like this happen.
WHY?
Well, we already have people here from all over the planet, we have the most important asset out there: US.
That is right, human resources are the most valuable resources in every endeavor out there.
Machines, technology may be a "necessity" as is any tool of any trade, but without the know how of humans, those tools of the trade are useless.
For a social network the most valuable asset is US. Human beings, with all our know how and individuality.
If more people here would start using their own language alongside English, imagine how much more inviting Steemit would be to others in their region where that language is spoken!
I've seen it happening in very small numbers, here and there. Some communities are already practicing this, ALL THE POWER TO THEM! FANTASTIC!
What I would love to see is more and more posts of the sort from all over this world.
Maybe some people who read this are thinking something along the lines of "Yeah, we are doing it", yes, it is happening, in baby steps for many of the different languages out there. What I want to achieve with this post is to ENCOURAGE PEOPLE TO BE WHO AND WHAT THEY ARE.
USE YOUR OWN LANGUAGE AS MUCH AS POSSIBLE!
Don't worry about the numbers for now, your efforts shall make it happen for you too!
NO ONE WILL LOOK DOWN ON A POST THAT IS BILINGUAL, IN FACT MOST OF US WILL BE SUPPORTIVE OF IT.
WE WANT TO SEE STEEMIT BECOME THE BEST IT CAN BE!
I say this, because I know one thing from the other angle of things. As I mentioned earlier in this post, I have worked with people from all parts of this world and I always tried to learn the basics in their language, from saying "HI" to "Thank you" to a number of other little things. People appreciated it, they accepted me a whole lot better just for the fact that I tried and showed respect towards them as individuals.
It's a two ways street.
I hope that this post, even if it be short and direct, without all the gift wrapping gets read by a few people out there who are not "native" English speakers and that it inspires you, that it gives you that little bit of encouragement needed to go ahead and use your own language alongside English when posting.
To everyone who is already doing this, well, take this post as a "Letter of SUPPORT".
Keep at it, for what you are doing now shall make the Steemit of tomorrow!
I thank everyone for reading this post and recommend to everyone out there to express your support of fellow Steemians here to go ahead and use what they know to make Steemit the best it can be for ALL OF US!
STEEM ON!
Jack