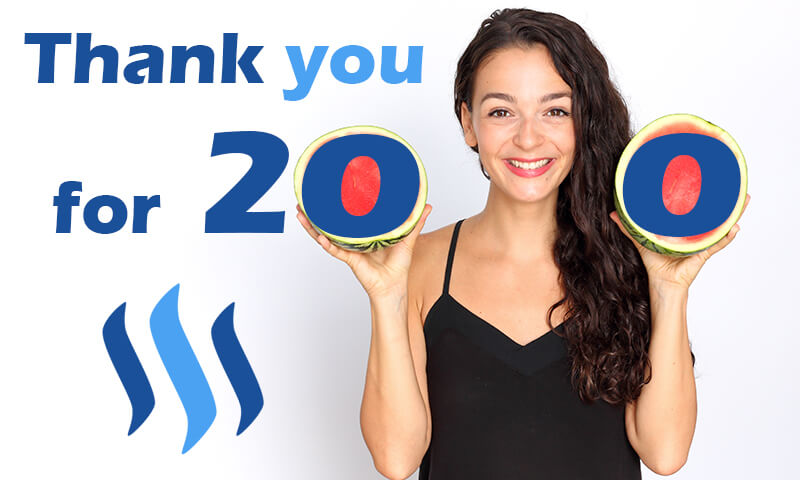 Hey my fellow Steemians, I hope you're doing great! 💚
After being on the platform for 2 weeks I've reached my next milestone of 200 followers and I would like to thank each and every one of you for all your support! For reading my posts, trying out my recipes, for upvoting, commenting and resteeming my content.
Today I want to give something back to the community:
First, I would like to share an exclusive recipe that will be part of my German recipe book which I'm about to publish in July. It is one of my very favourite desserts: delicious, healthy and as usual super easy to make. There you go:
5-ingredient chocolate mousse - healthy, raw and super creamy 😋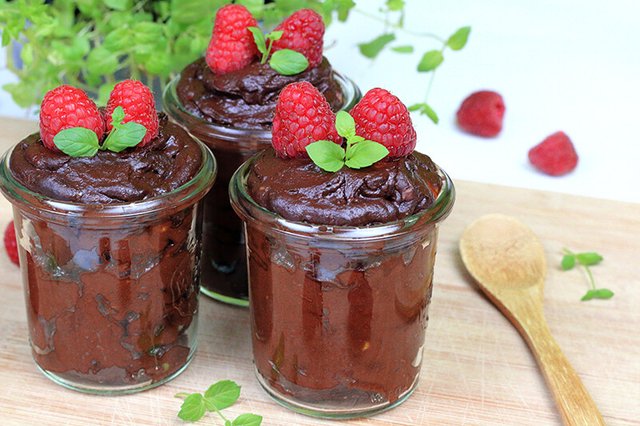 Prep time: 10 minutes
Portions: 4-6
Ingredients:
flesh of 2 ripe avocados
3-5 tbsp unsweetened cocoa powder
about 60 ml plant based milk like coconut or almond milk
1 tsp ground vanilla
3-5 tbsp datey syrup
fresh raspberries and mint for decoration
Instructions
Put all the ingredient into a blender and blend into a cream on highest speed.
Distribute the mousse into 4 to 6 dessert glasses.
Decorate with fresh raspberries and mint and serve it right away or place into the fridge for some hours and serve it chilled.
I hope that you like the recipe and try it. I'm sure you will love it 💚
Second, I would like to express my gratitude by hosting a little give away.
As some of you might know, I participated in the SteemitPhotoChallenge #44. My entry made it to the "honourable mentions" and I will receive 5 SBD as a price.
I know for many of you this is not a lot, but I would like to give it away to show you how grateful I am to be part of this wonderful community and the growing number of my followers. Hopefully one day these 5 SBD will be worth so much more than they are today - so remember me when you are rich 😃
What you must do to participate:
1. Follow me here on Steemit.
2. Upvote this post.
3. Resteem this post.
4. Let me know in the comments that you've done the above.
You can enter until Tuesday, July 4th 03:00 PM UTC. I will announce the winner on Wednesday, July 5th.
Thanks again so much for following, upvoting, commenting and resteeming my content. I appreciate it your support 💚 I'm more motivated than ever to create value and help others to eat better, live healthier and become happier 🍀 If you just joined the network and need some suggestions on how to start your food blog here, I'm more than happy to support you with my (so far) insights.
Thank you all for connecting and for those of you who haven't already, don't forget to follow and upvote 💚